Community Grants
Supporting local, life-changing Parkinson's programs across the U.S.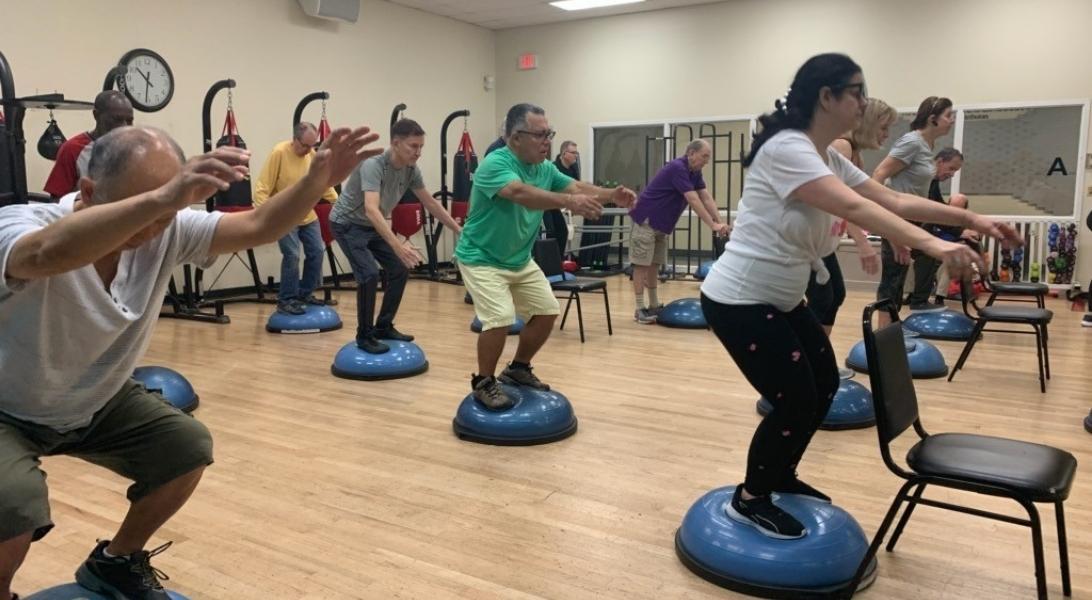 Parkinson's Foundation community grants further the health, wellness and education of people with Parkinson's disease (PD) across the nation.
The Parkinson's Foundation recognizes the unprecedented need for community-related programs and events. In 2022, the Foundation awarded over $2 million in community grants to support programs that provide services educating and delivering exercise specifically designed for people with PD, initiatives that reach those who are newly diagnosed, and that address mental health and PD. These programs will benefit communities in 42 states across the country.
Since 2011, the Parkinson's Foundation has invested more than $9.4 million to support 716 community-based programs that improve life for people living with PD.
What types of programs do we fund?
The Foundation funds programs that are impactful, sustainable, scalable and measurable. Programs may be new and existing grant-supported areas and/or pilot programs. All funded organizations and institutions must demonstrate a commitment to diversity, equity and inclusion.
The 2022 community grant cycle focuses on programs that:
Educate and deliver exercise specifically designed for people with Parkinson's
Reach individuals who are newly diagnosed
Address mental health and Parkinson's
Eligibility Requirements
The community grants program is open to communities nationwide. Eligible organizations must operate on the local level (or be an affiliate/chapter of a larger organization that operates locally). Applications will be limited to the following categories of applicants:
Non-profit and other tax-exempt organizations
For-profit organizations (may be eligible if the program is offered at no cost)
Healthcare facilities
Parkinson's Foundation community grants do not support:
Salary cost for individuals employed by their organization
Capital expenses (i.e., computers, furniture, building fixtures)
Exercise equipment (i.e., bikes, treadmills, weights, boxing equipment, etc.)
Indirect costs (i.e., administrative, facility fees, facility rent, utilities, insurance, and/or general office expenses)
Travel for staff/facilitators
Individual/staff memberships, accreditations, instructor training programs and/or licensing
Endowments
Individual support
How to Apply
Applications are currently closed.
Grant Period: July 1, 2022 – June 30, 2023
If you have questions about the grants application process, please email Programs@Parkinson.org.
How Community Grants Make an Impact
Community-based grants help fund education and outreach programs that address unmet needs in our PD community. Community grants help people with Parkinson's live better lives, today.
$9.4M
invested by the Parkinson's Foundation to support community-based programs for people living with PD.
716
wellness, exercise and educational programs funded across the nation.
30,000+
people with Parkinson's and care partners reached through grant programs.
Community Grant Recipients
Parkinson's Foundation community grants further the health, wellness and education of people with Parkinson's across the nation.
FAQs
Thank you for your interest in the Community Grants program. Below we answer the most common questions about the grant program — including online application, process and eligibility requirements.
Contact Us