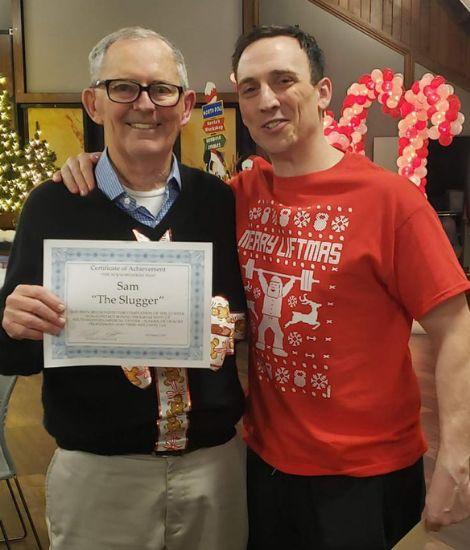 General PD Community
Parkinson's Boxing Program
University of Texas Southwestern Medical Center's Parkinson's Boxing Program in Dallas, TX
When Dr. Sam T's doctor told him about the Parkinson's Boxing Program, he readily agreed without knowing what to expect. "I had been working with a trainer for a few weeks and was happy to have another outlet for exercise" Dr. T said. "My first thought was this would be strictly an exercise class, but it turned out to be much more."
The 12-week community boxing class is designed for people living with PD and their families. Thanks to the Parkinson's Foundation community grant and the donation of space at the Preston Hollow United Methodist Church, we are able to provide this class at no cost to the participants. There are two classes per week consisting of high intensity boxing activities: heavy bag work (allowing for punching sequences), cone drills, and strengthening exercises focused on the lower extremities and core.  
The class utilizes students from The University of Texas Southwestern Medical Center Department of Physical Therapy to help coach, guard and encourage the fighters. This program is beneficial for the boxers as it is a high intensity exercise built on community, which is good for the body and the mind. In addition, we expose and train physical therapy students to grow into excellent clinicians who are better prepared to serve those living with PD. "I want to thank the student volunteers who came to encourage and help us. They were enthusiastic and made the time fly by," Dr. T said.
The Parkinson's Foundation community grant supports the Dallas PD community. Although the changes in strength balance, and mobility have been exciting, the feedback of the participants on what they gain from the community atmosphere has been so encouraging! "The other people in the class became friends. We were able to discuss our symptoms and problems in ways only someone with PD understands. Those friendships became as important to me as the exercise itself. I benefited a lot from the program and recommend it for others who have PD, " Dr. T said.
The outcomes have been remarkable as expected, as we track the fighter's progress before and after the program. We have seen substantial improvements in functional strength (floor to standing transfer), dual task parameters (walking while counting), self-selected walking velocity, backwards walking, and dynamic balance.
We plan to continue to raise money through grants and donations to continue to run this program in the Dallas area! We feel as though it is beneficial for the fighters and the student coaches.
More Stories
from the Parkinson's community