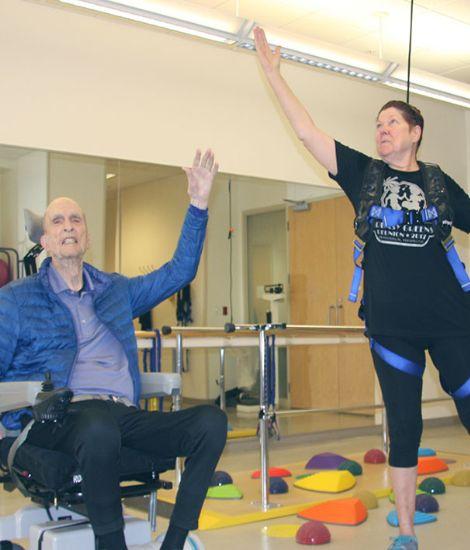 General PD Community
PWR!Moves Program
University of Arkansas for Medical Center Sciences' Community Fitness PWR!Moves Program
The University of Arkansas for Medical Sciences (UAMS) hosts a free Move for PD class for people with Parkinson's. The one-hour classes are held twice a week and incorporate 30 minutes of PWR!Moves® movements to aide in mobility, along with 30 minutes of high-intensity interval training. 
Susan, 72, has been living with Parkinson's for almost seven years. She is a hospice physician who continues to work part time, so she knows the benefit of regular exercise for everyone. She was already exercising by playing pickleball several times a week when she started attending the Parkinson's Wellness Recover (PWR!) Moves® classes at the UAMS Donald W. Reynold's Institute on Aging Ottenheimer Therapy and Fitness Center in summer 2019. "The exercises in the Parkinson's program were different," Susan said. "They were things that really were specific to Parkinson's disease. For me, that was mostly balance. Balance has been something really important for me to work on."
Susan enjoys the social aspect of the classes, which are her main source of interaction with other people with Parkinson's. She also likes that the instructor and physical therapist provide the rationale behind what the exercises target and why they work. "I think exercising, now with the help of the PWR! Moves classes, has really helped slow the progression of my disease."
UAMS hopes stories like Susan's motivate others with Parkinson's to join the program. Plans are underway to study the impacts of this exercise program on individuals with Parkinson's disease, specifically, how exercise affects physical and cognitive performance. There are also preliminary plans to bring this type of exercise to participants in a home environment when travel or distance to travel are barriers.
More Stories
from the Parkinson's community