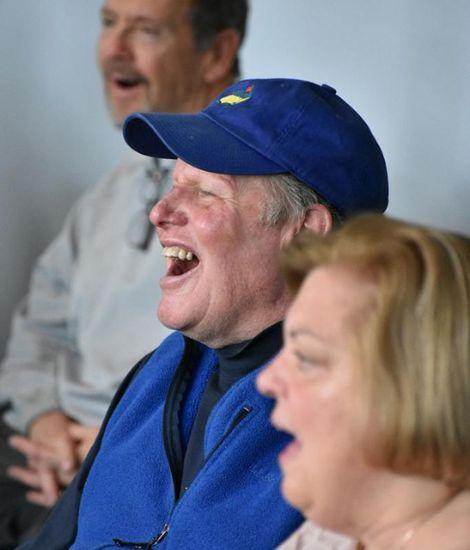 General PD Community
Singing with Parkinson's
The George Foundation's Singing with Parkinson's in Roswell, GA
Singing with Parkinson's, Atlanta's first therapeutic choir for individuals with Parkinson's disease (PD) and similar diagnoses, has been providing Neurologic Music Therapy services to the Parkinson's community of Atlanta since 2018. 
This free program incorporates evidence-based therapeutic interventions designed to address vocal and oral-motor symptoms of PD, while also providing musical community for participants and their caregivers. Since its foundation, the choir has grown to include almost 20 regular members who participate in weekly rehearsals and perform in solo concerts and at community events.
Among these members is Brent, who was diagnosed with Parkinson's in 1997. A former elementary school teacher and pianist, Brent had to give up his work and his musical outlet as a result of his motor and speech symptoms. In the spring of 2019, Brent discovered Singing with Parkinson's when the choir performed at his PD support group in Duluth, GA. "At the end of the performance there was a delightful invitation to join the choir," recounts Brent, "Which immediately I did!" 
Since that day, Brent and his wife have been active choir members, meeting for weekly rehearsals with other singers with PD and their caregivers and joining the choir in a variety of community performances. Both note the positive impact that music therapy has had on Brent's speech, as well as the emotional benefits that a musical community provides. "Working with the vocalizations has been such an asset to provide extra support to my speech exercises," says Brent. "Getting to know new people [who] . . . share the same challenges has been very rewarding. It has definitely been a great extra benefit to add new friends, to socialize outside the rehearsal and add fun to our daily routine."
The program is designed and directed by board-certified music therapists with additional training and certification in Neurologic Music Therapy. Data taken after every rehearsal has documented measurable progress in participants' oral motor functioning, including improvements in breath support, articulation and speech pacing. The choir continues to build its membership and engage in community outreach via local performances and presentations, and music therapists with the George Center for Music Therapy continue to advocate for access to Neurologic Music Therapy at local and regional events. This free program is made possible through the generous support of the Parkinson's Foundation.
Singing with Parkinson's meets every Tuesday and is currently holding virtual rehearsals for the duration of the coronavirus pandemic. For more information about Neurologic Music Therapy and/or how to join this free choral program, contact Claire Morison, LPMT, MT-BC, at claire@thegeorgecenter.com  or 678-701-1203 ext.4.
More Stories
from the Parkinson's community