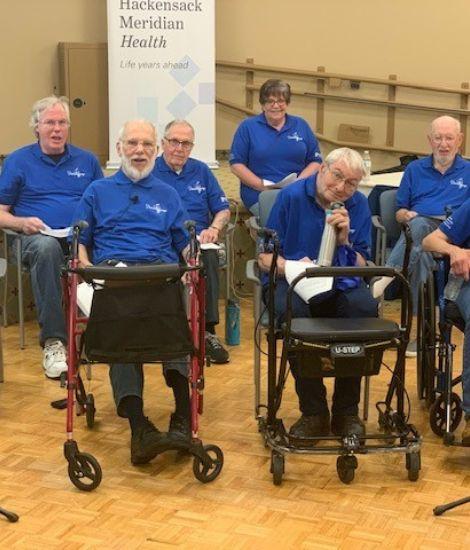 General PD Community
ParkinSINGS in Edison
JFK Johnson Rehabilitation Institute's Parkinson's Choir or ParkinSINGS in Edison, NJ
Studies show that singing can help maintain strength in the muscles involved in speech and voice in people with Parkinson's disease. Additionally, scientists have found that singing may reduce anxiety and improve overall quality of life. Through a Parkinson's Foundation community grant, Hackensack Meridian JFK Johnson Rehabilitation Institute provided the Parkinson's community with a fun way to exercise voice, speech and swallowing muscles ― through singing!  
In August 2019, ParkinSINGS, a choir for people with Parkinson's disease and Parkinson-Plus syndromes, was established. Led by choir director and speech language pathologist, Alyson Chananie, and musical director/pianist, Frank Saverino, the group exercised their speech and voice mechanisms during weekly rehearsals. On average, 12 members with Parkinson's participated in vocal warmups, learned new songs and rehearsed musical pieces from a variety of genres, artists and decades as well as performed in a variety of venues. 
The group sang for an audience of therapists who work with people with Parkinson's disease at an educational symposium and performed in the opening ceremony for New Jersey's Moving Day in September 2019.  They performed an 11-song set during a holiday concert with the New Jersey Symphony Orchestra and recorded an at-home performance of "Somewhere Over the Rainbow" to share with healthcare workers on the front lines during the COVID-19 pandemic. 
Meet Donna
I was diagnosed with Parkinson's in 2013. In 2018 I started experiencing swallowing issues, as well as increased cognitive issues and my doctor suggested I make an appointment with a speech therapist. A good friend suggested I talk to her daughter who is a speech therapist at JFK Johnson Rehabilitation Institute, which specializes in Parkinson's. My conversation with Aly, and the information she provided, helped me set a course of action going forward…. Aly told me about a singing program she wanted me to join. I told her that I couldn't sing at all, but she asked me to at least come to the first meeting. I'm glad I did. Being part of the ParkinSINGS choir has been an incredible experience.
Not only does it help keep my voice and vocal chords 'in shape,' it has also helped build up my confidence. When asked if I would consider doing a solo at our winter concert, I said no way, but then I thought about two other members who did solos at the 2019 Moving Day Event, and it was their courage that inspired me to take that risk. Music is soothing, therapeutic and relaxing. There's no better way to forget about our limitations due to Parkinson's, even if it's just for a little while, than being part of ParkinSINGS ― it's a support group meeting with a fun twist.
Research and Beyond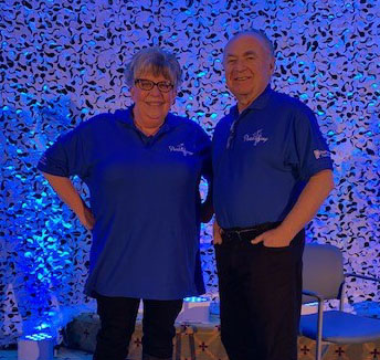 In August, the program began collecting information about communication, level of happiness, how much PD affects quality of life, swallowing capabilities and voice. Voice measures were also obtained including maximum decibel level, maximum phonation time, fundamental frequency and clinician's observation of voice, speech, fluency and prosody. 
Next, we will administer our final quality of life and/or obtain final objective voice and speech data. Our hope that we find a positive correlation between participating in this singing group and the areas we previously assessed. Through personal comments and anecdotes, we can say with confidence that quality of life has improved in many participants.
Participating in live and recorded performances for the public, the members of ParkinSINGS were not only moving muscles, using cognitive abilities and contributing to their own positive quality of life, but also bringing joy to and increasing awareness in their family, friends, and care partners, local healthcare workers serving the Parkinson's community, and audience members living with Parkinson's. It is our wish that we may continue to provide these services to our patients free of charge. We hope to reach more patients by communicating our mission and advertising to local neurologists, physiatrists, therapists, and Parkinson's support groups.
More Stories
from the Parkinson's community