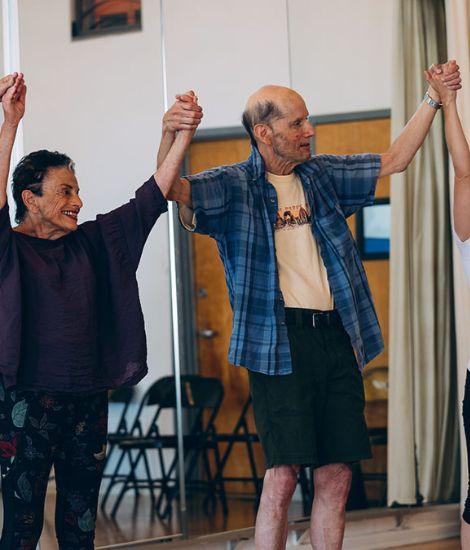 General PD Community
Dancing Through Parkinson's
Invertigo Dance Theatre's Dancing Through Parkinson's in Culver, CA
Since 2011, Invertigo Dance Theatre's Dancing Through Parkinson's (DPT) program has provided dance classes to people with Parkinson's disease, neurodegenerative and aging-related disorders at sites near Los Angeles and Culver City. The classes promote connection, community, physical movement, mental clarity and joy.
Jeanie was diagnosed with Parkinson's almost eight years ago and participates in both classes. From the warmups, brain teasers, ballet barre and seated and standing choreography, the combination of music and dance helps participants move and stay active. Although medicine can help, exercise is incredibly helpful to manage the symptoms of PD. "I have very few tremors, my posture is relatively erect, my mind is still sharp, I feel confident being in public. I have challenges, but because of Dancing Through Parkinson's I know that I can overcome them and deal with them if I keep moving and dancing," Jeanie said. 
Dancing Through Parkinson's creates community and offers its 100 dancers a safe space to overcome challenges related to PD. "In our DTP classes there are no mistakes, only solos," said Laura Karlin, Artistic Director. Through DTP classes, participants experience movement in a non-judgmental, positive community. No matter what movement ability, anybody can participate in a class. It is a unique and extraordinary program where everyone, regardless of disease progression, is included, valued and benefits from the class. Caretakers and family members are also encouraged to join. In our DTP classes, everyone can have fun and stay active through dance. 
"I know that I have a community that supports me. We lift one another up, share ideas, and care for one another regardless of what we bring to the dance floor. And the best part is, we get to take it all home with us and realize that the tremors, rigid muscles, and other discomforts can be assuaged if we keep moving. Stay active, stay positive, and keep coming to class because there's always a reason to dance! Thank you, DTP, for saving my life!"
– Jeanie, Parkinson's Foundation community grant participant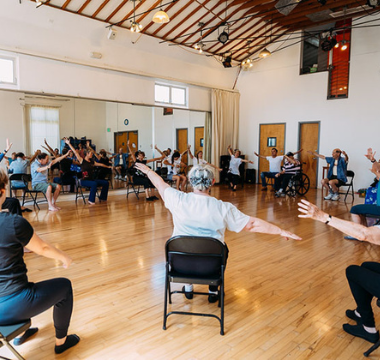 In the future, Invertigo plans to reach more communities in Los Angeles by offering bi-lingual classes in Spanish. Our Dancing Through Parkinson's class was featured in Spanish on Telemundo, "Enfermos de Párkinson "danzan a su propio ritmo" on February 6. 
We also plan to reach more people and make our program more accessible through virtual DTP classes. During the COVID-19 pandemic, staying connected through digital platforms has become increasingly important. We are currently working with Teaching Artists to develop a new online program to allow DTP dancers to take classes from their own homes and to stay connected to their DTP teachers, who have been a source of inspiration and support. Our hope is to increase our online presence and foster greater access to and awareness of the offerings of our program.
We hope to grow our DTP program by increasing the number of sites as well as presenting and teaching at more PD conferences and events. In the past, we have taught and presented at events. As we grow, we will continue to be involved in the PD community and contribute even more.
More Stories
from the Parkinson's community