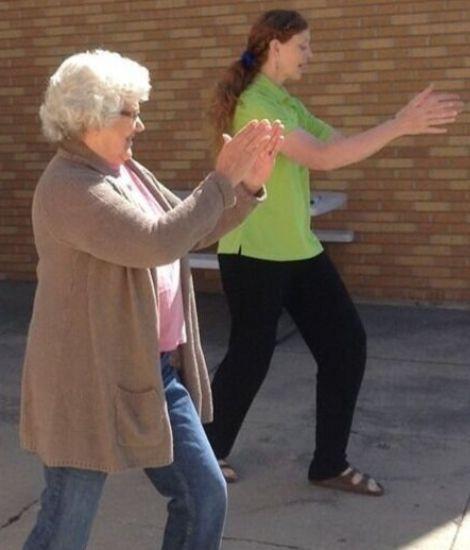 General PD Community
HeartSprings Art & Choir Studio
HeartSprings Art and Choir Studio in Fargo, ND
Today I don't hear the voices of hope and healing come tumbling out of the upstairs choir room. The sweet sounds of "Hallelujah" usually resonate through the hallways of HeartSprings Community Healing Center with choir director Michelle Gelinske accompanying with grace and power, voices in unison; one purpose, one heart. During the COVID-19 pandemic our task became to get the voices online. Can we really do a choir online? 
In a short amount of time and with a young incredible assistant we quickly adapted to an online music room. We had to change our website so we could take online fees; pay for Zoom business so we could host hour-long meetings and add a new microphone so people could hear Michelle sing and speak along with the choir. It was a mad dash, but we did it! We were able to bring not only the choir, but art and other exercise programs to our Parkinson's community that were waiting for their "medicine" of moving their legs, hands, and voices! Plus, they just wanted to see each other and say "Hi, are you OK?"
Through the years the Tremble Clef Choir has touched many lives of those living with Parkinson's. Not only has it affected participants, but their families and the Fargo-Moorhead community. Practicing techniques such as breath control and vocal projection, hesitant voices are strengthened. Improvements are also noticeable socially and emotionally. With weekly practices and many performances, the choir has created a community in which to come together, share, perform, grieve and heal. 
The Tremble Clef Choir began meeting in the fall of 2010 at HeartSprings in Fargo, ND, with Michelle Gilenske as volunteer director. The choir began as five members and their partners has now blossomed to 25. Michelle directed the choir as a volunteer for five years before receiving compensation for her efforts. This speaks volumes about her character and generosity.  
The choir's first public performance took place at the Plain's Art Museum in 2014 and has since become an annual event taking place in December. In 2015, the choir began receiving invitations to numerous locations to perform. The Tremble Clef Choir often travels to local assisted living facilities and retirement homes. These performances have brought tremendous joy to residents, family and friends. With a Parkinson's Foundation community grant and under the direction of Michelle, the Tremble Clef Choir has continued to grow.  
In 2017, Michelle was honored at the 44th Annual Woman of the Year awards by the YWCA of Cass Clay in the category of Health and Wellness for her continued work and dedication. Her love for music and helping others is inspirational. Her kindness, knowledge and ability to positively affect others leaves a lasting impact. We are extremely proud of her accomplishments and grateful for her outstanding work. 
The impact in which the choir has had on the lives of those involved and effected is truly profound. This can be seen in the relationships formed, the enthusiasm created and the outpouring of support. Earlier, a choir member had passed away and his sister wrote the following letter: "I want all of you to know how much he loved each and every one of you, and how much joy his singing with you brought him. I also want to thank you all for the wonderful tribute you shared at his funeral. Your voices raised in song brought much comfort to us all."  
That is what community, singing , kindness and compassion does. The choir has been a joy and a blessing. Join us online at heartspringscenter.org!
More Stories
from the Parkinson's community