Volunteer
Volunteers help us make life better for people with Parkinson's.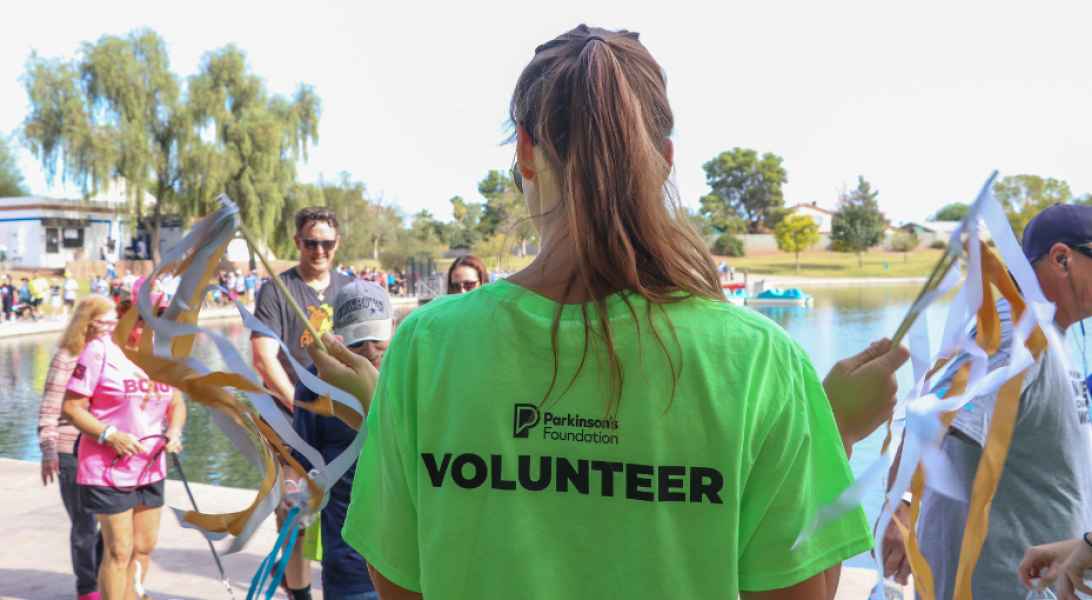 Join our team! We rely on the energy, skill, and passion of people like you to make life better for people with Parkinson's disease (PD). We are looking for individuals who are passionate about our mission and who want to advance research toward a cure. Complete the volunteer interest form and we'll contact you to learn more about your skills and interests.
Parkinson's Foundation Ambassadors
Become a Parkinson's Foundation Ambassador to raise awareness in your chapter about Parkinson's disease and our work to end it!
Ambassadors engage in community outreach representing the Parkinson's Foundation at local events and community groups. Activities include tabling, community presentations, and sharing information and materials. Parkinson's Foundation Ambassadors may also serve on various chapter committees for events and initiatives.
If you are interested in serving as a Parkinson's Foundation Ambassador, please fill out our volunteer interest form. Our team will contact you and walk you through the Parkinson's Foundation Ambassador orientation and training.
Volunteer for Events
Support our mission when you volunteer for local events in your chapter or create your own fundraising event benefitting the Parkinson's Foundation.
Educational Events
Promote local educational programs in your community and volunteer during events.
Moving Day
Help organize our signature charity walk in your local community. Walk with us and volunteer on event day.
Parkinson's Champions
Start your own fundraiser or volunteer to support Champions in a race near you.
For People with Parkinson's and Care Partners
Advise the Foundation throughout the development of programs and initiatives serving the Parkinson's community.
Collaborate with scientists, industry leaders and government to improve research and teach others about clinical trials.

Frequently Asked Questions
National Volunteer Awards
Meet our 2023 Volunteer Leadership Award recipients and find out how they are making a difference.
Community Service Hours & Volunteer Grants
Already a volunteer? Need your hours documented? Report your hours to keep a record of your volunteer work. Click on the button below to submit your hours.
Maximize your volunteer impact and find out if your employer offers volunteer grants. Many employers provide grants to nonprofits where their employees and retirees volunteer. Companies often require a record of your community service hours to award a volunteer grant.