Advocate for Research
Help us make Parkinson's research more efficient and effective.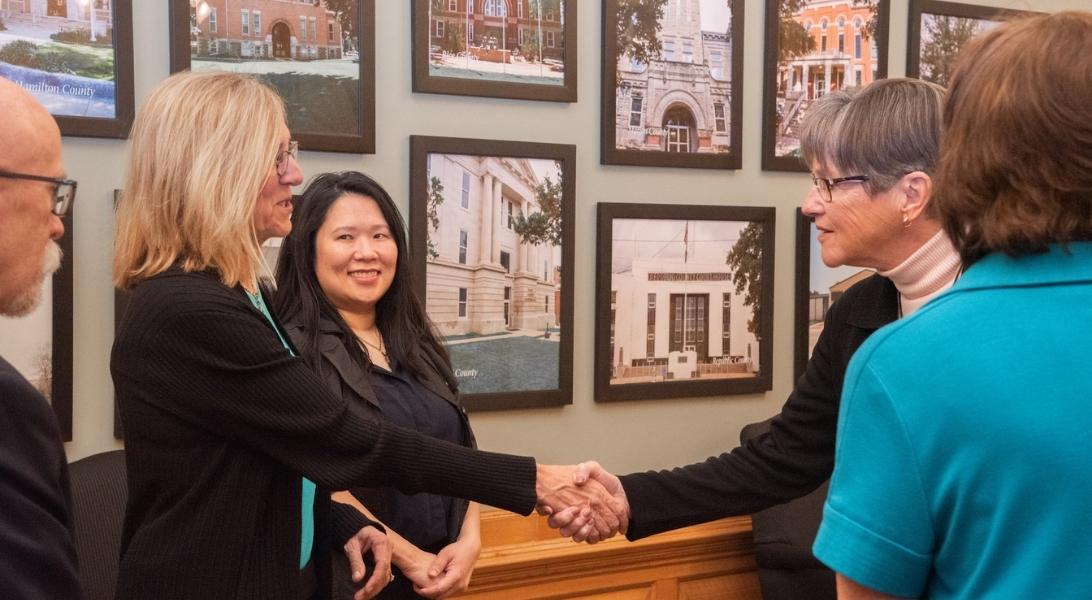 Parkinson's Foundation Research Advocates ensure more efficient and effective research when it comes to Parkinson's disease (PD). We pair people with PD and caregivers as primary research partners with scientists, industry and government.
Research Advocates Main Objectives
Research Advocates change research through:
Prioritizing research
Improving studies
Influencing stakeholders
Despite promising research, there is neither a cure for Parkinson's nor medications that can reverse its course. But there can be.
We can make research more efficient and effective by ensuring that people with Parkinson's and care partners are primary partners in research alongside scientists, industry and government. Our signature national patient engagement in research program, Parkinson's Foundation Research Advocates (formerly known as PAIR), makes this partnership a reality by bringing together the people who live with Parkinson's and the people developing new treatments.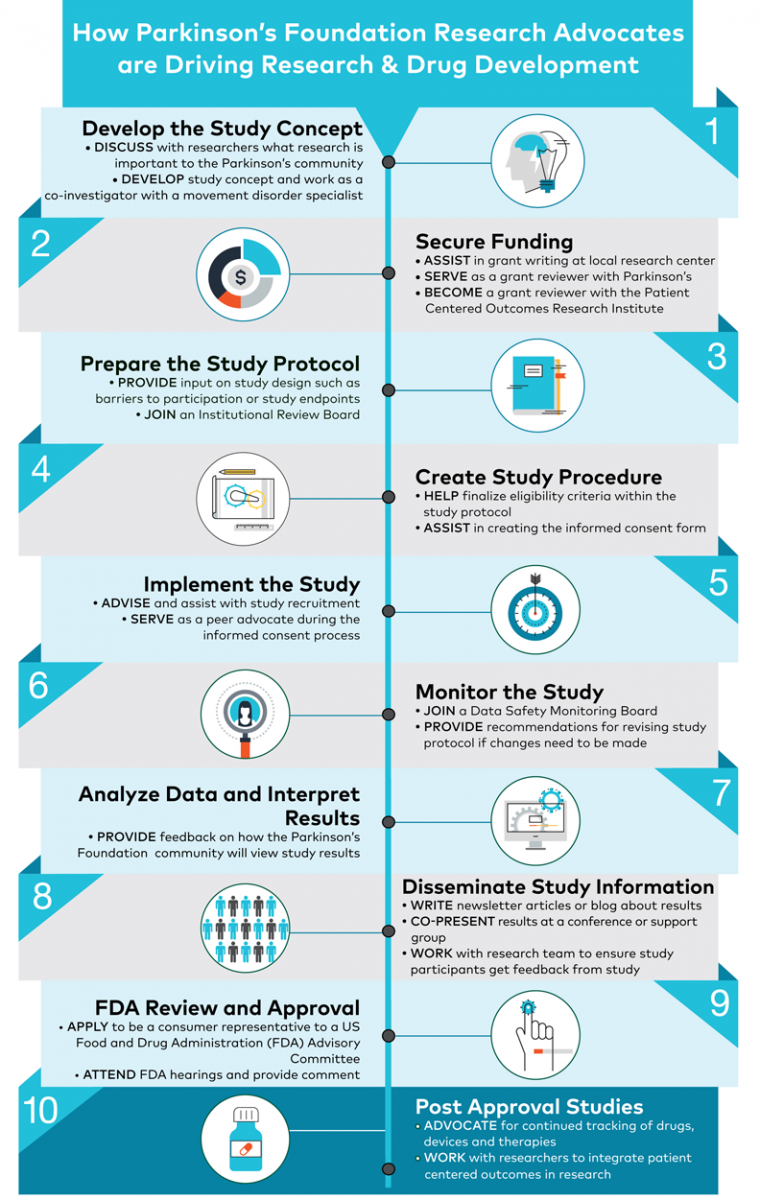 How to Become a Research Advocate
The Parkinson's Foundation has trained more than 400 people with PD and care partners as Research Advocates since 2008.
To become a research advocate:
People with Parkinson's and care partners must apply to be a Research Advocate. Applications usually open yearly in the first half of the year. We are looking for people with an interest in research and a willingness to work with researchers on a variety of projects.
Once selected, Research Advocates undergo in-person trainings and an online course, where our patient engagement team provides them with the knowledge and skills necessary to pair up with scientists and health professionals.
Next, our team will help facilitate partnerships between Research Advocates and professionals at the front lines of research at academic institutions, industry, and government.
Training and Locations
Thank you for your interest in volunteering as a Research Advocate. The first step is to apply for a spot at our Learning Institute, offered in collaboration with Morehouse School of Medicine. During this training, learn about Parkinson's research and gain leadership and advocacy skills to confidently interact with researchers and the community.
Learning Institute Training
Fall 2023
Atlanta, GA
Open to 30 participants, due to space limitations
To apply, please email PatientEngagement@Parkinson.org.
Learn more about the program.
Learning Institute
The Learning Institute is a Parkinson's Foundation training program for people with Parkinson's and care partners who would like to serve as Research Advocates. This program is an intensive three-day course in the research process. It will prepare participants to educate their communities about research and work with research teams to design and implement studies.
Leading Parkinson's experts teach Research Advocates the science of PD research and explore the process of developing new treatments. Parkinson's Foundation staff, international thought leaders in patient engagement in research, teach Research Advocates the skills needed to collaborate with teams at the front lines of research.
We recommend this training to those who can commit at least three hours a month to research advocacy work.
When and where is the next Learning Institute?
The next Learning Institute will be held in Fall 2023, in Atlanta, GA.
Our History of Patient Engagement
The Parkinson's Foundation has long been dedicated to making patient engagement a reality in the Parkinson's community.
Patient Engagement Timeline
2001: we established www.PDtrials.org as the first website and community coalition to help people with PD understand and find clinical trials.
2006: we established the Parkinson's Foundation People with Parkinson's Advisory Council, the first-ever PD community council.
2008: we trained our 300th volunteer research advocate
2013: we launched our Community Choice Research Awards, a "people's choice award" of Parkinson's research where the PD community has direct input on the research we fund.
Today, we are leading the field in innovations in patient engagement. Through strengthening the role of patient advocacy organizations, to creating international collaborations, to co-developing news tools, we advance the science of patient engagement and bring new models to the field.
Testimonials
The cornerstone of the Parkinson's Foundation Research Advocates program is a national network of more than 300 Research Advocates from around the U.S. who are actively changing the face of Parkinson's disease (PD) research.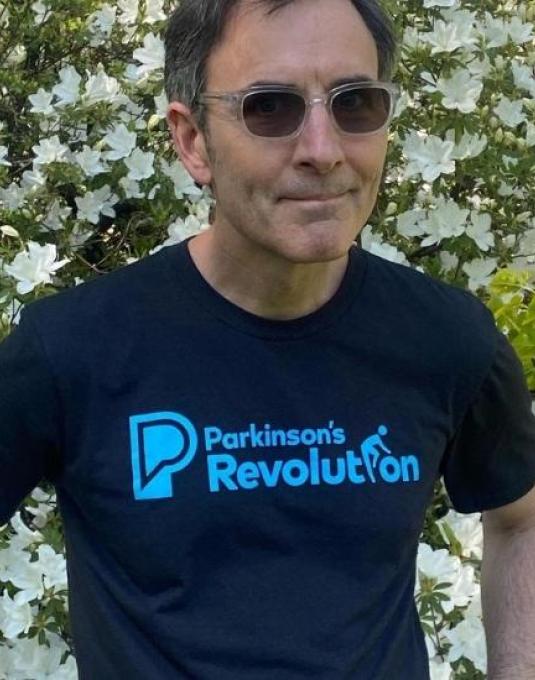 MY PD STORY: John Andrejack
If you have the time and the desire to help yourself and others, I strongly encourage you to seek out and get involved in clinical studies. Your involvement could change everything about how we study, treat and/or cure Parkinson's disease!
FAQs
Interested in learning more about our Research Advocate program? Below we answer some frequently asked questions. Contact the Parkinson's Foundation Helpline at 1-800-4PD-INFO (473-4636) or PatientEngagement@Parkinson.org if you have questions not answered below.
Serving as a Research Advocate