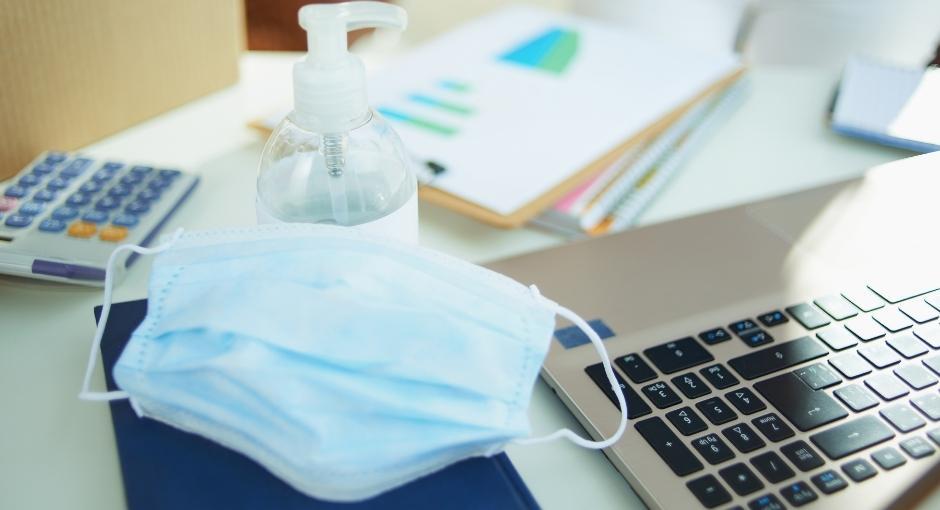 Coronavirus disease 2019 (COVID-19) is a respiratory illness that can spread from person to person. Seniors are the most vulnerable. Since many people with Parkinson's disease (PD) are above age 60, the Parkinson's Foundation is here to help you learn more about how COVID-19 affects people with Parkinson's and urges you to get vaccinated to stay safe.
To reduce the risk of being infected with COVID-19 and its variants, and possibly spreading it to others, the CDC recommends wearing a mask indoors in public if you are in an area of substantial or high transmission. Fully vaccinated people who have been in contact with someone suspected or confirmed with COVID-19 should be tested three to five days after exposure.
About the Coronavirus (COVID-19)
Coronaviruses are a family of viruses that are like the common cold, severe acute respiratory syndrome (SARS), and Middle East respiratory syndrome (MERS). In 2019, a new virus called COVID-19 formed and spread from Wuhan, China to other countries, including the U.S.
Signs and symptoms of infection with COVID-19 may appear two to 14 days after exposure and can include fever, cough, shortness of breath or difficulty breathing. There is currently no cure, however several FDA-approved vaccines provide protection from severe illness or hospitalization if you are exposed to the virus.
Variants of the virus, such as the highly contagious Omicron variant, continue to spread globally and within the U.S. They remain highly transmissible and can still be spread to those who are vaccinated. The Centers for Disease Control (CDC) is tracking these variants. Visit the CDC COVID-19 webpage here.
COVID Vaccine
In the U.S., Pfizer/BioNTech, Moderna and Johnson & Johnson's Janssen vaccines have been widely distributed and provide protection in the event of COVID-19 exposure. Data shows that these vaccines are safe and beneficial to those with Parkinson's.
The use of the Johnson & Johnson's vaccine was temporarily paused; however as of April 23, 2021, the FDA recommended its use resume in the U.S. According to the CDC, women younger than 50 years old should be aware of the rare risk of blood clots and risk of syndromes resulting from low blood platelet counts (thrombocytopenia syndrome) after vaccination. Visit the CDC webpage to learn more about the Johnson & Johnson vaccine.
Currently, we believe that these vaccines do not cause long-term changes in PD symptoms. People with PD may experience the standard short-term side effects of the vaccine, including headache, fever, chills, nausea and muscle or joint pain. These side effects can temporarily worsen the pre-existing Parkinson's symptoms. The Pfizer/BioNTech and Moderna vaccines require two shots (taken 21 or 28 days apart). Johnson & Johnson is one shot.
Paxlovid and Parkinson's
According to the CDC, "Paxlovid (nirmatrelvir tablets; ritonavir tablets) is a prescription oral antiviral drug that reduces the risk of hospitalization and death for patients with mild-to-moderate COVID-19 who are at risk of disease progression and severe illness."
Due to the potential drug interactions between Paxlovid and other prescription drugs, it is advised anyone seeking Paxlovid as a COVID-19 treatment should consult their general practitioner, who should review all your current medications before prescribing Paxlovid. Those on certain medications — such as blood thinners and drugs to control abnormal rhythms of the heart — may be particularly susceptible to Paxlovid side effects. Ask your general practitioner to check the University of Liverpool Interaction Checker website for potential side effects with your current medications.
As of July 6, 2022, the U.S. FDA authorized pharmacists to prescribe Paxlovid. Be sure to discuss all medications you take with the healthcare professional prescribing Paxlovid.
Seniors and COVID-19
If not fully vaccinated, seniors are most at risk to develop COVID-19 and its symptoms, which can increase the already elevated risk of getting pneumonia. Seniors should regularly plan to receive the pneumonia and flu vaccines in accordance with their health team.
COVID-19 and People with Parkinson's
Living with Parkinson's does not put you at a higher risk of contracting COVID-19, but it does make it harder for you to recover if you contract it. Also, we know that without the vaccine, if you are hospitalized and you have Parkinson's disease, there is an elevated risk of complications and potentially death.
The Parkinson's Foundation will continue to monitor and report on COVID-19.
Join Us Online
Check out our upcoming online events
Watch our PD Health @ Home events
Join PD Conversations, an online network of support where you can ask your Parkinson's questions and connect with others living with and impacted by Parkinson's.
Parkinson's Foundation Helpline
Contact our Helpline at 1-800-4PD-INFO (1-800-473-4636) or Helpline@Parkinson.org for answers to your Parkinson's questions. Helpline specialists can assist you in English or Spanish, Monday through Friday, 9 a.m. to 7 p.m. ET.
Page reviewed by Dr. Tracy Tholanikunnel, Assistant Professor of Movement Disorders at the University of Florida, a Parkinson's Foundation Center of Excellence.