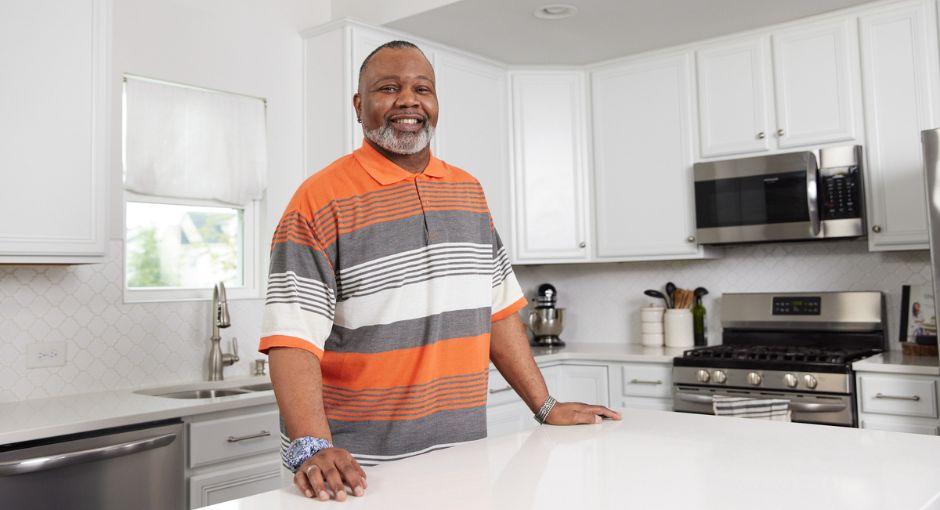 Parkinson's disease (PD) symptoms often impact daily life. From mobility challenges — such as PD-related tripping or "freezing" episodes that can lead to falls — to vision changes. Adapting your home to create a safer environment can lower the risk of PD-related injuries and keep you aging in place.
Below we highlight practical, PD-tailored tips that you can make around the home. Additionally, talk to your doctor about scheduling a Home Safety Evaluation — an in-home occupational therapist safety assessment — to help provide you with personalized recommendations that can help.
Aging in Place
Safely living independently and in your own home as you age is called "aging in place." While not as simple as just staying put, with enough planning for the future it entirely possible.
Every senior adult must consider mobility issues, staying safe physically, nearby services, social support, transportation issues, along with present and future medical needs to continue aging in place. Living with Parkinson's adds extra levels of considerations.
As you modify and adapt your home, keep in mind that you should always be prepared for an emergency. How will you call a family member or 911 if you fall? Learn more about assistive technology and devices that can help, and talk to your doctor and occupational therapy about creating the best plan.
Learn more with our Aging In Place podcast episode.
Home Safety Tour Checklist
Follow a Home Safety Considerations checklist to ease movement in the home and ensure that your home is safe and easily accessible.
Home Renovations and Adaptations
If you are in the process of renovating your current home, or building your dream home, here are some PD-tailored modifications that can help make life easier:
Kitchen: design additional space between kitchen cabinets and island for easy maneuvering. Plan to have a continuous surface between the sink and the stove for easy transfer from one to the other.
Bathroom: consider zero entry showers and slip resistant flooring in all wet zones.
Doors: install pocket and sliding barn doors for ease of movement for those with limited dexterity. Smooth thresholds from one space to the next.
Hallways: wide hallways and entry points for easy access, whether by foot or by wheelchair.
Windows: optimizing windows and their placement to allow for maximum natural light.
Outdoor spaces: install awnings or a cover to enjoy outdoor spaces with UV and weather protection.
Ramp access: design points of entry for optional future ramps.
Electrical: raise outlets to 36" in selected places for limited motion use.
Floorplan: create open spaces that can evolve to your needs — they can serve as an office, exercise space or guest room. Design a plan for dual owner suite opportunity to accommodate a family member or caregiver. Consider creating a private exterior entry, separated from the main living spaces for a sense of privacy.
Garage: design to accommodate vehicle with wheelchair lift, with a large side opening with sliding barn doors for easy entry/exit.
Exterior updates: when it is time to paint the exterior of your home consider a paint with minimal maintenance that inhibits mold and mildew to grow on the surface.
General Safety
Use of power tools: Tremor combined with balance and coordination changes can impact safe use of power tools, even if you have used them for a long time. Slowed reaction time can also lead to safety concerns. Consider all factors when deciding if using power tools is safe for you.
Ladders and step stools: PD-related reductions in balance skills and protective reflexes increase fall risk. Avoid climbing, whether on ladders, step stools or chairs.