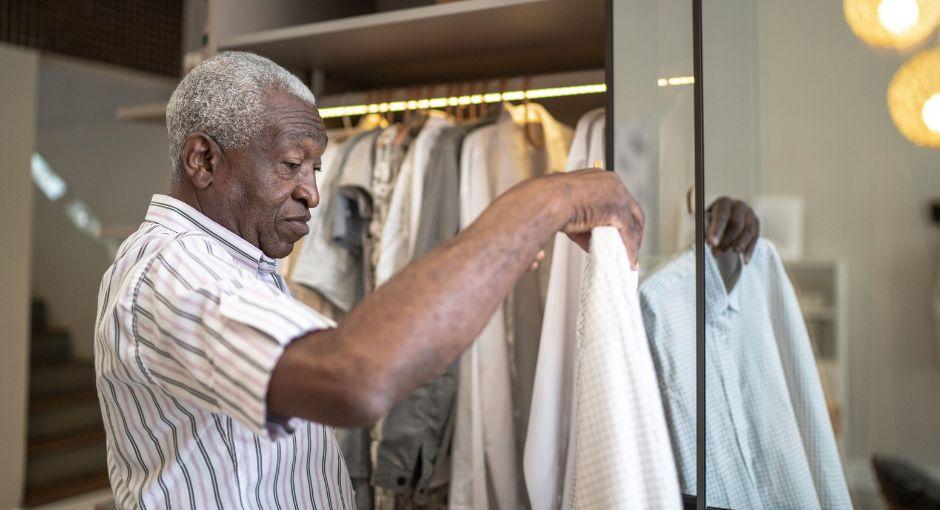 Parkinson's disease (PD) can make daily tasks more difficult to perform. Parkinson's symptoms ― such as tremor or dyskinesia (involuntary, erratic, writhing movements) ― can slow down the process of getting dressed.
Making changes to clothing and the dressing routine can reduce frustration. Follow these tips to simplify your dressing routine:
Take your time getting dressed. Hurrying can lead to stress, which can make Parkinson's symptoms worse.
Dress when your medications are working well. This may require waiting until later in the morning to get dressed, but it will ensure you have the best mobility possible.
Do a few stretching exercises before getting dressed to warm up your muscles.
Be aware of stiff limbs. If one arm or leg has more stiffness, put this limb into the sleeve or pant leg first.
Sit down when dressing. Choose a chair with firm support and arms. Sitting on the edge of the bed to dress can lead to loss of balance and falling.
Use a footstool and consider assistive devices like long handled shoehorns. These tools make it easier to put on shoes and socks.
Consider adaptive clothing tools such as a button hook, dressing stick, zipper pulls or sock aid helper.
Simplify Getting Dressed
Choosing certain clothing and fabrics can make dressing easier:
Clothing
Wear pants with an elastic waist since they are easier to pull up and down and have stretch. Many types of fashionable pants now come with elastic waistband, from jeans to dressy leggings and athleisure-wear.
Avoid velour and similar fabrics, which can create friction with other surfaces and make it hard to dress or move during the day.
Replace buttons with Velcro or magnetic closures. Velcro can be sewn into existing clothes and makes it easier to put on and take off clothing.
Socks & Shoes
Wear non-skid socks instead of bathroom slippers. Slippers can slide off your feet, which may result in falls.
Avoid socks with tight elastic bands.
Wear lightweight, supportive shoes with Velcro closures or elastic shoelaces. Slip-on shoes are also a good alternative, as they are easy to put on and take off.
Elastic shoelaces and "lace locks" allow for tightening shoes without tying.
Adaptive Clothing
There are many companies that sell adaptive clothing that make it easier for you to get dressed. Here are some options:
Adaptive Makeup and Hair Tips
For many people with Parkinson's, applying makeup can be a challenge ― especially when fine motor skills are needed. Here are some tips for adapting the makeup application process:
Switch to skincare products with a pump mechanism or transfer your preferred products to bottles with a pump.
Apply makeup while sitting instead of standing. When possible, rest your arm on a surface to apply makeup. Consider purchasing a vanity mirror so you can apply makeup sitting at a surface in your home.
Use foam tubing grips. These grips can help provide more surface area for hand-held items, like brushes.
Purchase a hair dryer stand that you can attach to a surface.
For Care Partners
Advancing Parkinson's can make daily tasks more difficult to perform. Getting dressed becomes a slower, more challenging activity and care partners often need to assist. Explore our Care Partners section for tips on helping your loved one navigate daily activities throughout all stages of Parkinson's.
Page reviewed by Dr. Bhavana Patel, Movement Disorders Neurologist at the University of Florida, a Parkinson's Foundation Center of Excellence.