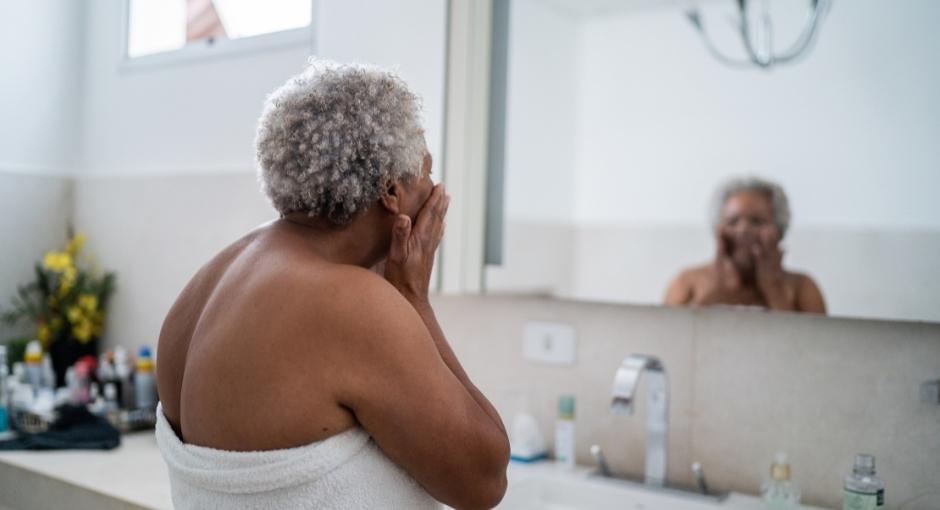 Parkinson's disease (PD) can make basic daily living activities such as bathing, toileting, personal hygiene and grooming challenging. Remember to take your time and precautions to help simplify your bathing and grooming routine. The following tips will help make these activities easier and keep you safe.
Bathing
Getting into and out of the shower or bathtub may be difficult for people with PD. Here are some modifications you can make to ensure safety while bathing:
Install handrails. Bathtubs and shower stalls should have at least two handrails to hold onto as you get in and out. Handrails should be professionally installed when possible. Never use towel bars, soap dishes or faucets as handrails.
Lower your hot water temperature to less than 120 degrees.
Place non-skid rubber bathmats in all bathtubs and shower stalls.
Install a tub rail for support and safety when getting in and out of the tub, if you do not have access to a shower and use a tub for bathing.
Use a handheld showerhead if you sit on a tub transfer bench or shower chair while showering.
Use rubber-backed bathroom rugs. Try kitchen rugs instead of bath rugs, as they tend to be thinner.
Wash with pump soap instead of bar soap. Bar soap is hard to hold and can leave a dangerous, slippery film on the floor.
Install a shelf in the tub or shower area so you do not have to bend to pick up items. Shelving works best when items can be stored between the level of the shoulders and knees.
Make sure you can call for help if needed. Always have a cell phone or medical alert device with you.
Grooming
PD-related rigidity and tremor may make it difficult to handle toothbrushes, razors and hair dryers. These tips may help:
Sit down to brush your teeth, shave or blow dry your hair. This will help prevent falls and conserve energy.
Prop your elbows on the sink or vanity when you shave, comb your hair or use a hairdryer, especially if your shoulders or arms easily tire.
Use an electric razor.
Use an electric toothbrush.
Use a hands-free hair dryer that can be mounted on a vanity.
Work with an occupational therapist to make daily grooming tasks easier.
For Care Partners
Your role as a Parkinson's care partner evolves over time. Utilize our care partner articles and resources for tips on helping your loved one navigate daily activities throughout all stages of Parkinson's.
Toileting and Incontinence
Incontinence is a common symptom of Parkinson's. Here are some ways you can make the toileting process easier:
Use an elevated toilet seat or install a sturdy toilet frame to offer stability and get up safely with less effort. Getting off the toilet may be difficult for those without adequate leg strength.
Try a regular schedule for going to the bathroom, such as every two hours.
Avoid caffeinated drinks such as coffee, tea and cola, which may worsen PD symptoms.
Keep a nightlight on in the bathroom in case you have to use the bathroom at night.
Limit fluids two hours before bedtime if getting up at night to use the bathroom is problem.
Try to double void: wait a few minutes on the toilet after you have used the bathroom. Try going again to make sure your bladder is completely emptied.
Use a stool softener such as Miralax to help produce more regular bowel movements. Avoid bulk fiber laxatives, as these require significant fluid consumption to work properly.
Consider using an incontinence product such as a pad or shield to help if you are prone to accidents. You can find these products at your local drug store.
Know the signs of a urinary tract infection: frequent and urgent urination with burning pain (not all people experience pain). If you experience these symptoms, call your health care provider.
Seek the advice of a urologist, a doctor who specializes in diagnosing and treating diseases of the urinary tract and the male reproductive system.
Page reviewed by Dr. Bhavana Patel, Movement Disorders Neurologist at the University of Florida, a Parkinson's Foundation Center of Excellence.