Assistive Technology & Devices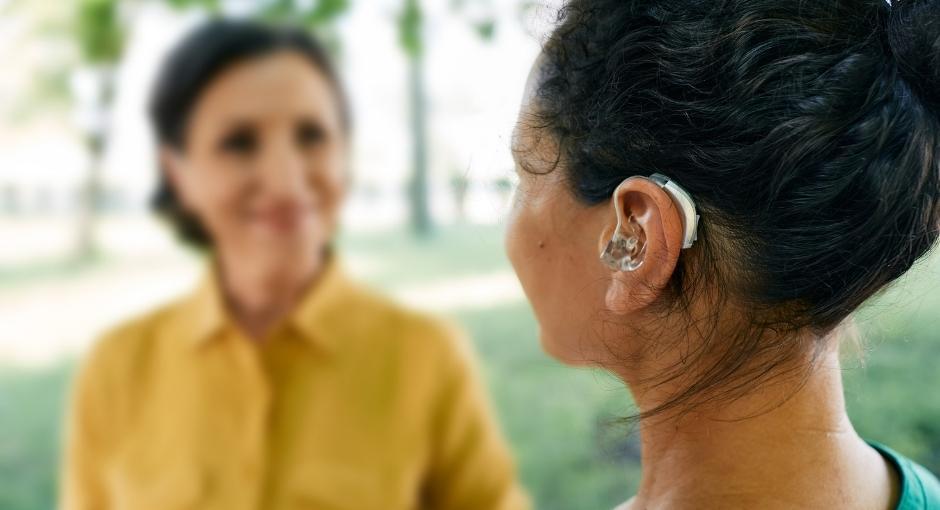 As Parkinson's disease (PD) progresses, some tasks may become more difficult. Adaptive tools and assistive technology — innovative devices designed to improve daily living — can enhance function and wellbeing and foster continued independence.
Wide-ranging assistive devices empower people experiencing Parkinson's-related changes, supporting you in your home and career. These tools can help you continue to participate in the activities that bring you joy and the ones that keep you moving.
Types of Assistive Technology and Devices
Hearing aids, medication organizers and an adaptive computer mouse, are all examples of assistive technology. These tools can help simplify daily living tasks, while some are engineered to ease Parkinson's symptoms that impact motor, speech, balance and thinking.
Allowing enough time for tasks and creating a safe home environment is essential when living with Parkinson's or caring for someone who does. Among the many assistive devices to improve living with Parkinson's are those that facilitate staying active (such as a wearable, step counter or pedometer) — exercise is vital for people with Parkinson's.
Assistive technology devices include:
Mobility aids- Tools that can help enhance safety, mobility, and balance, such as a rollator walker or cane.
Bathing & Grooming aids- Tools that help simplify self-care tasks, such as an electric toothbrush or razor, or shower chair.
Dressing aids- Tools that make getting dressed easier including magnetic fasteners and a shoehorn.
Meal Preparation and Feeding aids- Tools that can make dining easier, including adaptive utensils.
Home safety aids- Tools such as personal medical alert systems and smart home technology devices that can ease health and home management. Devices include voice-activated lights and speakers.
Speech and Communication aids- Tools that can help you speak, including voice amplifiers, communication applications, and alphabet and picture boards.
Memory and Visual aids- Such as reminder signage, calendar, alarms and electronic notifications.
Recreation and Leisure aids- Tools that can help you continue doing the activities you enjoy. Examples include audiobooks, cardholders and adaptive gaming.
Can I benefit from assistive technology?
Answer the following questions to see if assistive technology may help you:
Can I communicate effectively and be understood by others?
Can I use my computer to read or type as effectively as in the past?
Do tremors impact my ability to type?
Do I have difficulty using a touch screen?
Am I having more difficulty remembering passwords?
Am I able to effectively control electronics within the home environment?
Have I experienced falls or loss of balance?
Finding a Specialist
Incorporating the right aids at the right time can preserve independence and increase quality of life. It's important to work with a healthcare expert who is knowledgeable in Parkinson's disease. Your doctor can refer you to a therapist trained to meet your assistive device needs.
Occupational therapists, physical therapists, and speech-language pathologists can evaluate your needs, teach you new techniques to compensate for your challenges, and offer tailored assistive device recommendations. Their experience can ensure you receive the right equipment and the appropriate fit. They will also help you learn how to properly use these devices and customize them to fit your needs.
Assistive Technology Specialists
Exerts who help match your personal strengths with exercises and strategies to help keep you doing the activities you enjoy.
Experts in movement and balance that help you keep active and safe at all PD stages, focusing on helping you thrive.
Experts trained to evaluate and help you manage speech, voice, language, thinking skills, memory and swallowing problems.
Assistive Technology and Device Tips
As you explore assistive technology, keep these tips in mind:
Many assistive devices are commercially available through major retailers and online.
Talk to your care team before using or purchasing medical-related equipment.
A written prescription may be needed for items such as a lift chair, walker, or wheelchair to be covered by your insurance provider. Your care team can help you navigate insurance reimbursement when applicable.
For more detailed information, utilize this online list of assistive and adaptive daily living aids developed by Chicago's Shirley Ryan AbilityLab, an innovative, research-driven rehabilitation institution affiliated with Northwestern University, a Parkinson's Foundation Center of Excellence.
To promote and help people with a disability have access to assistive technology and services, the United States Assistive Technology Act was passed by Congress and the President in 1998. Each U.S. state receives a grant through this Act to promote access and help people obtain assistive technology. Find a Tech Act Program in your state.
Contact our Helpline
We can help you locate a nearby expert therapist.