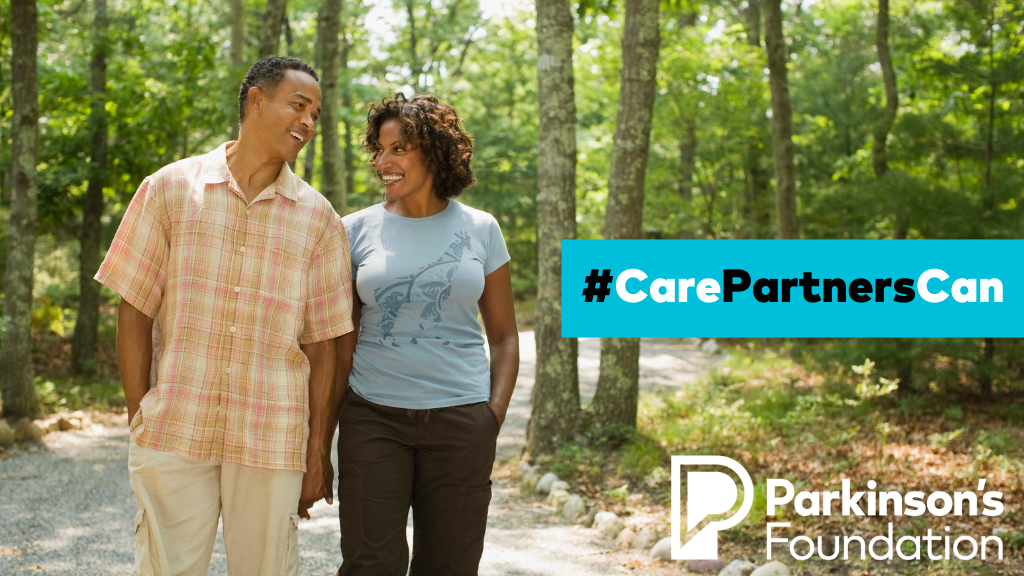 Every November, the Parkinson's Foundation joins with organizations across the country to honor care partners for National Family Caregivers Month. Care partners continue to adapt to new circumstances and work hard to keep their loved ones healthy and safe.
This year, we aim to empower care partners with resources that will help them and their loved ones with Parkinson's disease (PD) live better lives. Our theme for 2022 National Family Caregivers Month is #CarePartnersCan.
What Does #CarePartnersCan Mean?
This National Family Caregivers Month empowers care partners and reminds the PD community of how much care partners do in their caregiving roles. Serving as a care partner to a loved one with Parkinson's may at times feel overwhelming. The Parkinson's Foundation wants care partners to know that they are not alone, and that there are many ways to find support.
#CarePartnersCan find resources
#CarePartnersCan open up about how they feel
#CarePartnersCan make a difference for their loved one
#CarePartnersCan take time for self-care
Resources Just For You
We have free resources to help you find support and help your loved ones with Parkinson's disease live better lives. In fact, we have a whole section of our website dedicated just to you. Here are some of our top resources to check out this month:
Attend the Care Partner Summit
The 2022 Care Partner Summit will bring care partners together to provide them with tools to understand more about Parkinson's disease and to manage their caregiving role. Connect with fellow care partners at one of our in-person or online summits.
Ways to Get Involved Right Now
The Parkinson's Foundation Care Partner Program is a series of self-paced online courses designed with care partners in mind. Learn about topics like caregiver burnout and staying healthy as a care partner.
We collect real-life stories and publish them as My PD Stories. If you are a care partner, tell us about your caregiving journey. If you are living with PD, tell us how your care partner makes a difference.
Connect with fellow care partners through PD Conversations, our online network of support. Ask questions, explore trending topics and get caregiving tips!
Pay it Forward for Parkinson's
During National Family Caregivers Month take the challenge to spread kindness and raise funds for the Parkinson's Foundation. Participants will work to complete 30 Acts of Kindness on their Pay it Forward Calendar (from holding open a door to thanking a healthcare professional) while spreading gratitude this November.
As part of the PD community, you're helping raise awareness and funds that will bring us one step closer to a world without Parkinson's while making lives better for people living with PD today. Download the calendar or bingo card today to get started!
Help Spread the Word
Join us in sharing information about how #CarePartnersCan find support! We've put together a quick guide with ways you can get involved from the comfort of your home.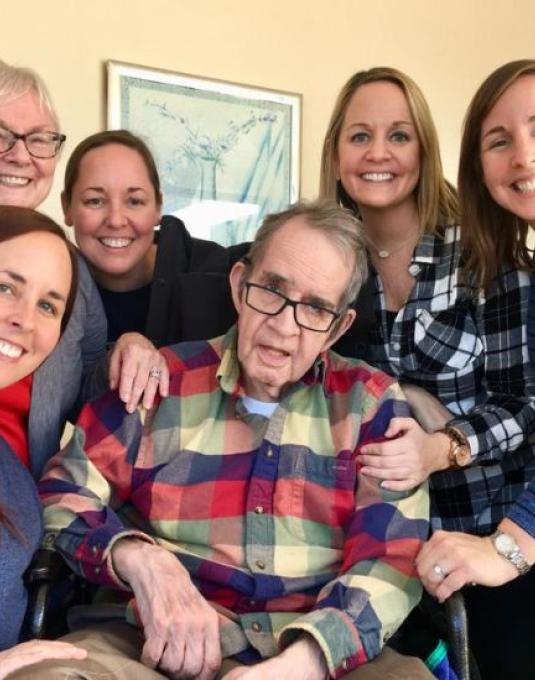 MY PD STORY: Ann Heidger Pequeño
We all know this disease requires care partners, the often unsung heroes coordinating and orchestrating behind the scenes.
We Can't Do It Alone

Our efforts this year are supported by a generous sponsorship from Kyowa Kirin to help us reach more people with Parkinson's and their care partners. Thank you!