Preparing for a Medical Appointment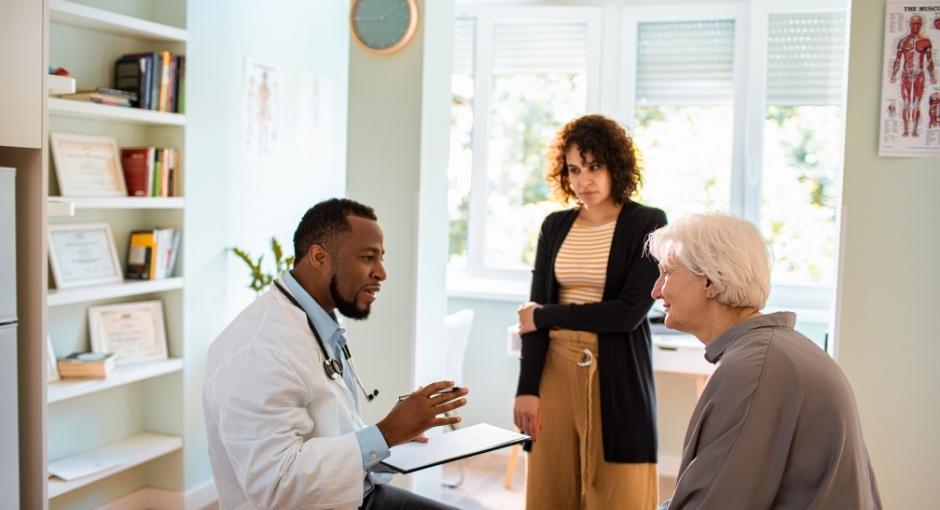 Your loved one's care team will be better able to care for them if you come prepared for appointments. Follow the step-by-step guide below to make the most of each medical appointment.
Your Role at Parkinson's Appointments
It is important to make sure that the person receiving care feels empowered in conversations with their care team. As Parkinson's disease (PD) progresses, new symptoms and diminishing abilities can be demoralizing — for example, requiring assistance in the bathroom. It helps if your loved one is involved in decision-making as much as possible.
Whether the appointment is virtual or at a medical center, try to be present at every appointment with your loved one. You are there to be supportive and take notes, but also to ask questions and share information. Your ability to communicate with the healthcare providers can influence the quality of care your loved one receives.
Be honest and ask direct questions.
If something is wrong, and the provider does not address it, say something.
If you have doubts, get a second opinion.
Being at the appointment is also important because of rules about privacy and confidentiality. You might have heard of HIPAA, the Health Insurance Portability and Accountability Act. Unless you are physically in the room with the patient and the doctor, you cannot expect the doctor to give you information about your loved one's health and treatment just because you are related, even if you are the spouse.
Before the Appointment
Scheduling the Appointment
Schedule the appointment at a time that works well for everyone involved.
Try to schedule during a time of day when your loved one's symptoms are most effectively controlled.
Plan to attend the appointment. Attending appointments with your loved one is often beneficial to them, as you can share observations, understand the information discussed and take notes.
Preparing for an Appointment
Remember, doctors and specialists see many patients a day, and usually only spend a brief time with each one. Be ready to share information about your loved one's medical conditions (PD and others), medications, symptoms and other treatments.
The more information you can bring to the medical appointment, the more meaningful treatment your loved one will be able to receive. Consider taking the below to each appointment:
Medication Form – a list of current medications, dosages and timing

Notes about symptoms, problems or improvements since the last visit
List of questions
Sometimes the appointment schedule does not allow you to ask everything on your list. If you cannot get all your questions answered at the visit, ask the doctor or staff at the clinic who to contact with unanswered questions or new concerns.
The Day of the Appointment
Plan ahead so that you are able to get to the appointment on time, even early. Make sure there is enough time to visit the restroom before the appointment.
Assemble the following items to bring to the appointment:
Parkinson's Symptom Diary or list of your observations/notes
Current medication list; include all prescription and over-the-counter medications and supplements (including strengths and doses).
Insurance cards and ID
Pill box (so medications can be given while away from home)
If you want a letter from the visit to go to your loved one's primary doctor, bring the name and address of the doctor and clinic.
During the Appointment
Be honest when answering questions, even if the answers are embarrassing or difficult. Your ability to communicate with healthcare providers can influence the quality of care your loved one receives. In fact, some movement disorders specialists insist that a care partner be in the room for every visit.
As the person who probably spends the most time with your loved one, you can communicate important information about his or her medical conditions (PD and others), including medications and other treatments, so you can make the most of your time with the provider.
As patients, regardless of our ailment, we often say we are doing "fine," even when that is not the whole truth. As a care partner, you can provide specific information about problems the person with Parkinson's is having. This can help the doctor adjust treatments and prescribe therapies.
At the same time, it is important to make sure that the person with Parkinson's feels empowered in conversations with all healthcare providers. After all, you are talking about his or her care. If able to do so, encourage your loved one to share any changes or concerns with the doctor. Then add your own observations.
Tips for during the appointment:
Understand the recommendations and follow-up plans before you leave. If something is unclear, ask the doctor for clarification.
Make sure you get information about any new medications that are prescribed:

Name of the medication
What is the medication being prescribed for?
Will it replace another medication or to be taken in addition to other medications?
What is the dose, and how often is it to be taken? (Many anti-Parkinson medications are increased gradually to avoid side effects. Make sure you write down the dosing schedule precisely.)
When and how will you know if the medicine is working?
Are there common or serious side effects you should know?
Who can you call with questions, concerns or updates?

Ask for relevant print-outs (referrals, notes, instructions).
Try to schedule the next appointment or additional team appointments before leaving the office.