Caregiver Corner
Male Care Partners Share Their Top Lessons Learned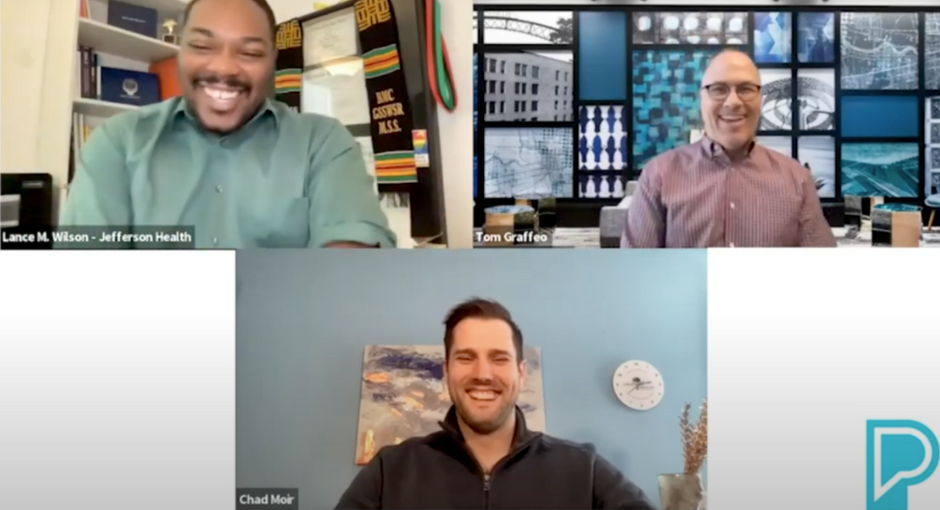 Everyone's journey into the care partner role is different. The new role and relationship a care partner takes on is defined by the identities, relationships and other factors they hold onto as an individual, while navigating Parkinson's disease (PD) with a loved one.
According to the Parkinson's Foundation Helpline, male care partners call less than female care partners even though women represent 40 percent of Parkinson's care partners.
In a Parkinson's Foundation PD Health @ Home webinar that highlighted the male caregiver experience, three male care partners shared the advice they rely on a daily basis, led by host Lance Wilson, MSS. The panelists included:
Tom Graffeo, care partner to his partner, Parkinson's Foundation Great Lakes Chapter Mission and Outreach Committee Chair
Chad Moir, former care partner to his mother
Bernard Coley, care partner to his wife, Parkinson's Foundation Research Advocate and California Chapter Mission and Outreach Committee Chair
1. Know when to get involved and advocate for your loved one in conversations with healthcare providers.
"If you have done your research and you feel that something is best for you and the person you are caring for, then you need to fight for it," said Chad.
While caring for his mother with Parkinson's, Chad noticed that sometimes during appointments with her doctors, the questions being asked did not line up with his mother's most pressing symptoms and quality of life issues. Additionally, there were moments when his mother's view of her own symptoms varied from how her symptoms were truly impacting her life. He spoke up.
"It's important to allow your loved one with Parkinson's to advocate and talk for themselves, whenever possible. However, when concerns arise that your loved one may not receive the care they need, it's time to help direct the conversation with their healthcare professional in a direction that will provide the care your loved one needs," said Chad. Learn more about how care partners can help prepare for a PD medical appointment.
2. Take care of yourself. Make time for activities that benefit your own wellness.
For Tom, making time for a morning walk and an afternoon meditation gave him an opportunity to care for his own needs.
Similarly, Chad found that that playing soccer gave him a source of personal joy and an outlet for stress.
"Taking care of myself meant taking better care of them," said Chad.
It's important to find time and activities that help you reset. Ultimately, building time for yourself will decrease stress, minimize care partner strain, and build a better quality of life for you both.
3. Allow yourself to accept and ask for help.
When friends and family reach out to offer help for you and your loved one, allow yourself to engage the conversation and let your loved ones know when you need assistance. Giving yourself the opportunity to build a network of people able to assist with the needs of you and your loved one with Parkinson's will ensure that you both have the best care possible.
"I realized that my wife had the disease, but the family all got Parkinson's disease at that moment," said Bernard about his wife's diagnosis. "This was something that impacts more than just the patient."
Bernard draws awareness to the impact that Parkinson's has on the entire family and urges care partners to lean into their network of support.
Keep an open line of communication with your loved ones and reach out to family and friends for help when you need it. Additionally, call our Helpline at 1-800-4PD-INFO (1-800-473-4636) to help you find nearby available resources and support groups.
4. Plan to spend quality time with your loved one outside of Parkinson's care.
As Chad reflected on his care partner experience helping his mother, he wished he had spent more time just enjoying moments together, as mother and son.
Make time to do things you both enjoy doing together to maintain a positive relationship outside of being a care partner and a person living with Parkinson's. Take time to reflect on activities or hobbies you and your loved one may not have done in a while and consider planning a time to enjoy them together in the future.
5. Approach uncomfortable situations in a relaxed and confident way.
"When you're uncomfortable, it makes them uncomfortable. Go with the flow," said Chad. Chad recommends building in time and space to allow your loved one to take care of the parts of their daily routine on their own, as much as that their health allows. If you end up needing to play a larger role as a care partner, Chad advises to approach the situation in a relaxed way, because this will allow your loved one to feel more relaxed as well.
While adapting to the changing needs of your care partner role is difficult, know that there are many people, resources, and activities that can help you through the process. Call our Helpline for help finding nearby available resources, events and referrals to Parkinson's experts.
Explore our full list of care partner resources and our all-new Care Partner articles.