Aware in Care Advisory Committee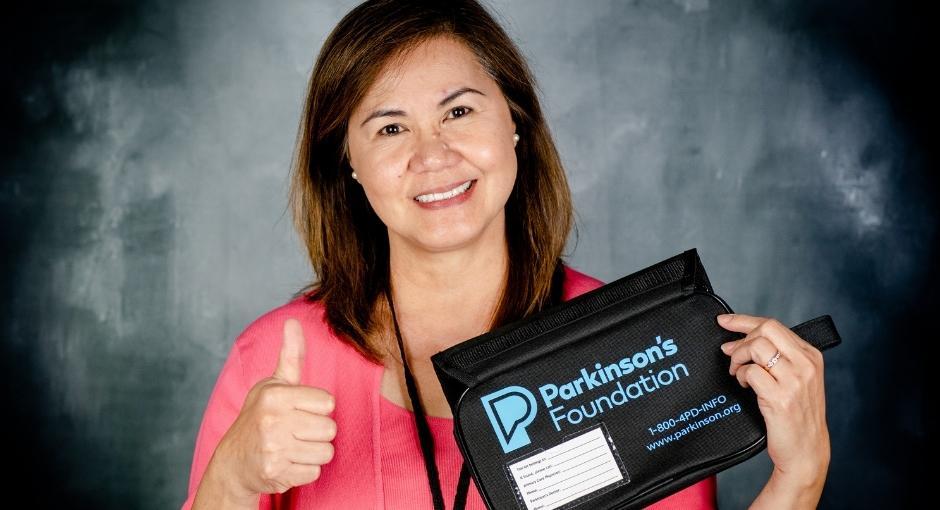 In our effort to continually improve and expand the Aware in Care initiative and make hospitals a safer place for people with Parkinson's disease (PD), the Parkinson's Foundation established the Aware in Care Advisory Committee. This group of experts helps guide how we change and grow the impact of the Aware in Care initiative.
This committee is comprised of expert clinicians and members of the Parkinson's community, including people with Parkinson's and care partners, who advise on the content and disbursement of educational materials as part of the Aware in Care initiative.
2022 Committee Members
Lucia Blasucci, RN, BSN, CCRC
Lucia has spent more than 20 years at the Rush Movement Disorder clinic, a Parkinson's Foundation Center of Excellence. During this time, she has remained focused on patient-centered care, patient education, and patient advocacy as it pertains to Parkinson's. Previously, as a Research Study Coordinator in the clinic, she was directly involved in recruiting patients into clinical trials, leading study visits, and transferring data from study encounters. Through this, she had direct contact with study subjects and care partners, serving as their advocate throughout all aspects of a clinical trial program.
Currently, she works as an ambulatory nurse in the clinic and interacts with patients and their family members on a daily basis both in person and over the phone. In addition to this role, she runs the Rush Patient Support programs targeted at patients and care partners and is particularly skilled in dealing with quality of life issues and overall health priorities. In all of her encounters, she strives to make patients and care partners feel welcomed and included in their disease management and research participation.
April N. Hart, RN, MSN, FNP-BC, CNE
April is an Associate Professor in the School of Nursing at Bethel College in Mishawaka, IN, where she has worked for more than 15 years. With almost 30 years of working full-time in nursing, she has worked in Critical Care and Emergency settings while completing her MSN in Nursing Administration and Family Nurse Practitioner post-MSN. Besides teaching full time, April works as a Nurse Practitioner and House Supervisor at Goshen Health System, a Magnet hospital. April coordinated the writing of the initial Magnet document and now Goshen Health is in the process of its fourth Magnet designation. April has completed seven medical mission trips to Sierra Leone, Kenya, Guatemala, and the Dominican Republic.
In 2018, April participated in the esteemed Edmond J. Safra Visiting Nurse Faculty Program at the Parkinson's Foundation.
Debra Mayer, MSN, RN, CNE
Debra is a registered nurse specializing in critical care and emergency nursing for the past. With 26 years of experience, currently Debra holds a tenure position as nursing faculty at Anoka Ramsey Community College which is part of the Minnesota Alliance for Nursing Education (MANE) Baccalaureate Nursing program. Debra's areas of practice include chronic and acute care nursing, clinical experiences, and simulation. She holds an Associate Degree in Nursing from Anoka Ramsey Community College, a Bachelor of Arts in Nursing from the College of St. Scholastica, and a Master of Science in Nursing from Walden College. Debra also holds an advanced certification from the National League of Nursing (NLN) as a Certified Nurse Educator.
In 2018, Debra participated in the Edmond J. Safra Visiting Nurse Faculty Program at the Parkinson's Foundation. Debra has a personal and professional interest in promoting further PD education, by working with her faculty peers to augment student learning through classroom education and simulation.
Arita McCoy, MSN, CRNP
Arita is a Nurse Practitioner at the Johns Hopkins Parkinson's Disease and Movement Disorder Center. She has worked at the center for the past 11 years in multiple roles, including outreach assistant and research nurse. In her current role as a nurse practitioner, Arita splits her time between regular clinical care of patients and rating/performing procedures in clinical trials. She is also the coordinator of the Johns Hopkins Parkinson's Foundation Center of Excellence, which allows her to play an active role in community outreach and education.
Arita has a Master's Degree in Nursing and is a board-certified Adult-Gerontological Nurse Practitioner. Her experience has helped her to gain vast knowledge in many areas of movement disorders, from initial diagnosis to more complex, advanced stages. She has special clinical interest in advanced treatment options for those with Parkinson's disease and other movement disorders.
Joan Miravite, MSN, BSN, RN, FNP-BC,
Joan is a practicing Family Nurse Practitioner with more than 17 years of clinical experience working in neurology. She holds Bachelor of Science degrees in both Biology and Nursing. She received her Bachelor's and Master of Science in Nursing from Columbia University, School of Nursing. She is currently completing her studies at New York University, Rory Meyers School of Nursing, with a Doctorate in Nursing Practice. She has extensive experience in the evaluation and programming of deep brain stimulation (DBS) for Parkinson's disease, essential tremor and dystonia. She is heavily involved in training fellows on the management of DBS patients.
Joan has helped to build a strong DBS program at Mount Sinai Beth Israel by educating nurses, doctors, and patients. She has served as the Clinical Coordinator of the first Dystonia Center of Excellence of the Bachmann-Strauss Dystonia Parkinson Foundation. She is currently the Clinical Coordinator of the Parkinson's Foundation Center of Excellence at Mount Sinai Beth Israel. Joan is also an invited member of the New York State Department of Health Neurodegenerative Advisory Workgroup.
Muhammad Nashatizadeh, MD
Dr. Nashatizadeh was born and raised in Kansas and completed his medical degree, internal medicine internship and neurology residency at the University of Kansas School of Medicine. After serving as chief resident, he pursued additional movement disorder fellowship training at Baylor College of Medicine in Houston, TX. He is board-certified in neurology by the American Board of Psychiatry and Neurology (ABPN). He returned to the University of Kansas School of Medicine as faculty in the Department of Neurology in November 2015 and has served as the Director of Inpatient Movement Disorders since 2017. He is the primary attending covering the inpatient academic neurology consultation service where he works with emergency medicine, internal medicine, rehabilitation and surgery services to assess and address the neurological problems affecting hospitalized patients, especially those with Parkinson's disease.
He also educates geriatrics fellows, residents from neurology, internal medicine and psychiatry, and medical students with an emphasis on (1) understanding how systemic medical disease can affect patients neurologically and (2) recognizing and identifying how multiple layers of neurological illness affects hospitalized patients. He has been voted the Neurology Attending Educator of the Year (Student Voice Award) by third year medical students for three years in a row.
Leslie Peters
Leslie's journey with PD began in 1998 when her mother-in-law was diagnosed. In 2007, her husband developed his first symptoms. She currently serves as the co-chair of the Parkinson's Foundation's People with Parkinson's Advisory Council. She was also part of the planning committee for the 2018 Caregiver Summit| Cumbre Para Cuidadores and shared her story as part of the Caregiver Panel.
Leslie has gone to Capital Hill four times to speak with her State Representatives to discuss policies impacting people with PD. She was awarded Outstanding Advocate Award by the Parkinson's Foundation and the Michael J Fox Foundation at the 2018 Policy Forum. She says "getting involved with the Parkinson's Foundation and advocating for people with PD has changed the course of my life. This is a wonderful initiative that is very close to my heart. Many thanks to the Parkinson's Foundation for all of the wonderful things you are doing."
Emily P. Peron, PharmD, MS, BCPS, BCGP, FASCP, FCCP
Dr. Peron completed the American Society of Consultant Pharmacists Foundation Parkinson's Disease Pharmacotherapy Traineeship in 2009, and shortly thereafter identified a drug-induced tremor in her grandfather. More than a decade later, as Associate Professor of Geriatrics at Virginia Commonwealth University (VCU) School of Pharmacy, Dr. Peron teaches PD content to students in the VCU Schools of Pharmacy, Nursing, and Physical Therapy. Working with the VCU Parkinson's and Movement Disorders Center, she conducts research on medication use for people with PD during hospitalization. She is also a regular speaker at movement disorder support groups, community outreach events, and continuing education seminars, taking an Aware in Care Kit with her wherever she goes.
Dr. Peron earned her Doctor of Pharmacy from Butler University and completed two years of clinical residency training at the Louis Stokes Cleveland VA Medical Center. She then went on to earn her MS in Clinical Research while completing a National Institute on Aging-sponsored research fellowship at the University of Pittsburgh. She is currently pursuing a PhD in Health-Related Sciences with a Concentration in Gerontology through the VCU College of Health Professions.
Jay Phillips, MAcc
Jay is a retired non-profit accounting manager, diagnosed with PD in October 2010. He and his wife Marilyn, a retired physical therapist, received training as Parkinson's Foundation Research Advocates in 2012, and since that time have been active in recruiting subjects for PD clinical trials in South Carolina. Jay currently leads two PD support Groups (Charleston and Summerville), while also speaking to audiences state-wide as an Aware in Care Ambassador. With recommendations from PF,
Jay has served on three DOD Scientific Peer Review Panels for the Parkinson's Research Program and was for five years a member of the NINDS Data and Safety Monitoring Board for the STEADY-PD III clinical trial of the drug Isradipine. Jay and Marilyn were the first husband-wife team appointed to the People with Parkinson's Advisory Council of the PF from 2013-2016, represented South Carolina at the Parkinson's Policy Forums in Washington, DC in 2017 and 2018, and attended the World Parkinson's Congresses in Montreal and Vancouver. Jay was the event chairperson for Moving Day Charleston in 2018 and 2019. Jay has been a member of an Institutional Review Board at the Medical University of South Carolina for over five years and also volunteers as a "standardized patient" for the neuro-clerkship workshops at the Medical University of South Carolina.
Stephanie R. Stewart MSN, RN-BC
Stephanie has been an Assistant Professor in the School of Nursing at Missouri Western State University for the past six years. Prior to this position, she taught in an Associate Degree Nursing program and a Practical Nursing program. However, much of her career has been spent managing the care of older adults in various long-term care settings. In May 2018, Stephanie was selected to participate in the Edmond J. Safra Visiting Nurse Faculty Program at the Parkinson's Foundation and in March 2019, she attended the Allied Team Training Program with two other colleagues.
Stephanie helped to start a non-profit center for those with Parkinson's disease where exercises and other activities are offered free of charge. She is currently enrolled in the Doctor of Nursing Practice program at the University of Missouri — Columbia and is using this opportunity to develop a greater understanding of the leadership qualities necessary to lead the non-profit PD center.
Contact Us