Raise Awareness
Pole Walking for Parkinson's: How this Nordic Workout Improves Mobility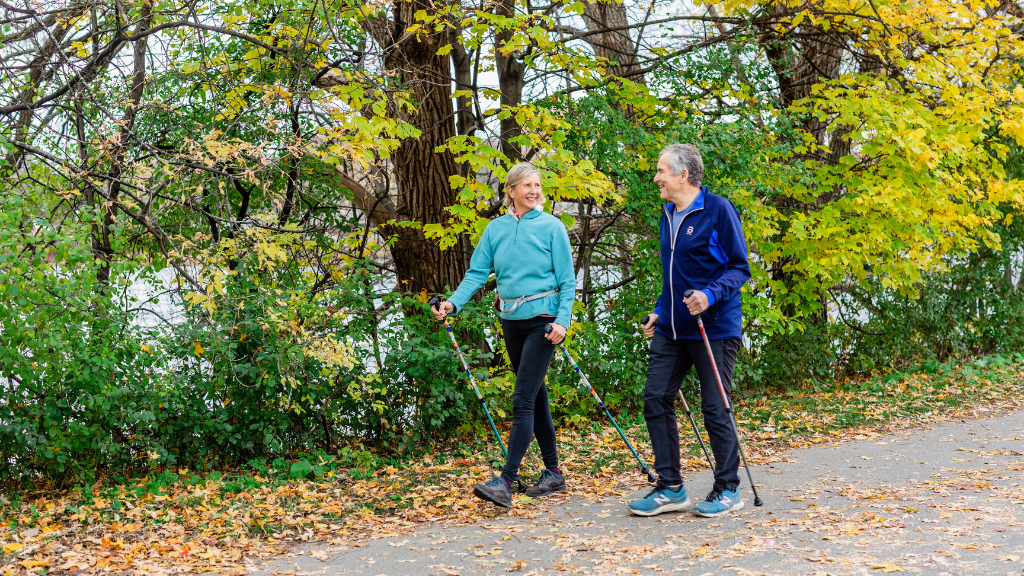 Exercise is a vital component to living well with Parkinson's disease (PD). According to Parkinson's Foundation research, exercise can improve many PD symptoms and delay disease progression. Walking is great exercise, yet people with Parkinson's may experience trouble with balance or gait and fear falling.
A new solution for people with PD to comfortably and effectively utilize walking as an exercise option is gaining traction across North America: pole walking, also known as Nordic walking.
Pole walking utilizes specially designed poles in an activity that mimics the motion of cross-country skiing. The walker's arms as well as legs are engaged as the poles 'propel' the body. Walking poles may help users walk faster, more upright, and more steadily. When properly used, the poles take the weight off the walker's knees and lower body joints, which can create the feeling of being light on one's feet.
Pole walking can be particularly helpful for people with Parkinson's, as the poles ensure better posture, and naturally keep the walker more upright. At the same time, taking longer strides can gently stretch limbs and keep the body rotated, which can help loosen up and improve coordination.
While the progression of PD often leads to slow walking with smaller steps, pole walking creates a steady beat to improve pace and encourage the walker to make bigger motions.
One Canadian-based company, Urban Poling Inc, has developed a unique set of walking poles with features that promote physical and neurological rehabilitation goals. Their Activator® Poles have been found by experts to be beneficial to people with compromised gait and balance.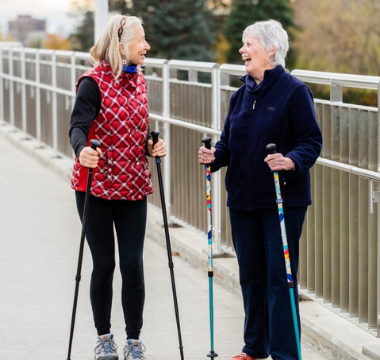 Urban Poling founder, Mandy Shintani, is an occupational therapist and gerontologist. She discovered pole walking after seeing Swedish neighbors engaged in the activity and realized that there was a significant opportunity to utilize it both for rehabilitation and fitness in North America. As a result of her therapist background, she was able to quickly bring innovation to the market by tailoring the poles to the needs of people with conditions like PD. The poles were designed to be ergonomic, light, easy to adjust and safe in any terrain thanks to specialized rubber tips or botties that absorb shock and improve stability.
"We are focused on increasing mobility and function for every age, ability and fitness level," said Mandy. "Through our educational programs and uniquely designed poles, our mission is to help people realize that their full potential is not only achievable but also sustainable, by doing exactly what their body was designed to do — move."
Pole walking, according to Mandy, has the added benefit of substantial improvements in mood, confidence and mental health.
"Obviously there's quite a bit happening physically, but also mentally," said Mandy. "Neurologically, there are so many things that have to happen when 90% of your body's muscles are triggering simultaneously. It is stimulating so many areas of our neural pathways. Also, when you are out walking, there is a huge component of spirituality and connectedness to our environment."
Parkinson's care partner, advocate and physical therapist Shelley Friedland found urban poling to be beneficial in helping her husband Rick, who lives with PD, maintain his fitness goals.
"People with Parkinson's want to be able to do things that they love: going to the beach, going on a trail. But Parkinson's can make walking difficult," said Shelley. "Urban poling allows people with Parkinson's to keep doing those things they love. It gets them up and moving."
Shelley, who also took a certification class in the Activator® Pole techniques for Parkinson's, has helped establish an Urban Poling fitness group in her West Palm Beach community.
She finds that the poles not only provide a beneficial workout to people of all fitness levels, but also helps create connections and community.
"Using the poles becomes a social thing — people stop and ask you what you are doing, and it starts a conversation. Most importantly, it is an activity that Rick, my high school sweetheart, and I can do together," said Shelley.
This article is for informational purposes only and is not an endorsement of any product or program mentioned herein.
The Parkinson's Foundation can help you find the exercise resources you need. Join us for PD Health@Home Fitness Fridays for a workout delivered straight to your living room!