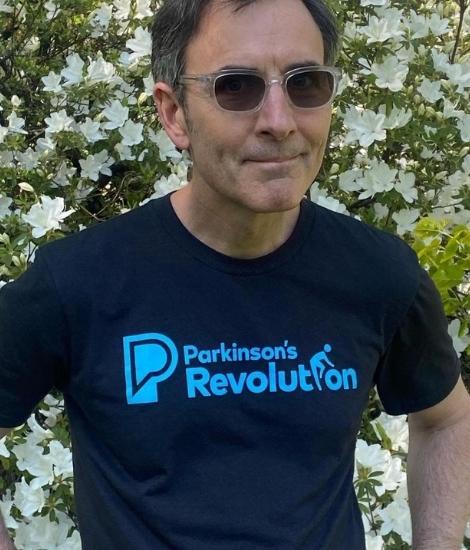 People with PD
John Andrejack
Thinking back now, I had the first symptoms of Parkinson's disease (PD) in my mid-thirties. In 2001, I noticed a tremor in my right middle finger. I went to the doctor, and told him that my mother, two aunts and a few cousins had essential tremor. He asked me how they treated it. I replied, "we all pretend not to notice it. To which he responded, "the American Medical Association does not recommend denial as a course of treatment."
I was prescribed beta blockers, but they had side effects including feeling cold all the time. I stopped taking them and dealt with the minor tremor. Over the next 11 years, I had frozen shoulder four times. Later, I learned that repeated cases of frozen shoulder can be an early sign of Parkinson's.
In 2015, my right arm was no longer swinging naturally and I developed a limp. My neurologist told me that I had carpal tunnel, causing the issue with my arm and throwing my gait off. My wife did not buy this diagnosis, and neither did my dentist. They both urged me to go back. When my neurologist finally listened to me, she blurted out the diagnosis "Parkinson's disease." Seven minutes after the appointment started, it was over. I was alone on the street in New York City with no literature, no referral to a movement disorder specialist and no idea where to turn.
Somehow, I lucked out and got an appointment with Jori Fleischer, MD, a movement disorder specialist at the NYU Movement Disorder Center, a Parkinson's Foundation Center of Excellence. On July 24, 2015, I was officially diagnosed with Young-Onset Parkinson's disease. Dr. Fleischer is an amazing person who recommended that I get involved with the Parkinson's Foundation.
In 2016, I completed my training and became a Parkinson's Foundation Research Advocate. I was encouraged to get involved in many projects and patient panels. Before I knew it, I was an active member of the Parkinson's community. I was invited to be on a few episodes of the first season of Parkinson TV, where I met Bas Bloem, MD, and contributed to his article, Multidisciplinary Care for People with Parkinson's Disease: the New Kids on the Block! After that, I contributed the patient perspective to a few other articles and eventually I co-authored What People with Parkinson's Disease Want with Sonia Mathur, MD.
All along, I was trying to get into a clinical study. At first, my Parkinson's was not advanced enough to get accepted into any studies. As time went by, I was then told it was too advanced. I took part in one clinical study on the effects of a mild electrical current on Parkinson's. The treatment had no impact on me, but at the same time, I realized that my involvement in the trial was important. I told myself that by eliminating treatments that did not work, I was helping the Parkinson's community get one step closer to a cure.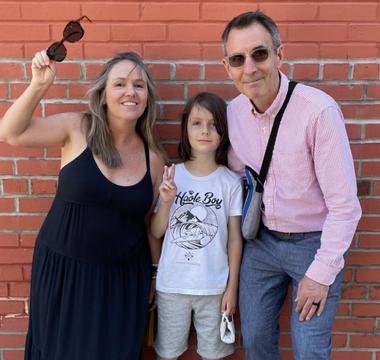 In December 2020, during the COVID-19 pandemic, I realized that my health had gone downhill. After almost six years on carbidopa/levodopa, the medication was no longer working for me. My off periods were getting longer. I suffered from horrible fatigue, and I was dragging my right leg. Various extenders and other medications did nothing to improve my condition. Just getting through the day was an enormous task.
I have always felt that hope was an action, and it was certainly time to act. I searched for and applied to clinical studies. I was not qualified for many of the studies and when I was, no one responded. Finally, one day before I turned 54, I had my first clinical trial appointment! It was a great birthday present and for the first time in a long time, there was hope.
The study is for ABBV-951, an investigational (unapproved) drug containing Levodopa Phosphate/Carbidopa Phosphate (LDP/CDP) given continuously under the skin, via pump for the treatment of Parkinson's. The idea is that receiving medication continuously will reduce off periods and dyskinesias. At first, I felt that I must be getting the placebo. Every time I went to the clinical study site, I made a video. I started feeling much better. Six weeks later, I compared the video taken on the first day of the study to the video taken a month later. The difference was astounding. My dyskinesias were almost gone, my tremor was far less pronounced and even my voice was stronger.
While transdermal infusion will not work for everyone, I predict that this treatment is going to be a game changer. If all goes well, we may see a lot of people with Parkinson's wearing pumps at the next World Parkinson's Congress. While I know it is not a cure, I feel strongly that this treatment will greatly improve the quality of life for people with Parkinson's.
I have two more clinical study visits left in the phase 3, double blind study and then I will begin the open label phase that will last for two years. I am extremely grateful to be one of 150 people worldwide selected for this research study. When it is over, I will certainly apply to other clinical studies.
If you are newly diagnosed, I highly recommend getting involved with the Parkinson's Foundation. Through my involvement with the Foundation, I became connected to a community of caring and knowledgeable individuals. Your involvement will give you the opportunity to advocate for research, fundraise and contribute to published research articles.
If you are considering taking part in a clinical trial, keep in mind that many studies are looking for people who are newly diagnosed and have not started taking medication. Being part of a clinical trial is not for everyone. It is time consuming, and it may take several months just to get the medication or placebo. I was lucky to have the support of my wife Kate, our son Ocean, family, friends and my colleagues at Queens College, City University of New York.
If you have the time and the desire to help yourself and others, I strongly encourage you to seek out and get involved in clinical studies. Your involvement could change everything about how we study, treat and/or cure Parkinson's disease!
John Andrejack is a husband, father, educator, volunteer with the Parkinson's Foundation and a person living and thriving with Parkinson's disease.
Become a Parkinson's Foundation Research Advocate
Visit Parkinson.org/GetInvolved for other ways to get involved
More Stories
from the Parkinson's community