Raise Awareness
New Medicare Study Finds Critical Gaps and Disparities in Access to Parkinson's Care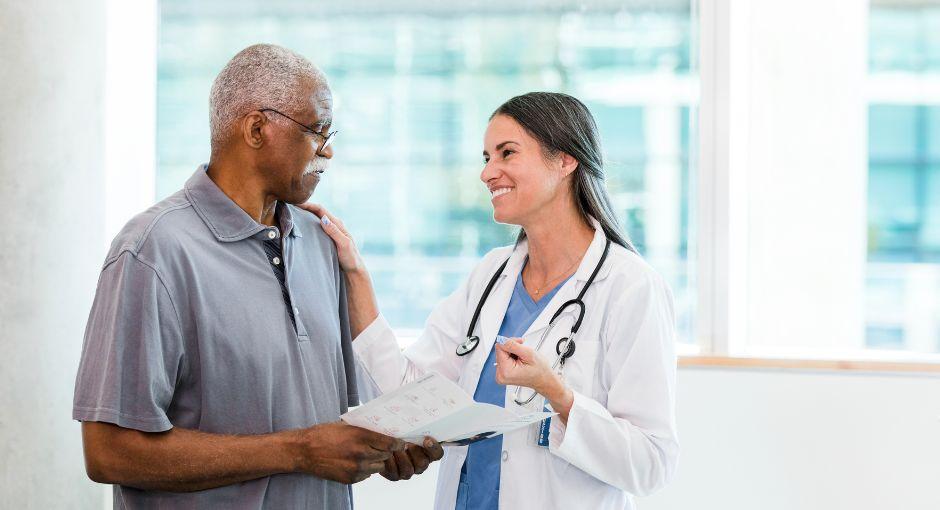 Regularly seeing a neurologist can improve the lives of thousands of people with Parkinson's disease (PD) each year. However, access to expert Parkinson's care is not always easily available. A new Parkinson's Foundation-funded study found that only 9% of Medicare beneficiaries with PD received care from a movement disorders specialist (expertly trained neurologists who can recognize PD's distinct nuances and tailor treatments to each patient), while 50% saw a general neurologist.
The study identifies critical gaps in care for people with Parkinson's in the U.S. Those with the greatest disparities in care are women, people of color (those who identify as Asian, Black, Hispanic and Native American) and residents of rural areas. Published in the official, peer-reviewed journal of the Parkinson's Foundation, npj Parkinson's Disease, the study analyzed 2019 U.S. Medicare data.
"By utilizing Medicare data from 2019 that represents 90% of people living with Parkinson's in the U.S., this research provides not only the timeliest but the most comprehensive study of people with PD yet conducted," said James Beck, PhD, senior author of the study and Parkinson's Foundation chief scientific officer. "Our findings underscore that Parkinson's specialists are not the main care providers for people with PD — it is the general neurologists and other clinicians. These professionals, and their patients, could greatly benefit from additional training in PD care."
Study Findings
50% of people with PD receive care for the disease from general neurologists.

29% receive PD care from primary care providers.

Care access disparities persist for women, people of color, and residents of rural areas — each most likely facing additional challenges in receiving a diagnosis and treatment.
Although depression affects 53% of people with PD receiving Medicare, only 2% receive treatment from a mental health professional.
Medicare recipients with PD are not likely to access supplemental therapies — physical and occupational therapy, speech-language therapy and mental health services — with only 20% of individuals seeing a physical therapist, for example.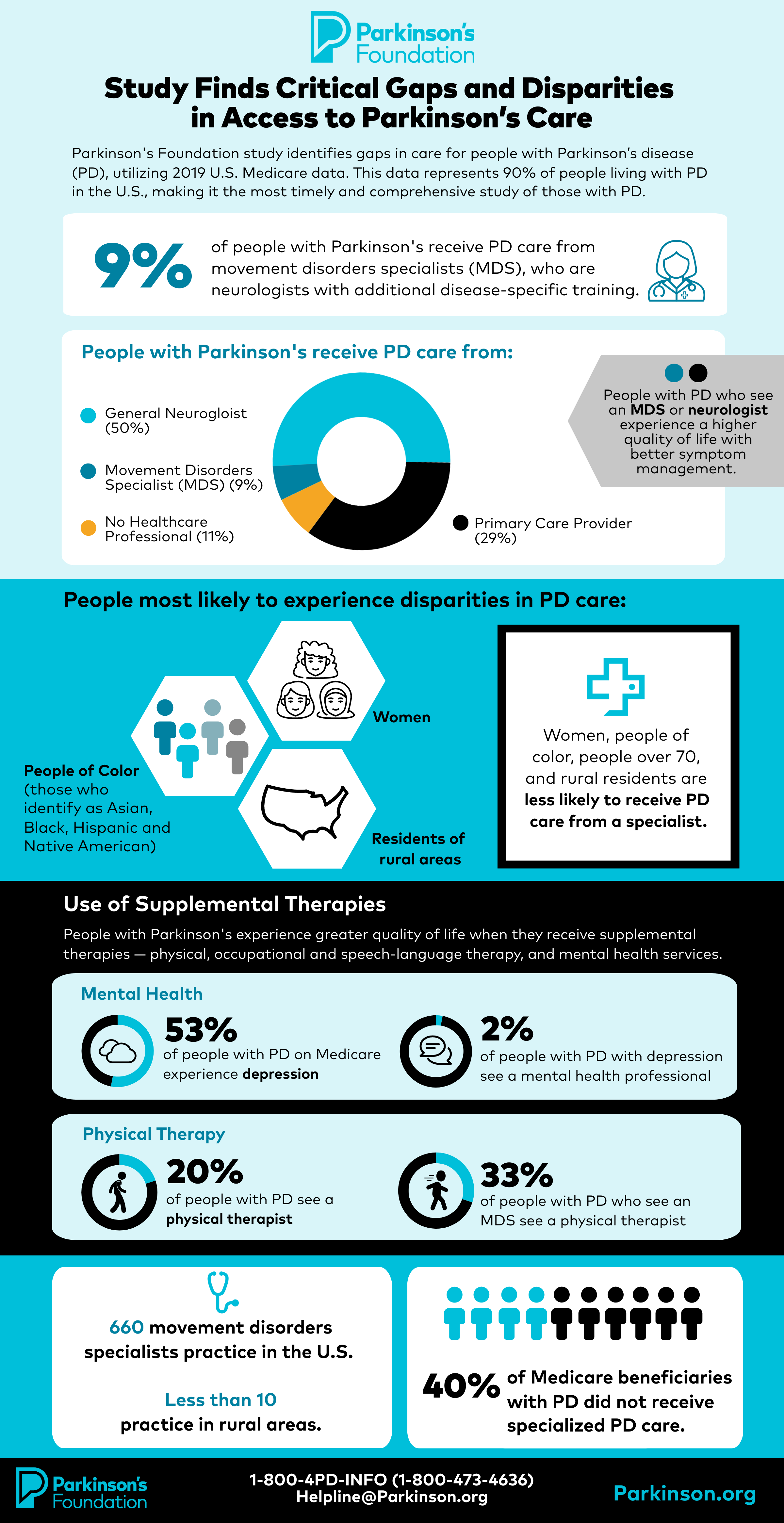 Share These Findings on Facebook
What do these findings mean for people with Parkinson's?
There are only 660 movement disorders specialists who practice in the U.S., with a total of six in rural areas. There are one million people in the U.S. living with Parkinson's.
Forty-one percent of people with PD on Medicare do not see a neurologist or movement disorders specialist. Prior research has shown that receiving care from a PD specialist leads to a better quality of life. These doctors know how to help people manage PD symptoms, screen for crucial symptoms like depression and anxiety, and can help personalize medication and treatment plans.
The Parkinson's Foundation conducted this study to better identify how it can improve access to specialized PD care. As a result of this study, the Foundation is now expanding disease-specific training to general neurologists and other healthcare providers, and pursuing strategies that improve access to care across all demographic and population groups. The findings from the study will also support policy development and future research that dives deeply into access issues.
The vision of the Parkinson's Foundation is for all people to have access to quality PD care. The Foundation oversees multiple initiatives aimed at better understanding and improving care, providing professional education opportunities and working to remove care barriers for people with PD. Learn more about how we are increasing access to care through our care programs.
The Urgency of Connecting People to Expert Care
Every year, 90,000 people in the U.S. are newly diagnosed with PD. Unfortunately, many navigate the disease alone for years. Receiving an accurate PD diagnosis can be half the battle, while the other half is finding quality PD care. Those who engage with healthcare professionals trained in PD in the early stages of the disease report better outcomes and quality of life.
The economic burden of Parkinson's disease to individuals, families and the U.S. government is nearly $52 billion every year and will cost $80 billion annually by 2037. Not only is expert care critical to living better with Parkinson's, receiving care early on can reduce the economic burden of Parkinson's drastically both on a personal and nation-wide basis.
The number of people with PD will continue to increase substantially in the next 20 years due to the aging population. That is why we are determined to educate healthcare professionals so that people with Parkinson's will receive a diagnosis earlier, treatment sooner and better care. Our goal is for people with Parkinson's actively avoid unnecessary complications, such as prolonged hospital stays, and live better with this disease.
How can I find expert care?
If you are living with or caring for someone with Parkinson's, find PD care near you with these resources:
Ready to learn more?