Raise Awareness
Tackling Disparities in PD Care: A Movement Disorder Specialist's Story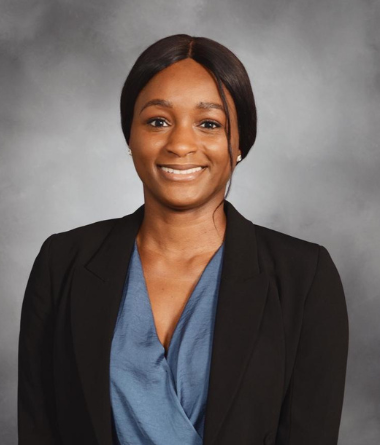 For Lynda Nwabuobi, MD, a movement disorder specialist at New York-Presbyterian/Weill Cornell Parkinson's Disease and Movement Disorders Institute, patient care is as much an art as a science.
Dr. Nwabuobi, whose specialized training was supported through a Parkinson's Foundation Movement Disorders Fellowship, delivers compassionate, individualized care to her patients while also engaging in clinical research. The Parkinson's Foundation believes in increasing access to specialized care for people with Parkinson's and continues to do so through funding clinical fellowships and grants.
"I had an excellent fellowship — the availability of the grant to the university allowed me to benefit from exceptional training," said Dr. Nwabuobi. "I was surrounded by some of the greatest minds in Neurology, and it has helped my career because it opened my mind to a lot of possibilities."
Dr. Nwabuobi's patients with Parkinson's disease (PD) benefit not just from her expertise, but also from her passion for clinical research, which heavily focuses on documenting and addressing the root causes of healthcare disparities. Getting to know and better understand the needs of her patients in the clinic also inspires new directions in her research.
"Having such a large practice, you truly get to see what people with PD and their family members are dealing with," said Dr. Nwabuobi. "It shows you what the gaps in care are, and points to ways that we can make things better today."
A prime example is rooted in Dr. Nwabuobi's observation that women with PD are more likely to come to her clinic alone. "In my previous research work, I examined sex disparities in homebound PD patients," said Dr. Nwabuobi. "We found that women with PD who are homebound are more likely to be alone and less likely to have access to a neurologist. In addition, loneliness affects morbidity and mortality. This tells me that women, especially those who are homebound, are a group of patients that I need to pay closer attention to; we have to do better for them."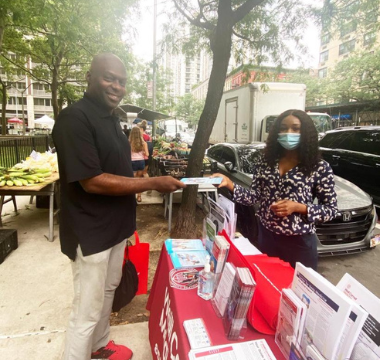 During Dr. Nwabuobi's Neurology residency, she led a study on care disparities between the majority-white, privately insured patients seen at the main hospital clinic of New York University (NYU) vs. the racially diverse, multicultural community of patients seen at the nearby public Bellevue hospital clinic, many of whom were uninsured. Both sets of patients saw the same specialist, and in fact, public hospital patients saw their doctors at a more frequent rate than the main campus patients, yet still experienced disadvantages in care.
Differences noted included reduced access to physical therapy, certain beneficial medications, and deep brain stimulation surgery for the public hospital group. This research was highlighted in the Journal of Cross-Cultural Gerontology in the article titled, "Racial and Social Disparities in Health and Health Care Delivery Among Patients with Parkinson's disease and Related Disorders in a Multicultural Clinic Setting."
"I am passionate about creating access to better care to marginalized communities and bringing more diversity to the clinic. I am very much affected when I see that people get different treatment based on the color of their skin, whether or not they are insured, or what language they speak. People are becoming more aware of the effects of racism in healthcare. My greatest hope is that we will live in a world that provides equitable care for everyone."

- Dr. Nwabuobi
At her Columbia University clinic during her fellowship, where over 80% of her patients were white (despite the racially and ethnically diverse community surrounding the hospital's campus), Dr. Nwabuobi decided to take action to encourage marginalized people to seek the hospital's neurological resources.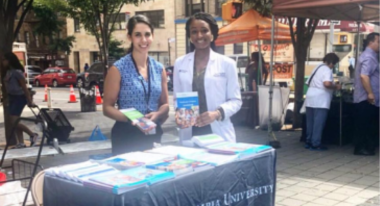 "I had an idea to set up a table at the community farmer's market in Washington Heights as a way of creating awareness about PD and available resources," said Dr. Nwabuobi. "I call it "Neurology at the Market!" I found that farmer's markets are a good way to get into communities. This year, I expanded the effort, and I had my residents and medical students involved. It has been very successful!"
"Dr. Nwabuobi's work embodies the Foundation's belief that all people deserve quality care, and that may require us to think outside the box," said Juanita Pharr, Director of Clinical Affairs at the Parkinson's Foundation. "The benefits of Dr. Nwabuobi's approach to clinical engagement for her patients and the wider community she shares, truly highlights why the Foundation is dedicated to supporting specialized training."
Dr. Nwabuobi reflected on the Foundation's resources and impact on her patients: "All the programs that Parkinson's Foundation offers are helpful to my patients — especially virtual programs. Our biggest goal in the field is raising awareness. The current work of the Parkinson's Foundation will create greater awareness."
Find a movement disorders specialist in your area at Parkinson.org/InYourArea or call the Parkinson's Foundation Helpline at 1.800.4PD.INFO (1-800-473-4636).