Raise Awareness
Local Parkinson's Program Reaches Black and African American Community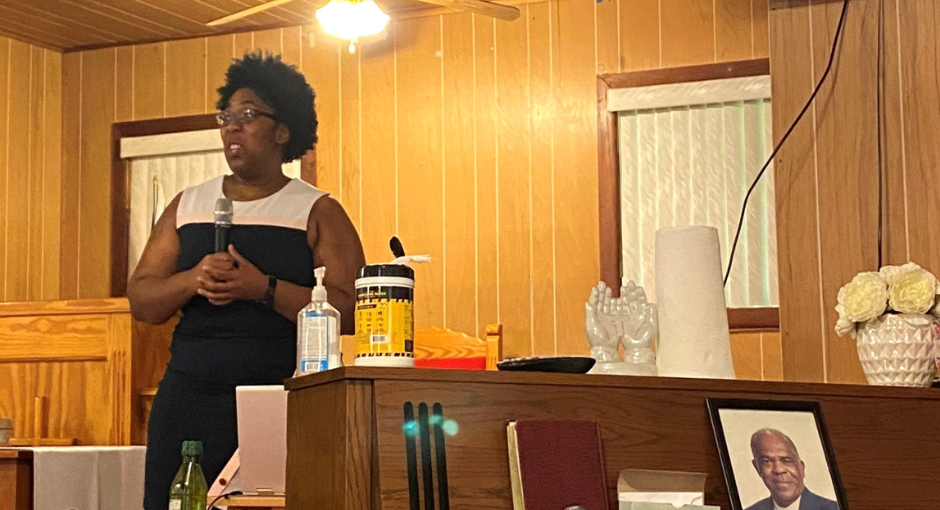 When Orien Greene approached his Parkinson's care team at the Norman Fixel Institute for Neurological Diseases at University of Florida (UF) Health, a Parkinson's Foundation Center of Excellence, about reaching out to the Black community, the team took his feedback to heart. Within a year they developed and launched an entire program.
"When I sat down with Orien, he told me that no one in his community understands Parkinson's disease (PD) and we need to do something about it," said Heather Simpson, OTD, OTR/L, occupational therapist, and one of three team leads that manages the "Parkinson's Disease Outreach Program to African Americans in Alachua County" program.
Orien tries to stay proactive when it comes to his health and wanted to help his community do the same. "In the African American community, we get education mostly about things like arthritis, blood pressure and diabetes," Orien said. "Once I was diagnosed with Parkinson's, I realized that it is much more than 'the shakes,' it was also things like slowness and speech changes. So, I felt the need to make sure that other African Americans were getting education about Parkinson's that might help them in getting earlier and appropriate care."
The program was funded through a Parkinson's Foundation community grant, which supports local health, wellness and educational programs that address unmet needs across local Parkinson's communities. In 2021, the Foundation distributed $2.2 million throughout 143 community-based grants.
"We could not have offered this project without the support of the Parkinson's Foundation," Heather said. "Having the Foundation's name behind it proves essential when reaching out to people. We provided Foundation materials — including the 10 early signs brochure — at all our events to help spread awareness."
With the backing of the Parkinson's Foundation and UF Health, Heather and Drs. Irene Malaty and Ashley Rawls kicked off the program with the mission to empower the black and African American community through Parkinson's education.
A misconception when it comes to Parkinson's is that the disease only impacts older, white males. Due to under representation in research and a myriad of socio-economic reasons, Black people with Parkinson's are often diagnosed at an alarming lower rate than white people with PD and are diagnosed later — once symptoms have already begun significantly impacting quality of life.
"We wanted to get the word out, so we began with posting to social media, we hosted a local webinar through the University of Florida, Dr. Rawls spoke on a podcast for physicians, and we included a patient story in our community newsletter," Heather said.
Next, Heather and her team set out to plan three in-person events, hoping to host each one in a local church. It became a team-wide effort, as staff helped connect the team with churches in the area.
Each event's agenda was carefully orchestrated. "We listened to the integral feedback from members of the Parkinson's Foundation People with Parkinson's Council, who said that the Black community wants to hear from Black healthcare professionals," Heather said.
Speakers for each event included three leading Black team members from the Norman Fixel Institute for Neurological Diseases team: movement disorders specialist (a neurologist with specialized training) Dr. Rawls, a rehabilitative professional (either occupational therapist or physical therapist). Terrica Scott, the team's administration professional, was also integral to the program's success as she created a game to quiz attendees and hand out prizes to ensure maximum participation.
The program achieved the unique and powerful angle of not only introducing Parkinson's and how it works in the brain, but also explained what attendees can do if they recognize early signs of the disease.
"While not a fun topic, this is incredibly important information to get out there," Heather said. "People were amazing and thankful. They wanted to take the information to their church group and their family. They would tell us, 'I don't have Parkinson's, but this helps me understand my friend who has it.' And 'This helps me in the future, if I ever have Parkinson's, I know where to go.'"
The program did not end with the in-person events. Each attendee, and anyone they referred, was offered to attend a clinic day at the world-renown Parkinson's center. What is generally a six-month wait to see the Parkinson's specialized team, was fast-tracked.
"Physicians opened a special clinic day — and we have another one coming up," said Heather. "We received five referrals as a result, one person already had a Parkinson's diagnosis but was under-treated and we were able to get them into rehabilitation for the first time, and one person received a Parkinson's diagnosis."
The program will continue to work towards furthering access to care. To find an upcoming event near you, visit Parkinson.org/events.
"At each event someone would say, 'I already have diabetes, why would I want to be diagnosed with something else?' We want to ensure that everyone with Parkinson's can lead a life that it meaningful for you, an early diagnosis and finding expert early on can help make that a reality," said Heather.
Through her career, and new experience co-leading this program, Heather wants all people with Parkinson's to never be afraid to ask questions, "Advocate for yourself and seek help early."
Learn more about the early signs of Parkinson's. Find expert Parkinson's care near you at Parkinson.org/ExpertCare or call our Helpline at 1-800-4PD-INFO (1-800-473-4636).