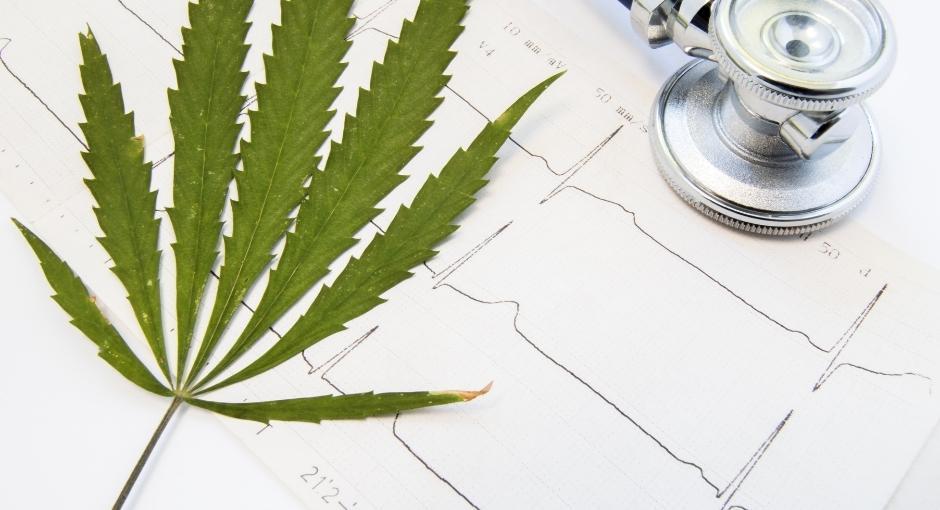 With medical marijuana now legalized in 38 states and the District of Columbia, there is strong interest in its therapeutic properties. Researchers are testing marijuana, which is also called cannabis, as a treatment for many illnesses and diseases, including Parkinson's disease (PD). However, despite this interest, there isn't conclusive scientific evidence that marijuana is beneficial in PD.
PD-Related Medicinal Marijuana Trials
The use of cannabinoids has been suggested to help with managing neurological and non-neurological conditions. Literature on medical marijuana is incredibly varied. Studies have not clearly supported the use of marijuana for PD. The clinical studies of cannabis as a PD treatment that have been conducted are generally small studies that are predisposed to biases. Most of studies have not followed the clinical trial gold standard of a double blind, placebo-controlled trial design. Some studies had as few as five subjects.

While some results have been positive, the effects of medical marijuana are probably not completely understood. This is why more studies, especially those with more subjects, are needed.
Risks and Benefits for People with PD
There are risks and benefits associated with the use of cannabis for people with PD. Benefits include a possible improvement in anxiety, pain, sleep dysfunction, weight loss and nausea. Potential adverse effects include impaired cognition (specifically in executive function, or planning and judgement), dizziness, blurred vision, mood and behavioral changes, loss of balance and hallucinations. Chronic use of marijuana can increase the risk of mood disorders, particularly among young users, and lung cancer.
Researchers issue caution for people with PD who use cannabis particularly because of its effect on thinking. PD can impair the executive function — the ability to make plans and limit risky behavior. People with a medical condition that impairs executive function should be cautious about using any medication that can compound this effect.
Medical Marijuana and Legislation by State
Thirty-eight states and Washington, DC have passed legislation allowing the use of marijuana-based products as a medical intervention.

In some states where medical marijuana is legalized, consumers must register to possess and use cannabis. Other states require consumers to acquire a document from a physician stating that the person has an approved condition. Under federal law doctors cannot prescribe cannabis, but many states authorize them to issue certifications that allow people to obtain medical marijuana.
Recreational Marijuana
Eighteen states and the District of Columbia have legalized the recreational use of marijuana, making it legal for adults over the age of 21 to legally consume marijuana without a doctor's recommendation. Many of these states still differentiate recreational from medical marijuana. In some states, medical marijuana consumers may have access to specialized dispensaries, strains of marijuana and sales tax exemptions.
Decriminalization
Multiple states, counties or cities have decriminalized certain marijuana-related offenses. In these areas, the possession of marijuana can be met with a citation — forgoing an arrest or criminal record — or no penalty at all.
For state-by-state guidance on marijuana legalization, medical laws and discrimination visit Norml.org/laws.
Parkinson's Foundation Centers of Excellence and Medicinal Marijuana
The Parkinson's Foundation, in partnership with Northwestern University researchers, studied attitudes about cannabis at 40 Centers of Excellence — members of our Global Care Network. To the best of our knowledge, this is the first study to provide data on the practices, beliefs and attitudes of expert PD physicians concerning cannabis use.
The results were interesting: most experts said they knew what cannabis did but disagreed on the details. While there is no general agreement on what the benefits might be for people with PD, the survey confirmed that cannabis is a popular subject within Parkinson's Foundation centers, as 95 percent of neurologists reported people have asked them to prescribe it.
These cannabis study results also included:
Only 23% of physicians had any formal education on the subject of cannabis (such as a course or lecture), thus 93% of physicians want cannabis taught in medical school.
Physicians reported that 80% of their people with PD have used cannabis.
Only 10% of physicians have recommended the use of cannabis to people with PD.
In terms of memory: 75% of physicians felt that cannabis would have negative effects on short-term memory and 55% felt that cannabis could have negative effects on long-term memory.
Only 11% of physicians have recommended use of cannabis in the last year.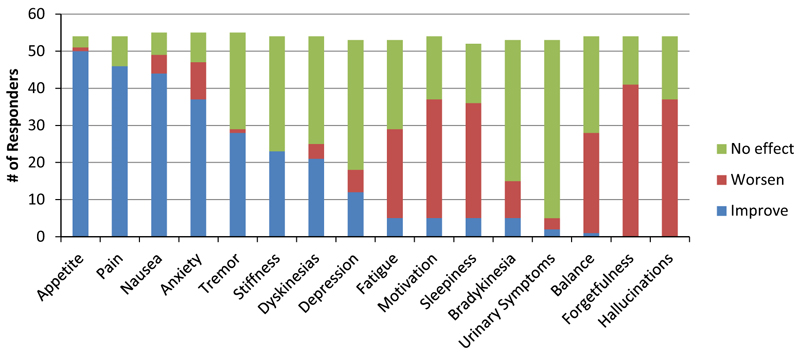 The study emphasized that physicians would be more apt to use medical marijuana as a treatment if it was approved through regulation instead of legislation. Nearly all medications are only approved after passing a science-based evaluation proving their effectiveness in a process overseen by the Food and Drug Administration. Since cannabis has been approved through legislation rather than regulation, there are no labels, dosage recommendations or timing instructions that physicians can reference.
Is medical marijuana an option for me?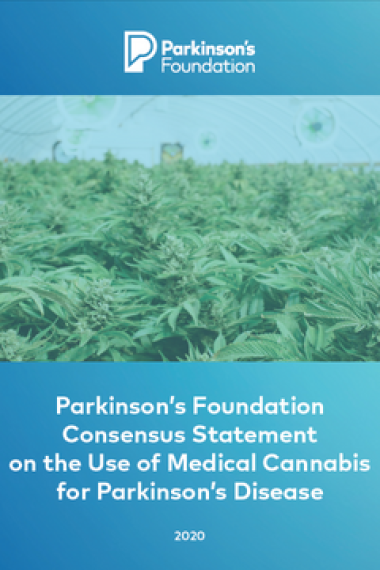 What's next for a person with PD who wants to know if medical marijuana is an option? "Marijuana should never be thought of as a replacement for dopaminergic and other approved therapies for PD," said Dr. Michael S. Okun, the Parkinson's Foundation National Medical Advisor.
Research is still needed to determine how medical marijuana should be administered and how its long-term use can affect symptoms of PD. To keep people safe, states that legalize medical marijuana will eventually need to develop training programs for doctors and medical teams that prescribe medical marijuana. Consult your doctor to see if medical marijuana is an option for you.
The Parkinson's Foundation Consensus Statement on the Use of Medical Cannabis for Parkinson's Disease is designed to help guide the PD community in making informed decisions about using cannabis for Parkinson's. The statement is based on the input from 46 experts who attended the Foundation's first-ever medical marijuana convening. Read it now.
Page reviewed by Dr. Chauncey Spears, Clinical Assistant Professor and Dr. Sydney M. Spagna, Clinical Fellow at the University of Michigan.