Tips for Daily Living
10 Helpful Young-Onset Parkinson's Resources
The average young-onset Parkinson's disease (YOPD) diagnosis comes around 50 years old, and these individuals often find themselves in a different stage of life from their counterparts who were diagnosed later in life.
Those with YOPD are often just hitting their career stride, may still have children or teenagers at home and are planning that next big life goal. Young Onset PD can feel extremely disruptive. While we know there are many pieces to sort through as you learn to live with PD, we have resources that can help navigate this challenging time:
Our article is a good introduction to young-onset Parkinson's, its symptoms and treatment options.
2. Educational Book
Our Frequently Asked Questions book is a quick overview of Parkinson's that can help you plan. This is especially helpful for people with Young Onset PD, as it goes into detail about the earlier stages of the disease.
3. Expert Briefing Webinars
In 2020, our Expert Briefing webinar series highlighted YOPD themes, each led by a PD expert. Watch them all now: Past Expert Briefings Webinars.
4. Young-Onset PD 101
In this podcast episode, "Young-Onset Parkinson's 101," social worker Elaine Book, MSW, discusses disclosing a PD diagnosis in the office, how to talk to children about PD and how to prepare for the future.
Bonus Tip: subscribe to our podcast, "Substantial Matters" wherever you download podcasts.
5. Helpline
If you've had a difficult time finding a support group or resources in your area, contact our Helpline at 1-800-4PD-INFO (473-4636) or Helpline@Parkinson.org for local resources and referrals. You can also visit Parkinson.org/InYourArea.
6. Working with YOPD
Talking to Your Employer About PD, Series Part 1: Where to Begin? and Part 2: Disability Inclusion and Accommodations at Work of our podcast episodes discuss what to do after you are diagnosed with YOPD mid-career. Learn about your rights in the workplace and who you should tell.
7. Enroll in Our Genetics Study
PD GENEration: Mapping the Future of Parkinson's Disease, is a first-of-its-kind national initiative that offers genetic testing for clinically relevant Parkinson's-related genes and genetic counseling at no cost for people with a confirmed diagnosis of Parkinson's. Enroll now.
8. Talking to Children About Parkinson's Resources
Those with YOPD who are also balancing parenthood have a distinct set of challenges, such as helping their children understand and cope with the diagnosis. These resources can help: 
9. MY PD Stories
Get inspired by others in the PD community living with YOPD. Meet Heather, Ellen and Jerry and let them inspire you. Want to exercise your brain and share a part of your YOPD journey? Submit your story now.
10. Moving Day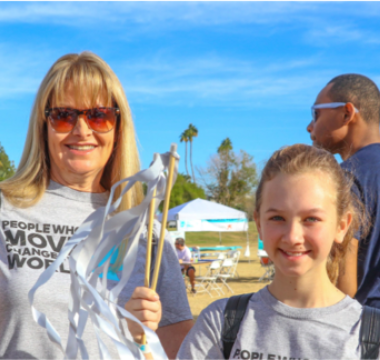 Moving Day is a chance for the entire family to attend an event that promotes movement and community. Moving Day is hosted in cities all across the U.S., and all funds raised help us fund cutting-edge research. Sign up now.
For more Parkinson's resources visit Parkinson.org/Library.