Tips for Daily Living
Extreme Weather Emergency Preparedness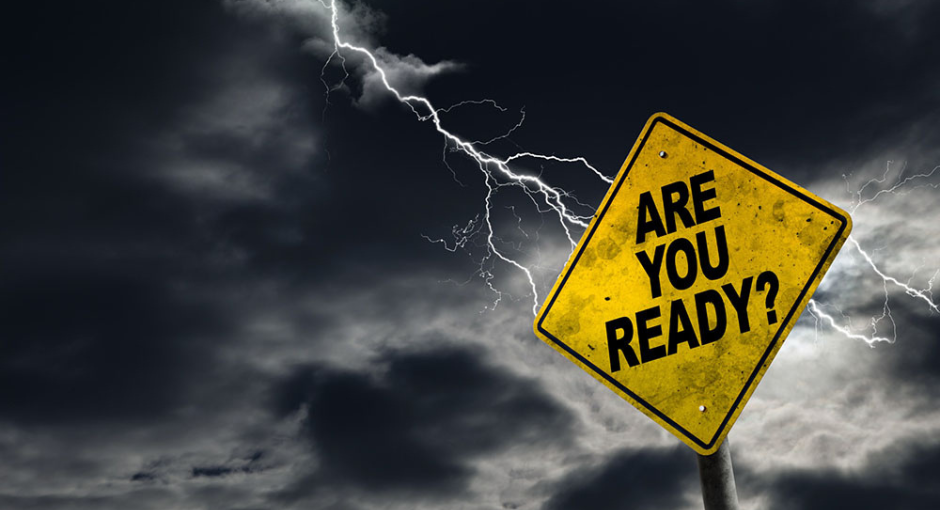 Preparing for extreme weather is a burden for anyone in the path of a storm or fire. People with Parkinson's disease (PD) and their caregivers should take these tips into consideration to ensure that all PD-related needs are accounted for when preparing for a hurricane or any other natural disaster:
Check all your medications. Take inventory of all medications and reorder any that are running low. 
Write your medication list down. Write down or print a list of all your medications (not just PD medications). Include medication name, strength, times taken and dosages. This customizable medication schedule can help.
Make a list of your doctors. Make a list of your doctors and their contact information and take it with you if you need to evacuate before a storm.
Water and food preparedness. Medications may need to be taken with a meal and usually water. Calculate five gallons of water per person per day. Buy enough water and food to last three to five days.
Stock your Aware in Care kit in the event you need to educate an emergency responder or health care professional about your PD needs. Order one here.
Have your Medical Alert Card handy. Keep it with you at all times. Print one here.
Check in with your support network before and after. Arrange for at least one friend or family member to call you during a weather emergency, especially if you live alone.
Practice Anxiety reduction techniques. The stress of possibly losing power or being evacuated could make anyone anxious, but stress can worsen PD symptoms. Download a meditation or breathing app or try to distract yourself by reading a book.
Know your nearest shelter. Visit the Red Cross website to find yours. Depending on where you live and the progression of your Parkinson's disease, you may qualify for a Medical Special Needs Shelter where you can get additional assistance with basic tasks. 
Preparing for power loss:
Avoid Overheating. If you lose air conditioning, monitor your body heat. Drink more than the recommended nine to 13 cups of water per day. Exercise in the early morning or late afternoon when cooler outside. Know the signs of heat stroke: flushed face, high body temperature, headache, nausea, rapid pulse, dizziness and confusion. If heatstroke is suspected, go to your nearest emergency room or urgent care for treatment.
Address lightheadedness. Many people with Parkinson's experience Neurogenic Orthostatic hypotension (nOH), characterized by a drop in blood pressure when going from a seated position or lying down to standing. Exposure to heat can make nOH worse. If you regularly or occasionally experience lightheadedness or dizziness when you stand up, take extra precaution if you lose power and air conditioning by staying hydrated and standing up slowly. 
Prepare your devices. If you have a deep brain stimulator (DBS), make sure your patient controller is charged. If you use a DUOPA pump, have a plan to keep your DUOPA cassettes refrigerated. Call your doctor to ask if you should have extra oral medication on hand in case you are unable to use your pump at any point. 
Preparing for an Evacuation:
Write and follow a packing list. Make sure to include all medications, water and snacks.
Know your community response plan. Learn about your area's response and evacuation plans before a storm hits. Find your state's emergency management agency here.
Take all your medications in their bottles with you. You can keep them all in your Aware in Care kit.
Take your walker, cane or wheelchair. Even if you only use it occasionally.  
Consider your devices. If you have a deep brain stimulator, remember to bring your patient controller. If your DBS neurostimulator is rechargeable, be sure that your recharger is fully charged and bring it along with the charging dock.
Emergency Planning During COVID-19
Planning for an emergency can be a little more complex during the COVID-19 pandemic. The Centers for Disease Control and Prevention (CDC) recommends the below when planning to stay safe from weather emergencies and COVID-19. 
Preparing to stay in a disaster shelter. If you need to go to a disaster shelter, follow CDC recommendations for staying safe and healthy in a public disaster shelter during COVID-19.
Follow safety precautions when using transportation to evacuate. If you have to evacuate outside of your area, follow safety precautions for travelers to protect yourself and others.
Take precautions if staying with friends and family during an emergency. If you are evacuating to stay with friends or family, talk to them about how you can all best protect yourselves from COVID-19. Make sure everyone understands that your Parkinson's puts you at a higher risk of breathing issues. 
Reduce exposure to wildfire smoke. Masks used as COVID-19 precautions offer little protection against wildfire smoke as they do not catch small, harmful particles. Although N95 respirators do provide protection, they might be in short supply. The best way to protect against inhaling wildfire smoke is to reduce your exposure and stay inside. 
Know the difference between symptoms from smoke exposure and COVID-19. Some symptoms can be caused by both wildfire smoke exposure and COVID-19 like dry cough, sore throat and difficulty breathing. COVID-19 symptoms like fever or chills, muscle or body aches and diarrhea are not related to smoke exposure.
Give yourself more time to prepare your emergency supplies. When planning for hurricane season or other severe weather, try to buy disaster supplies using home delivery services. If in-person shopping is your only choice, use a mask, social distance from others and try to shop during early or late in the day.
Learn more at the CDC Webpage: Emergency Preparedness and Response. 
Call the Parkinson's Foundation free Helpline at 1-800-4PD-INFO (473-4636) to order the Aware in Care kit or to speak with a Helpline specialist about preparing for extreme weather. 
Understand that your planning may be different this year because of the need to protect yourself and others from COVID-19.