People with PD
Jerry R. Boster
I was born and raised in Southern California. My father was a community college agriculture instructor and my mother was a registered nurse. A big influence was my U.S. Marine Corps Master Sergeant maternal grandfather.
Growing up, I raised large animals for 4-H (a youth development organization with an agricultural focus) and Future Farmers of America (FFA), excelled in school and held multiple leadership positions.  Not having sufficient money or scholarships for college, I opted to enlist in the U.S. Navy at age 17 to attend the Naval Academy Prep School (NAPS) and then the U.S. Naval Academy. I graduated in 1989 and accepted a commission as an Ensign in the Navy.
I spent the next 24 years as Surface Warfare Officer. My time at sea included stints on aircraft carriers USS MIDWAY (CV 41) and USS RONALD REAGAN (CVN 76), cruiser USS HORNE (CG 30), frigate USS THACH (FFG 43), and the staff of Commander, Destroyer Squadron ONE (CDS 1).  When not on ships, I served on 3- and 4-star admirals' staffs in San Diego, Bahrain and Pearl Harbor, as well as working in the U.S. Embassies to Saudi Arabia and Jamaica.
I joined the Navy to see the world…and I have, to the tune of 42 countries so far.
In the summer of 2012, I made the decision to retire from the Navy. As I was preparing to retire, I noticed a mild tremor on my left side. At first I was able to write-off the tremors as pre-retirement nerves. My wife, Janice, also noticed the tremor and my increasingly poor posture and slowing gait. I ignored her questions since I was in denial.
A good friend, Diana, invited me to brunch and directly told me I had a problem and needed to see a neurologist. Janice and Diana's efforts led me to get a Parkinson's diagnosis seven months later.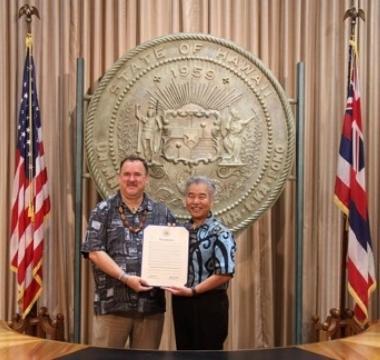 The movement disorder specialist (MDS) neurologist matter-of-factly told me I had Parkinson's. He walked me through what this diagnosed meant. His main message was while the condition is currently incurable, I would mostly likely live a long life, but I needed to get started on a treatment regime. 
2013 and the first half of 2014 were a difficult period. I was retired/unemployed and living in a high cost area. I had my Navy retired pay and my wife was working as an administrative assistant, so we weren't living paycheck-to-paycheck, but I needed to find a job to continue living in Hawaii. I applied to jobs… lots of jobs, about 100-125 and interviewed for three positions. However, the economy kept interfering and the jobs evaporated before I could start.
Then there was the Parkinson's. I was trying to educate myself, figure out my medications and contemplating my neurologist's recommendation to join a Parkinson study on nicotine. Plus, I was trying to work through the Five Common Stages of Grief ― denial, numbness, and shock; bargaining; depression; anger; and acceptance.
All-in-all, the pressure was building and I had some decisions to make. As the saying goes, did I want to be somebody who makes something happen, or did I want to watch those who make things happen, or did I want wonder what happened? 
Looking back, that was an easy question to answer.  All my Navy training kicked in and that little voice in my head said 'Get off your butt and get to work. If you don't like your situation, then change it.' 
Shortly thereafter, my job hunting paid off and I was hired by the U.S. Navy as federal civilian. My job was to write a long-term strategic plan on how the U.S. military was going to work with our allies and partners in the Asia-Pacific over the next 25 years. Writing this plan occupied me for most of 2015 but paid off when my 4-star boss signed my plan.
In 2016, I was nominated for The Samuel J. Heyman Service to America Medal. I wasn't selected but was honored to have been nominated. The nomination was followed by being selected for the 2018 'Secretary of Defense Award for Outstanding Civilians with Disabilities.' This award is only given to 25 people out of the entire 2.5 million members of the Department of Defense.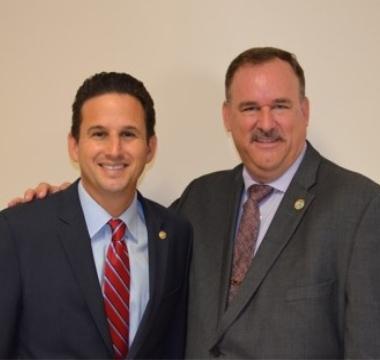 I started volunteering with the Hawaii Parkinson Association, where I quickly became Board President, but I didn't stop there. I became a local and national level Parkinson's advocate and was invited to become a member of the Unified Parkinson Advocacy Council and a member of the Movement Disorder Policy Coalition.
Most recently, I have become a Parkinson's Foundation Aware-in-Care Ambassador. The Aware-in-Care kit is a very important part of my Parkinson treatment toolkit. I review and update the forms and rotate the medication every time I receive a refill.  That way my kit is always ready to go just like when I was an active duty sailor.
The impact on my life of the decision to 'make things happen' was immediate and considerable.
Earlier this month I was asked to speak at the Joint Base Pearl Harbor-Hickam's National Disability Employment Awareness Month (NDEAM) observance. As part of my presentation, I was asked to address what I wanted the audience to know about my condition. Here's what I came up with:
Not all disabilities are visible
Disabilities affect everybody in proximity
Share your diagnosis early on with your close circles
Most people are not educated in various disabilities. They have good hearts and are well-meaning but can unintentionally say or do the wrong things. Help them understand what and when you need help
A disability does not equal incompetent
Adapt, improvise, overcome
Emphasize the 'able' in 'disable'
Be honest and flexible
When it comes to living with Parkinson's, I think the Department of Defense's 2019 NDEAM theme is appropriate… 'Don't Set Limits on Unlimited Potential.'
The Parkinson's Foundation honors those who have served and continue to serve our country. If you are a veteran with Parkinson's or care for one, read our resources: Veterans and Parkinson's Disease  and Veterans Benefits.
More Stories
from the Parkinson's community