The Parkinson's Foundation makes life better for people with Parkinson's disease (PD) by improving care and advancing research toward a cure. In everything we do, we build on the energy, experience and passion of our global Parkinson's community.
Background
The Parkinson's Foundation was formed by the merger of the National Parkinson Foundation (NPF) and the Parkinson's Disease Foundation (PDF), both established in 1957, with offices in New York and Miami. In June 2017, the Foundation marked the 200th anniversary of the publication of, "An Essay on the Shaking Palsy," by James Parkinson and the 60th anniversary of the Parkinson's Foundation. View our Board of Directors and Leadership.
"Parkinson's Foundation investments have played a part in many of the major scientific advances of the past 60 years, improving lives worldwide. Yet there are 10 million people living with Parkinson's disease who urgently need better treatments and care. We mark our anniversary by reflecting on key successes and recommitting ourselves to creating a world without Parkinson's disease."
– John L. Lehr, Parkinson's Foundation President & CEO
Our Promise
The challenges of living with Parkinson's disease, improving care and finding a cure can seem overwhelming. No individual or group can do it alone.
We are the Parkinson's Foundation. A community. An alliance. A movement. Where people living with Parkinson's, families, caregivers, scientists, advocates, donors and volunteers join forces to improve lives and advance toward a cure.
For over half a century, we've made tangible progress on all fronts, from the largest clinical study of Parkinson's, which has significantly improved care, to breakthrough treatments. Today, we continue to:
Provide life-changing support to people living with Parkinson's and their caregivers
Fund game-changing research on treatment and care
Convene the best minds from every corner of the global Parkinson's community to find new approaches that enhance care and move us closer to a cure.
Everything we do is based on experience and informed by facts. The people we serve deserve nothing less than the highest level of support based on validated research and deep encouragement grounded in reality. Our donors and volunteers need to know that we are 100% accountable. This is why we focus on verifiable outcomes, not vague promises.
In partnership with the entire Parkinson's community, we are making a real difference in people's lives. And we have the research, the data — and the stories — to prove it. This is what happens when we all pull together as one global, determined and inspired movement. Better Lives. Together.
Our Values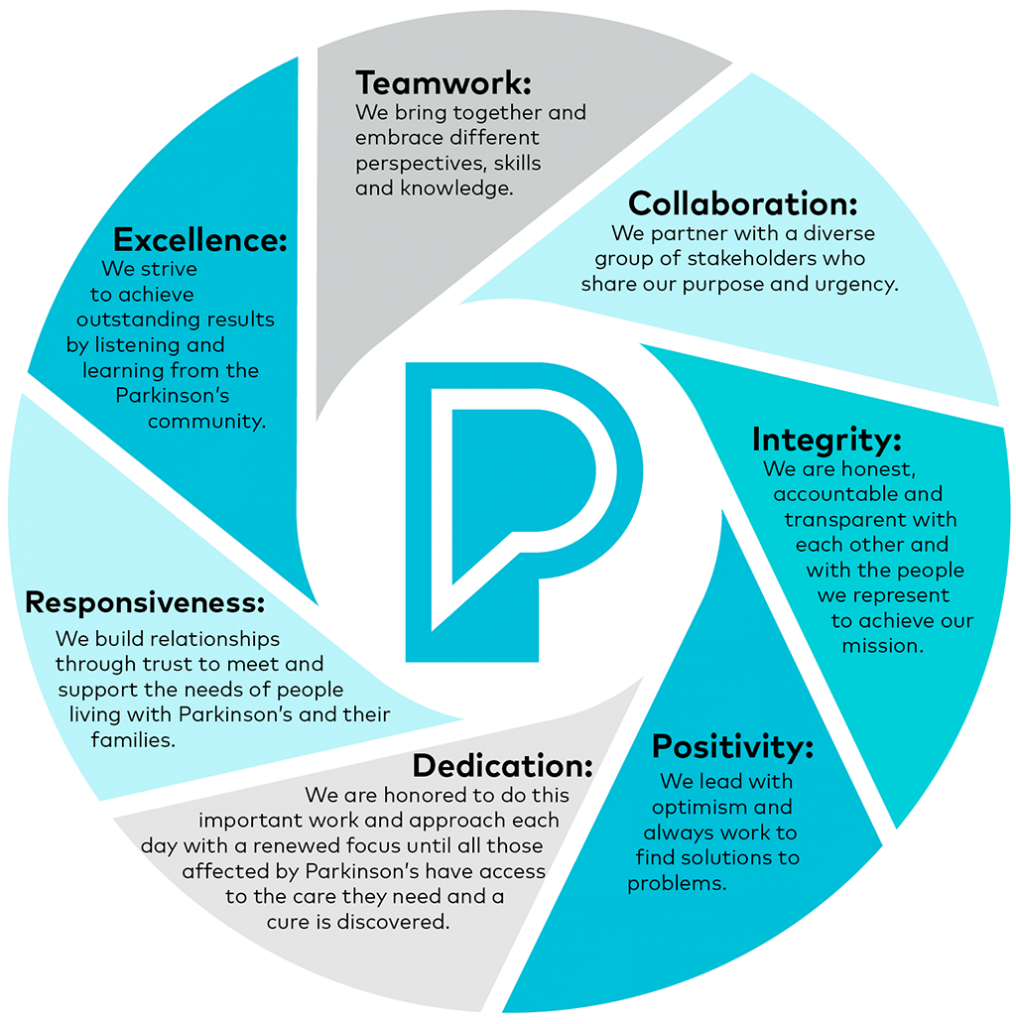 Our Commitment to Diversity, Equity & Inclusion
At the Parkinson's Foundation, we are committed to diversity, equity and inclusion in our culture and in our work on behalf of people with Parkinson's. We recognize that systemic inequities such as those related to race, age, gender, sexual orientation, and socio-economic status, can adversely impact health outcomes and quality of life. As a leader in this field, we commit ourselves to listening to, learning from, and always putting people with Parkinson's first. Further, we know that many voices and perspectives are needed to ensure we are addressing systemic inequities as a community and as a Foundation.
The actions we take to ensure diversity, equity, and inclusion will always be in partnership with people with Parkinson's, their care partners, and the broader Parkinson's community we are privileged to serve. We know that there is more that we can do to address these barriers as a Foundation and as a community and will share these actions as we move forward. Learn more about our commitment to diversity, equity and inclusion.
About the P Symbol
The Parkinson's Foundation logo in the shape of an uppercase letter "P", not only stands for Parkinson's—it also suggests a speech bubble reflecting the many voices in the global Parkinson's community that contribute to our mission.