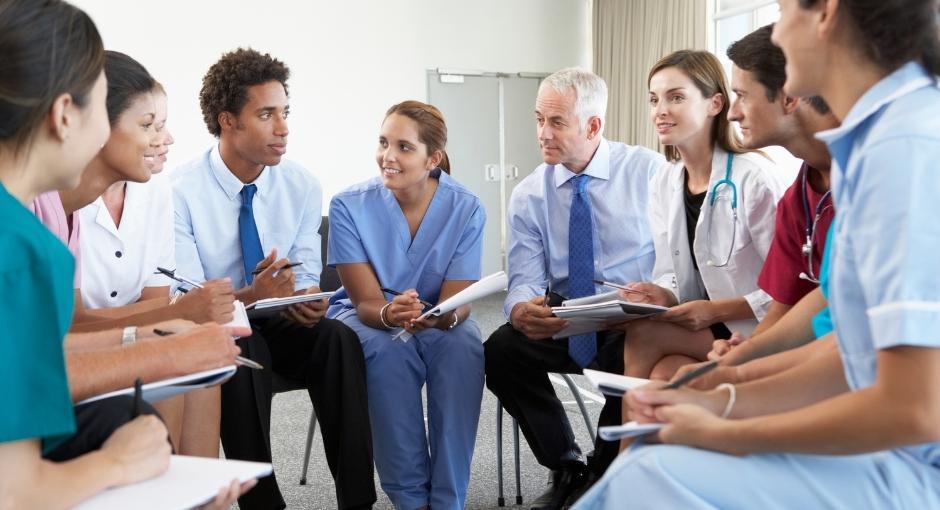 Parkinson's Foundation Team Training is a course designed to increase knowledge about Parkinson's disease (PD) and build capacity for comprehensive, interprofessional care in the treatment of PD.
This dynamic, interactive course offers an intensive curriculum and can be accessed via three different programs, offering virtual or hybrid learning choices:
Option 1: Team Training LIVE
3.5 day in-person course offered each fall season
Includes approximately 3 hours of required online pre-course work
Option 2: Team Training VIRTUAL
Semester long self-paced virtual course offered each spring season (Jan - Mar)
Culminates in a required series of four live virtual group learning sessions
Option 3: ADVANCED Team Training
Pre-requisite of attending either Team Training LIVE or VIRTUAL
In-person course across 2 days with a deep dive focus looking through the lens of the team on one narrow topic each summer (for example, Advanced Team Training 2023 course will be focused on MENTAL HEALTH)
Includes approximately 3.5 hours of required online pre-course work
All Team Training programs include:
Continuing Education credit for physicians, nurse practitioners, physician assistants, nurses, PTs, OTs, SLPs, social workers, and psychologists
Individual and team planning tools for immediate implementation (team discounts are offered)
Opportunity to network with regional, national, and international health professionals
Having your name added to the PF Helpline database so our counselors can direct callers to you when looking for experts in your region of the country
Sign Up for Team Training
This dynamic, interactive course is designed to cover the latest in Parkinson's care for healthcare professionals.
Who Can Benefit
The program currently caters to the following professions for training:
Physicians
Nurse Practitioners
Nurses
Physician Assistants
Occupational Therapists
Speech Language Pathologists
Physical Therapists
Social Workers
Psychologists
Program Agenda
While programs are updated for each training, and constantly evolving, this sample below gives a sense of what the program may look like for Team Training VIRTUAL.
Download Sample Agenda for Team Training Virtual
Accreditation
Accreditation Each Team Training program offers continuing education to participants, including the following professions: MD, PT, OT, SLP, RN, NP, SW.
Sample Accreditation Statement for Team Training Virtual
Scholarships
Currently, we offer a scholarship program for individuals from the Heathland area (Iowa, Kansas, Nebraska, Missouri). Learn more about these grants by visiting Team Training Scholarship Information.
From time to time, we offer other grants for participants. When available, we will post details here.
Background & Goals
Parkinson's Foundation Team Training has been developed to increase knowledge of Parkinson's disease and build capacity for comprehensive inter-professional care in the treatment of Parkinson's.
The course is intended for nurses, nurse practitioners, occupational therapists, physician assistants, physical therapists, speech language pathologists, social workers and physicians who are interested in education about the management of medications and care challenges in Parkinson's.
The Parkinson's Foundation believes that inter-professional care can make the difference between satisfaction and despair for patients, caregivers and the staff providing the care. While Team Training is designed to bring teams together to learn how to better collaborate and plan for better care and treatment of patients, it's open to all health professionals, even those working in settings that don't have team care models.
Prior to the course, each registrant will complete three online preparatory modules that include an overview of Parkinson's, interdisciplinary Team Trainings, and neuropsychiatric symptoms and management.
The faculty consists of an interdisciplinary team of senior movement disorder specialists.
Learning Objectives
Learning objectives apply to all professions:
Identify challenges with medication and medication side effect management in Parkinson's disease
List 6 non-pharmacologic management strategies for non-motor symptoms in Parkinson's disease 
Discuss options to support people with Parkinson's disease and their families in self-management 
Describe the unique and complementary role of each discipline on your care team 
Apply strategies for building interprofessional networks and community partnerships
Gain strategies and learn key behaviors to promote team wellness for both individual members and the team as a whole
Team Training has confirmed my passion for Parkinson's disease and has defined the importance of interdisciplinary teams.

Nurse Practitioner

Team Training Alumni
Training Dates & Locations
Want to be notified when Team Training registration opens? Contact Us.
New 2024 dates will be posted by end of 2023.
Leadership
Team Training is not simply a course in Parkinson's disease. This is an intensive integrated curriculum, developed jointly by the faculty team and taught in a collaborative way. Faculty are committed to its mission of person-centered interprofessional care in Parkinson's and serve as a faculty team modeling effective integrated care planning in the training itself.
Whether addressing cognition, mobility, communication or emotional issues, Team Training faculty values the contribution of each discipline to assessment and care of the person with Parkinson's disease and their caregiver.
This training has given me the momentum and framework to go back and make immediate changes in the clinic. This week has increased my enthusiasm to improve our interdisciplinary care and expand our programs.

Physical Therapist

Team Training Alumni
Accomplishments
The Team Training program has had a steady growth trajectory and is increasingly in demand across the country. With an impressive list of accomplishments, Team Training has delivered on its promise and has, to date:
Completed 40 trainings, enrolling over 2500 practitioners and students across multiple disciplines.
Enrolled over 400 interdisciplinary teams to date throughout the U.S., Canada and now reaching global participation.
Significantly impacted participants, many of whom left the training with plans to start a Parkinson's program or revive their interdisciplinary Parkinson's team.
Changed their understanding of the impact of Parkinson's disease on family care partners.
Sponsoring Team Training
The Parkinson's Foundation seeks private funding to support the program. If you or your organization is interested in sponsoring this program in your area or would like to make a contribution, please contact TeamTraining@Parkinson.org or call 1-800-473-4636.
To find a professional who has completed Team Training in your area, call our Helpline at 800-4PD-INFO (1-800-473-4636).
Hear From Others
Professionals from different backgrounds share their experience from the training.
Payment
Payment will not be accepted without first applying to the training.
If you have not applied, please register now. Please allow 24-48 hours to receive a letter of acceptance.
Payment is due immediately after you receive your acceptance email, in order to be enrolled in the course (unless other arrangements have been confirmed with Parkinson's Foundation staff). Please refer to the payment link provided in your acceptance email to pay for the course.
Registration fee: $550.00 USD (per person)
Teams of 3 or more: $500.00 USD (per person)
VA facilities: The Parkinson's Foundation provides pricing in an email to VA employees.
MD Fellows: Complimentary (limited to 2 MD fellows per training)
Students: Complimentary limited*
*Complimentary student access is limited to two students per each listed discipline track. You must be a full-time student and unlicensed in the discipline track for which you are applying.
| Number of Registrants | One | Two Team Members | Three or More Team Members |
| --- | --- | --- | --- |
| Cost Per Person | $550 | $550 each | $500 each |
If you or your facility needs additional time to provide payment, please contact us to work out a payment arrangement. Please email TeamTraining@parkinson.org.
Publications
Interprofessional education increases knowledge, promotes team building, and changes practice in the care of Parkinson's disease, Parkinsonism and Related Disorders 22 (2016). Download to read.
Development and Evolution of a Model Interprofessional Education Program in Parkinson' s disease: A Ten-year Experience (May 2018). Download to read.
Advanced Team Trainings
Completion of a previous Parkinson's Foundation Team Training (formerly ATTP) training is required to apply.
Team Training alumni have exclusive access to our advanced Team Training Programs, intensive two-day trainings on a specific topics affecting the Parkinson's community.
Team Training Cognition
Summers of 2022 and 2024
Featuring a two-day training on cognition and the challenges in the treatment of PD.
Team Training Mental Health
Summers of 2023 and 2025
Featuring a two-day training on mental health and the challenges in the treatment of PD.
All applicants for advanced Team Training must have previously completed and obtained a Team Training completion certificate. All applicants will be verified in our database prior to acceptance.
Sign Up for Team Training
This dynamic, interactive course is designed to cover the latest in Parkinson's care for healthcare professionals.