Raise Awareness
Tips for Daily Living: Building Your Mental Health Team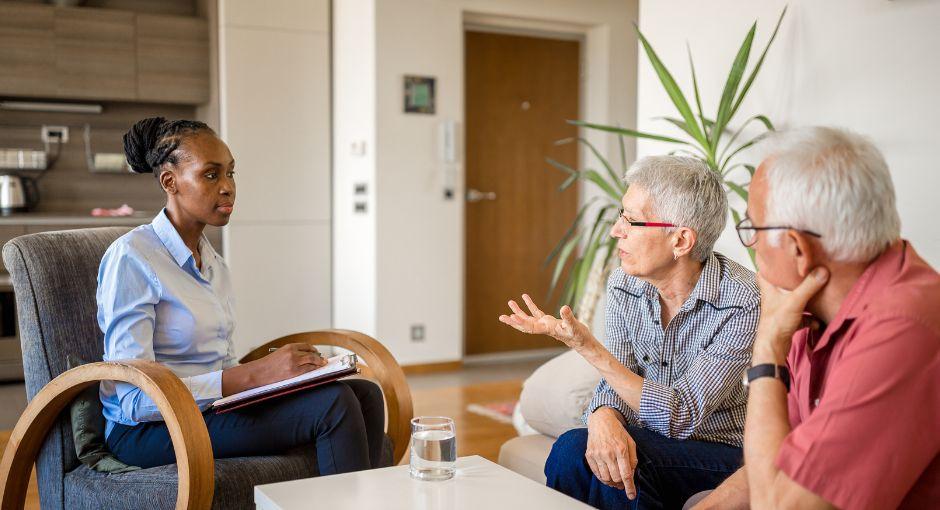 Addressing movement symptoms in Parkinson's disease (PD) is often the first step to improving daily life and overall well-being. Attending to mental health is equally as important for quality of life, especially given that stress and anxiety can worsen PD movement symptoms.
Findings from our Parkinson's Outcomes Project, the largest clinical study on PD, uncovered that mood symptoms, such as depression and anxiety, can have a greater impact on the health of people with Parkinson's than movement issues.
Parkinson's mood symptoms are often intertwined with everyday life challenges and the emotions of coping with a PD diagnosis. Whether or not you are experiencing depression and anxiety, recognizing your individual emotional needs, and building a strong support network that includes mental health professionals, is part of a comprehensive plan to live well with PD.
This article accompanies our virtual round-table conversation, Building Your PD Mental Health Team, which is part of our Mental Wellness Series. In this article, we highlight tips that can help you build a support team for your unique mental health needs.
Reflect on your unique emotional journey.
Take time to acknowledge the wide range of emotions that can come with PD — from sadness, grief and anger to relief, gratitude and hope — sometimes all at the same time!

As your emotional needs change throughout your PD journey, so will the people and tools you rely on. Make a list of your mental health goals and concerns. Explore new and different types of support. Reaching out for help can seem scary and overwhelming but it is often an important step to getting the support you need to feel better.

Foster positive connections.
Surround yourself with people who will listen, uplift and encourage you when you need them. Look for support among your friends, family and community.

Creating connections with others on a similar journey can remind us we are part of a larger, resilient community and keep us moving forward. PD Conversations is an online discussion group where you can discover a network of support. Ask your healthcare team or the Parkinson's Foundation Helpline at 1-800-4PD-INFO (1-800-473-4636) about local support groups and explore events offered by your nearest Parkinson's Foundation chapter.

Rely on professional therapy.
Psychologists, professional counselors, clinical social workers, marriage and family therapists are trained mental health providers who can offer strategies to ease stress and build coping skills. For example, a therapist trained in cognitive behavioral therapy can help you develop tools to change behaviors and thoughts that impact your emotional health.

Keep in mind that therapists are trained to listen and provide nonjudgmental feedback that both the people living with PD and care partners can benefit from.
Does your anxiety and depression last longer than a few weeks or impact your daily life?
Anxiety and depression are treatable. Talk to your healthcare providers to find the treatment option that works best for you. Call our Helpline for referrals at 1-800-4PD-INFO (1-800-473-4636).
Find the right therapist.
Mental health providers can be in short supply depending on where you live or what type of insurance you have. Be persistent and consider virtual sessions if you are unable to find a therapist in your area.

It may be difficult to find a therapist who is familiar with PD, but those who are specialized in chronic illness, grief, anxiety and depression can often address common feelings and experiences of living with a PD diagnosis.

Look for a therapist who inspires feelings of comfort and confidence. Don't be afraid to consider a different therapist if the relationship or chemistry doesn't work for you. Your doctor, healthcare team, support group, friends or family may be able to offer referrals. The Parkinson's Foundation Helpline 1-800-4PD-INFO (1-800-473-4636) can also provide information on therapy professionals in your community.

Consider medication for mood.
Sometimes people with PD need medications to improve depression, anxiety and other mental health challenges just as they do for the treatment of movement symptoms. Neurologists, psychiatrists, psychiatric nurse practitioners or physician assistants are among the medical providers who can help find the right mood medication for you.

An individualized approach that includes a combination of the right medications, counseling, exercise and social support has been found to be the best approach to supporting mental health.
Learn more about Parkinson's Medications
Make necessary lifestyle modifications.
Exercise is medicine for PD. Not only is movement vital to managing movement symptoms (such as balance, strength and mobility) and overall disease progression, research has found that increasing physical activity and creating a regular exercise plan can improve depression and anxiety.

Additionally, regular social engagement, relaxation time and non-PD-related activities help promote a healthy balance.
Helpful Resources
The Parkinson's Foundation is here for you. Explore our mental wellness resources now:
Learn More