Raise Awareness
Tuning into Mental Health this Month and Beyond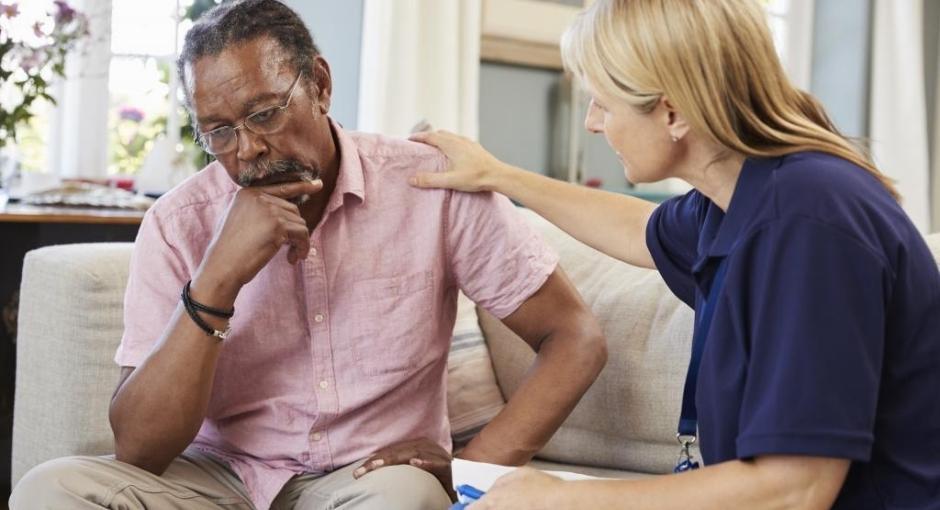 Whether you have Parkinson's disease (PD), are a care partner or a loved one to someone with PD, your mental health should never be neglected. Just as we prioritize the importance of exercise and physical health, taking care of the mind is just as impactful to overall wellbeing.
In honor of National Mental Health month, we've highlighted the podcast episodes developed to show the importance of managing mental health, featuring experts in the Parkinson's field.
Tune in to learn about the many ways we can navigate, address and prioritize mental health this month and beyond.
"Anxiety is one of the most common non-motor symptoms we see in Parkinson's disease. Published estimates suggest that about 30% of people with PD will experience anxiety during the course of the medical condition."

– Dr. Roseanne Dobkin
Featuring findings on anxiety in PD from the Parkinson's Outcome Project this episode focuses on the anxiety that people with PD face. Tune in for a discussion with clinical psychologist Roseanne Dobkin, PhD, of Rutgers University about symptoms of anxiety and management strategies.
Download our fact sheet on Anxiety in PD for more information.
 "I don't think it's a coincidence that a lot of the signs and symptoms of depression overlap with those of Parkinson's disease. And that's because of the pathways and circuitry that are responsible for controlling motor function are really interwoven with those that control emotions." 

– Dr. Irene H. Richard
Depression in PD can be hard to recognize. In this episode, Irene H. Richard, MD, professor of neurology at the University of Rochester, talks about how symptoms of depression are often mistaken for common PD motor symptoms. Listen to the full podcast for more information on depression symptoms and symptom management in PD.
Download our fact sheets Combatting Depression and PD: A Non-Drug Treatment Option to learn more about depression in Parkinson's disease.
Mental Health in a Medical Setting
"When you're dealing with a chronic illness, you're dealing with chronic and perpetual loss: your loss of identity, your grief about things you didn't get to do, or that you did wrong…" 

– Kara Barton, MSW, LCSW
Mental health issues in PD are not always related to symptom management, but also relate to the feelings of loss associated to the diagnoses. Kara Barton, MSW, LCSW of the Keck Medical Center, refers to the struggles one might face while living with PD. This episode explores how to recognize mental health issues, where and when to access care and even how to access care if insurance doesn't cover it.
How Mindfulness Techniques Impact the Nervous System: Part 1 & Part 2
"The most commonly used working definition of mindfulness… is really the awareness that emerges through paying attention, on purpose, in the present moment."

– Angela M. Johnson, DACM, MSTOM, MPH, Lac, Dipl OM
In part one of this series, Dr. Jordan Staenberg, a certified yoga therapist at the Barrow Neurological Institute's Muhammad Ali Parkinson Center, a Parkinson's Foundation Center of Excellence, shares how mindfulness can be used to control the body's emotional and physical state. She also discusses how mindfulness can help the stiffness that some people with Parkinson's experience.
In part two of this series, we hear from Dr. Angela Johnson, a doctor of acupuncture and Chinese medicine at Rush University in Chicago. She shares mindfulness techniques that focus on being aware of external and internal senses, and how that can translate into relaxation and a mindful existence.
More Than a Movement Disorder: Addressing Mood and Coping
"Not only are there non-motor symptoms such as depression, anxiety and apathy that can occur in addition to sleep changes and cognitive changes, but you're also coping with a chronic and progressive disorder… it all intermingles with the physiological aspect and can affect you emotionally."

– Jessica Shurer, MSW, LCSW
Jessica Shurer, MSW, LCSW of the University of North Carolina, Chapel Hill, a Parkinson's Foundation Center of Excellence breaks down the complexities of mood in PD. Not only can mood changes be a direct symptom of PD, but they can also be a symptom of the changes that the disease has on your life. These changes in mood are not exclusive to people with PD — their care partners and loved ones can also experience the feelings of loss and grief from losing the life they had original planned for. Jessica lays out some coping strategies for people with PD and care partners alike.
Download or order our book Mood: A Mind Guide to Parkinson's Disease for more information on how Parkinson's affects mood.
More Than Movement: Addressing Cognitive and Behavioral Challenges in Caring for PD
"For many years, the emphasis in Parkinson's has been on its motor features —so it's cardinal features of tremor, slowness, stiffness or changes with walking, but in more recent years in particular there's been a shift in recognizing that patients can experience these non-motor symptoms and neuropsychiatric symptoms either individually or in combination with these different symptoms throughout the course of their Parkinson's disease."

– Jennifer Goldman, MD, MS
Many people with PD experience cognitive and behavioral challenges, some before motor symptoms present themselves and others after motor symptoms have begun. Regardless of the timeline of these non-motor symptoms, Dr. Jennifer Goldman, of Rush University Medical Center, a Parkinson's Foundation Center of Excellence talks about the importance of treating them just as seriously as motor symptoms. Dr. Goldman has set up an Integrated Cognitive Behavioral Movement Disorder Program at Rush University for such situations.
Download or order our book, Cognition: A Mind Guide to Parkinson's Disease, for more information on managing cognitive changes in PD.
Neuropsychological Evaluations for PD
"Typically, patients will come in with a very close family member or spouse, and I'll just begin a general discussion by asking them if they have noticed any changes in their memory or their problem-solving ability or their speech… After I have a good understanding of what a person can do well and what is giving them trouble, I'll ask about mood and anxiety. Certainly, we know that people with Parkinson's have problems with a depressed mood and feeling anxious… It's very important for us to understand if there are any issues going on with mood or anxiety, how might they be relating to what appears to be a problem with cognition."

– Travis Turner, PhD
Dr. Travis Turner, a neuropsychologist at the Medical University of South Carolina, looks at how the brain influences one's thinking, behavior and mood. In this episode, Dr. Turner breaks down the process of a neuropsychological evaluation and how it can help patients better manage their Parkinson's.
Do You See What I See Hallucinations and Parkinson's Disease
"Until recently, our only options were to reduce Parkinson's medicines or try antipsychotic medicines that were our best alternatives but were imperfect in many ways. A new class of medicine has recently come along that… has no direct effect on dopamine…"

– Joseph Quinn, MD
Dr. Joseph Quinn, of the Oregon Health and Science University in Portland, a Parkinson's Foundation Center of Excellence, discusses exciting advancements in Parkinson's psychosis treatment and management. Dr. Quinn explains that until recently, medications used to treat auditory and visual hallucinations caused dramatic side effects, were burdensome to obtain and effected the dopamine in the brain. Newer medications, that have been approved for Parkinson's use, do not target dopamine and still treat the auditory and visual hallucinations.
Hallucinations and Delusions in Parkinson's
"Most people with Parkinson's don't develop hallucinations until a number of years into their course — 10 years, 12 years ore even more."

– Martha Nance, MD
Hallucinations and delusions in Parkinson's can vary in person to person — in fact, some people with Parkinson's never experience these symptoms in their disease course. Dr. Martha Nance from the Struthers Parkinson's Center, a Parkinson's Foundation Center of Excellence, talks about the different ways hallucinations and delusions can manifest in Parkinson's, as well as coping mechanisms for those who do experience them.
For more information or questions on mental health and PD contact our Helpline at 1-800-4PD-INFO (473-4636)