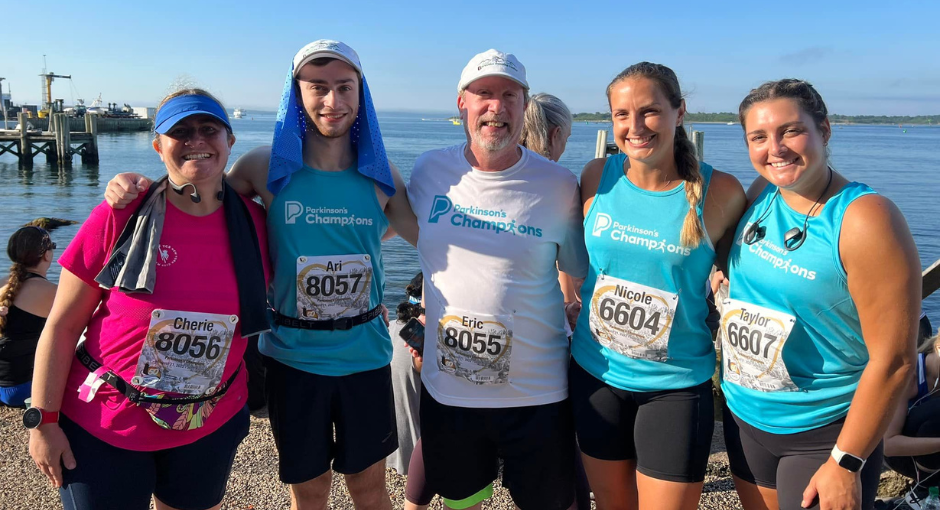 The Parkinson's Champions are racing toward a cure! Our Parkinson's Champions athletes raise funds and awareness for the Parkinson's Foundation while competing in some of the world's most popular endurance events. Every step we take brings us closer to a future without Parkinson's disease, because Parkinson's isn't a sprint, it's a marathon.  Are you ready to #Run4PD? If so, we have options!
Apply for our 2023 race teams here!
Apply for our 2024 race teams here!
Apply for our 2025 race teams here!
Important Program Information
Need help? Check out our new Application Video Guide to see how the whole process works.

Click on the tabs below to see details about each of our race teams. If you have other questions, email us at Run4PD@Parkinson.org or call/text us at 763-317-1308.
Interested in how our teams are doing so far? Check us out at ParkinsonsChampions.org.
For more information on how our program works, check out our Runner Road Map.

Soonest race dates are listed below, however we expect to be involved in all races shown here for all upcoming years.

Please be aware that our official race team program includes required fundraising minimums. While some races allow for deferral or cancelation, we cannot guarantee this, and you may be required to cover any remaining funds yourself whether or not you are able to run. Don't worry, we're here to help you and provide tons of resources and support along the way! For more information please review our official Parkinson's Champions Endurance - Deferral & Cancelation Policies.
Run as an Honorary Champion!
Did you manage to get your own bib/race entry for one of the events we participate in? We would love to have you join our team as an "Honorary Champion!" You can get all the benefits of team membership, without the full fundraising minimum to meet. The only requirements are that you register a fundraising page and attempt to raise $500 or more. Email us at Run4PD@Parkinson.org for more information.
Create Your Own Fitness Challenge
Looking to set your own personal fitness challenge? Join us for our Champions @ Home program! You could run 30 miles this month, plank a few hours each day, set a swimming challenge, or anything else that gets your heart pounding while helping raise funds and spread awareness about Parkinson's disease.
If you are planning to sign up for an actual organized endurance event, check out our Run Your Own Race program above or send us an email at Run4PD@Parkinson.org with questions.
Whatever challenge you choose, set a goal for yourself, raise awareness and funds and let's #RUN4PD!
COVID-19 UPDATE: While most of our official race partners are no longer requiring any coronavirus precautions (such as providing vaccination cards or wearing masks) we continue to carefully monitor all ongoing public health concerns. Please be aware that all external race organizations reserve the right to change their requirements at any time, and we may not be able to offer deferrals or cancelations if you are not able to meet those requirements.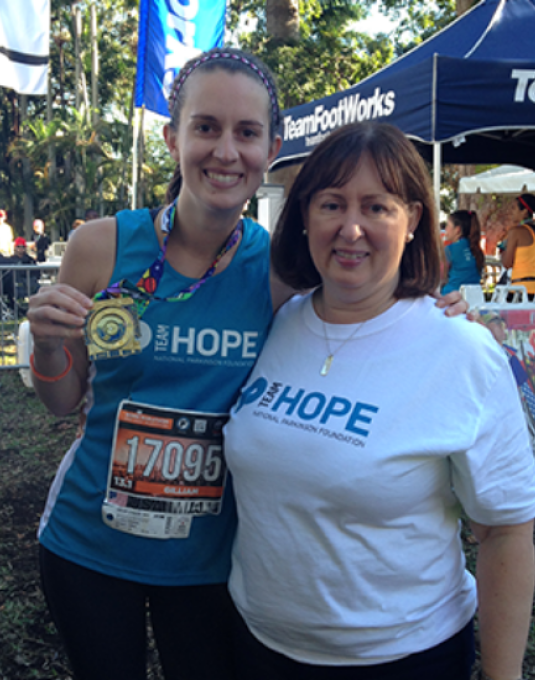 MY PD STORY: Janet Gilliam
It is indeed HOPE that keeps me going. I believe that the research is productive and our hope is real.