Tips for Daily Living
16 Parkinson's-Friendly Gifts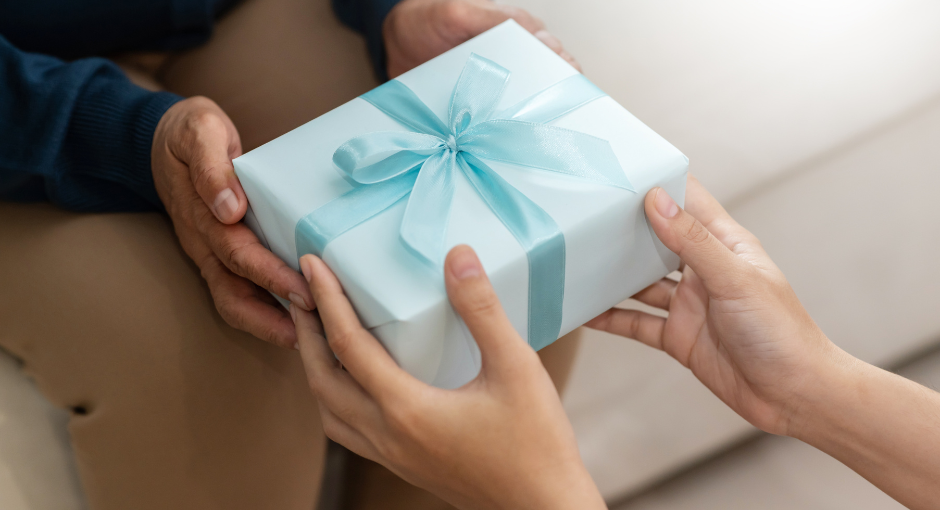 Unsure of what to gift your loved one with Parkinson's disease (PD) for an upcoming holiday or birthday? Parkinson's is a disease that progresses over time and brings with it a myriad of symptoms —and sometimes, a small gift can help make life a little easier. 
The below products are not endorsed by the Parkinson's Foundation.
For the one who wants to get moving... from home
Research shows that regular exercise can help ease Parkinson's symptoms. Help your loved one get ready for at-home workouts. A yoga mat and set of light weights can help bring the gym to their living room, while a portable bike pedal exerciser can help get circulation going, from any chair. For on-demand work out videos, explore our Fitness Friday videos.
For the one who needs to simplify self-care
Maintaining dental health is important for people with Parkinson's, as symptoms can complicate dental care. An electric toothbrush or toothpaste dispenser helps with these daily dental tasks. Help them simplify other self-care tasks with an electric razor for men and women.
For the one who loves seeing their loved ones
Visiting your loved one in-person can be the best gift of all! In between visits, make it easier to see each other virtually with the hands-free Amazon Echo Show Five or other similar smart devices. These devices often have the added benefit of a voice-activated calendar and alarms. Help your loved one set up other smart features, like connecting it to lamps and appliances through smart plugs.
For the one who needs help trying new things
Forty percent of people with PD utilize complementary therapies to find relief from symptoms. Consider gifting an experience your loved one can try nearby, such as a Tai Chi or yoga class, acupuncture session or a massage.
For the ono who just loves good food
It is common for people with PD to experience weight changes: some lose weight while others gain. A failsafe gift for any foodie can be to schedule a delicious meal delivery from a local restaurant or buy their groceries for the week using a delivery service like Instacart or AmazonFresh to make life just a little easier.
For the one in need of caffeine
Coffee accessories, like a new break-resistant tumbler or cold brew maker. Research shows that drinking caffeine in moderation can benefit the motor symptoms of PD.
For the one with body aches
This remote-operated leg massager will bring some built-in relaxation to your loved one with PD. Hand-held massagers and a heating pad can help ease the muscle stiffness and pain that are commonly associated with PD.
For the one with style
Parkinson's can sometimes interfere with activities of daily living — like getting dressed. Slip-on shoes can simplify the challenge of wearing sturdy shoes with grip for men or women with PD. A long-handled shoe horn can also help.
For the one in need of quality sleep
If your loved one with PD keeps a pre-sleep shower or bath in their routine, these aromatherapy shower steamers and bath bombs can help promote relaxation before bed. Silk sheets and satin pajamas are not only comfortable but have the added bonus of helping them slide out of bed a little easier.
For the one who wants to eat healthier
Many studies have shown that the Mediterranean diet can lower the risk of cognitive impairment for everyone. A Mediterranean diet cookbook or a meal planner magnetic pad can help your loved one stay organized and try new recipes. Keep in mind that mealtime can also look different. This weighted dishware set can help. Learn more about PD and nutrition.
For the TV buff
Make television watching and snacking more comfortable with an adjustable TV tray. For the one who has seen it all, gift a monthly subscription for a streaming service your loved one hasn't tried yet.
For the wordsmith
If your loved one loves to write, a magnifying glass or pen grip can help. Additionally, this gratitude journal can help them keep track of all the things that bring joy.
For the one who loves the outdoors
If your loved one can't wait for spring or summer activities, explore some new outdoor accessories, like a sunhat to keep them protected from the sun. Trekking poles (or walking sticks) can also help them enjoy outdoor walks and hikes.
For the one who needs to treat themselves
Self-care is essential for people with Parkinson's and care partners. A sun lamp can help ease or prevent seasonal depression, while a spa set of lotions and body wash can help address skin changes, another PD symptom. Look for products that can help your loved one with oily, itchy, dry and inflamed skin ― all symptoms of PD.
For the one who likes to exercise the brain
Puzzle books can help mix up the day and promote mental stimulation. Books – reading can help people with PD retain mental clarity, from E-readers (bonus: they do not require page-turning) to best sellers with large print.
For the one who has it all
Never underestimate the gift of your company. Invite your loved one to a movie, park or just help them around the home. Looking for something you can do together? Check out local experiences, such as museums or a PD exercise class. Find your nearest Parkinson's Foundation chapter for classes near you.