Tips for Daily Living
16 Parkinson's-Friendly Gifts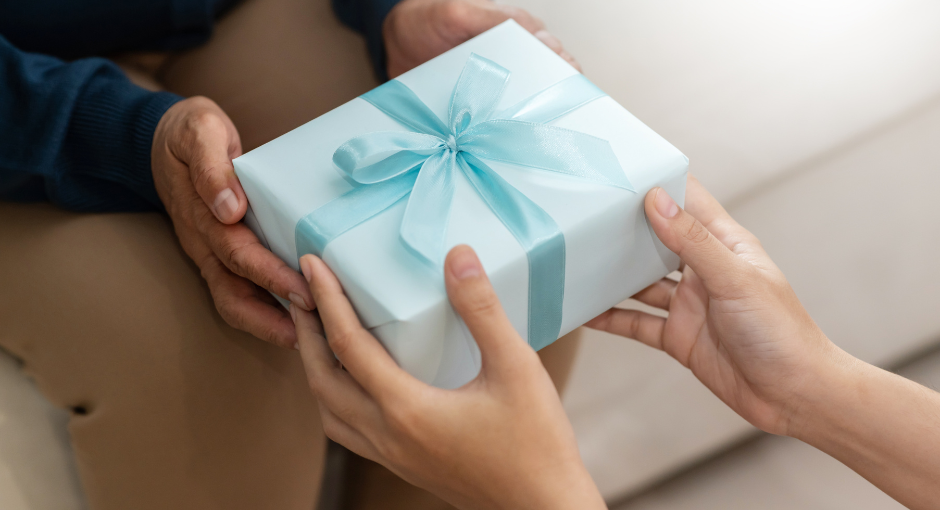 Not sure what to get your loved one with Parkinson's disease (PD) for an upcoming holiday or birthday? When you shop using Amazon Smile (visit smile.amazon.com) a portion of your purchase is donated to the Parkinson's Foundation.
Not sure where to start your PD-friendly shopping? Let us help you with some gift ideas.
The below products are not endorsed by the Parkinson's Foundation.
1. For the one who wants to exercise smarter
A smartwatch or fitness tracker can help your loved one stay motivated and track steps, heart rate and other health markers. Many fitness trackers have a reminder to move when you are stationary for too long.
2. For the one in need of caffeine
Coffee accessories, like a new break-resistant tumbler or cold brew maker. Research shows that drinking caffeine in moderation can benefit the motor symptoms of PD.
3. For the one who needs to move… from the couch
Seated exerciser. All types of exercise are beneficial for people with PD.
4. For the one who needs more friends and family face time
Devices like Alexa Show can make it easier for your loved one to stay connected. They can make hands-free, voice-activated calls with wifi. Alexa can also help manage daily schedules and be used for medication reminders.
5. For the one with style
Slip-on shoes can simplify the day-to-day challenge of wearing sturdy shoes with grip for men or women with PD.
6. For the one who needs shut eye
Sleep accessories can help people with Parkinson's with one of their most problematic symptoms: sleep issues. A sound therapy system, aromatherapy product or back massager are all great ways to relax at home, manage stress and improve sleep quality.
7. For the one who likes trying new exercise classes
Keep your loved one motivated to work out with exercise accessories. New boxing accessories can keep them attending their boxing classes that can improve strength, balance and flexibility. Yoga accessories can help them try a new yoga class, which provides neuroprotective benefits.
8. For the one who is caught up on TV shows
Books – reading can help people with PD retain mental clarity, from E-readers (bonus: they do not require page-turning) to best sellers with large print.
9. For the foody
Mediterranean diet cookbook – this diet has been shown to help people with PD improve their health. A recipe book can help your loved one try new recipes and meal plan. Another fun way to surprise a foody? A gift card for a food delivery service or setting up a meal delivery from a local restaurant.
10. For the one who loves the outdoors
Sunhat. PD is linked to an increased risk of developing melanoma. A stylish sun or sports hat can be worn to help protect people with PD in the summer and spring months. Trekking poles (or walking sticks) can also help them enjoy outdoor walks and hikes. 
11. For the artsy one
Art kits can inspire creativity in everyday life and painting can help reduce anxiety.
12. For the one who needs help getting out of bed
Silk sheets and satin pajamas are not only comfortable but have the added bonus of helping you slide out of bed a little easier.
13. For the one who likes exercising the brain
Puzzle books can help mix up the day and promote mental stimulation.
14. For the TV buff
Make television watching more comfortable with an adjustable TV tray. For the one who has seen it all, gift a monthly subscription for a streaming service your loved one hasn't tried yet.
15. For the one who needs to treat themselves
Self-care is essential for people with Parkinson's and care partners. A sun lamp can help ease or prevent seasonal depression, while a spa set of lotions and body wash can help address skin changes, another PD symptom. Products can help your loved one with oily, itchy, dry and inflamed skin ― all symptoms of PD.
16. For the writer
Keeping a daily journal can help curb anxiety and promote better sleep if done before bed. If your loved one is new to journaling, consider a one sentence a day journal or gratitude journal.
Your Amazon Shopping Can Help People with Parkinson's. Learn more.