Tips for Daily Living
The Basics of Oral Health and Parkinson's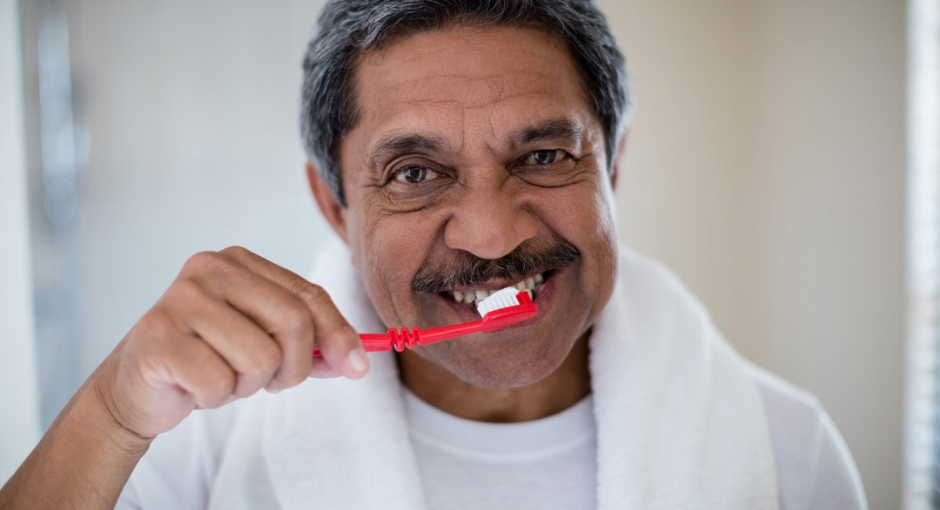 Every year, the top Parkinson's experts from around the world who treat people with Parkinson's at a Parkinson's Foundation-designated Center of Excellence (a department or clinic within a hospital that specializes in PD) convene to discuss the latest Parkinson's research and treatments. This article summarizes the 2018 Center Leadership Conference presentation on oral health by neuroscientist Cameron Jeter, PhD, The University of Texas Health Science Center at Houston; speech-language pathologist Linsey Heidrick, MA, CCC-SLP, University of Kansas Medical Center; geriatric dentist Marsha Pyle, DDS, University of Missouri-Kansas City; and moderator Irene Litvan, MD, UC San Diego School of Medicine. Read the articles covering some of the other topics discussed: intimacy issues, art therapy, new therapies in trial and music therapy. 
Maintaining oral health is important for people with Parkinson's disease (PD). Parkinson's symptoms can easily complicate dental care. A panel of PD experts at a Parkinson's Foundation conference recently discussed oral health and saliva management – two PD-related issues not discussed often enough.
When it comes to Parkinson's and oral health, the goals are to preserve dental health and minimize the negative impact disease treatment may have. People with PD commonly experience problems related to the four "dreaded D's" of oral health:
Dry mouth
Drooling
Dysphagia (difficulty swallowing)
Deadly oral bacteria
Why are these conditions dreaded? Beyond the discomfort and inconvenience, they impact quality of life and can even have the potential to create life-threatening situations for people with PD.
While many people think drooling is caused by excess saliva, in PD it is actually attributed to dysphagia. When severe, drooling can be an indicator of serious problems swallowing, which can cause people to choke on foods and liquids. In extreme cases, it can lead to aspiration pneumonia — the leading cause of death for people with PD.
Oral health problems arise directly and indirectly from the progression of PD. For example, people with PD often have dry mouth, which can be caused by the disease process or medication side effects.
Movement-related symptoms also present a challenge in PD oral care. Tremors can interfere with brushing and flossing. These problems can be compounded by depression or cognitive changes when some people's ability and willingness to engage in routine dental care decreases. Then, as people have tooth and gum loss, their ability to chew well also decreases.
However, there are ways people with Parkinson's can maintain oral health. These 11 tips from the experts can help with oral health and swallowing problems:
Engage in frequent and thorough oral care. Be sure to brush right after every meal.
Stay hydrated.
Eat and drink in an upright position.
Take small bites and sips.
Avoid talking when eating.
After eating a meal or snack, check the inside of cheeks for any food pocketing.
Consider a special toothbrush (www.colliscurve.com) or adaptive grip aids to make toothbrushing easier. If you prefer an electric toothbrush, be sure it is an oscillating, rotating power toothbrush.
If you experience dry mouth, try over-the-counter remedies. The ideal product will be sugar-free, have preventative qualities, be easy to apply and have a pleasant taste.
Avoid products that include alcohol; they make dry mouth conditions worse.
Your doctor or dentist can recommend special products like toothpaste and gels that can help with dry mouth and other oral health problems.
Have your oral health providers work collaboratively with your other healthcare providers to improve oral health-based quality of life.
Visit our Dental Health page to learn more about Tips for Preventing Dental Problems and Treating Dental Issues.