Caregiver Corner
8 Questions You've Always Wanted to Ask a Care Partner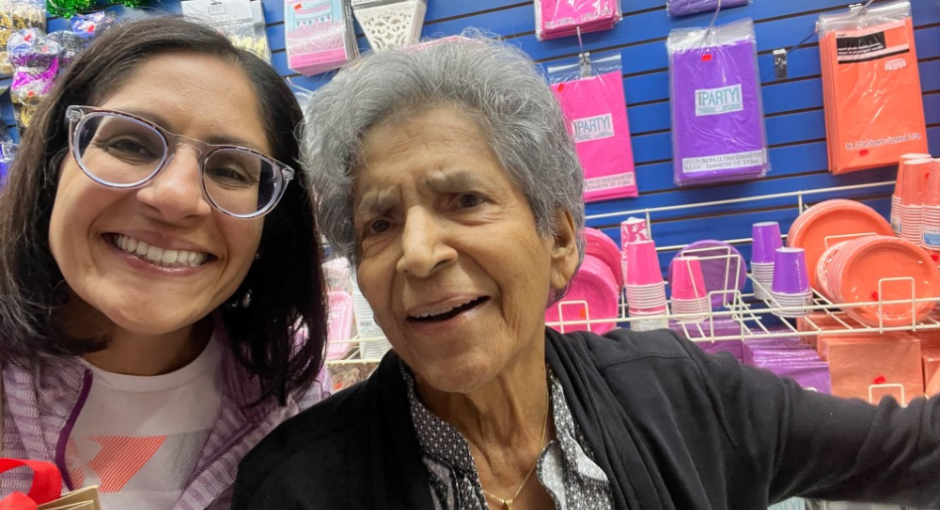 This National Family Caregivers Month, we are highlighting stories of care partners who help make life better for their loved ones with Parkinson's disease (PD). Veera Rastogi served as a care partner to both of her parents; her late father passed away in 2018 and her late mother recently passed away in 2022 — both lived with Parkinson's. Veera is also a member of the Parkinson's Foundation People with Parkinson's Advisory Council.
We interviewed Veera about her experience as a Parkinson's care partner.
When did you begin your care partner role?
My dad was diagnosed with Parkinson's in 2005, and my older brother and I stepped in as care partners following his diagnosis. My parents were both physicians, so they felt like they knew what they needed to know about PD, when they truly did not understand the disease. Initially, my brother and I worked to help our parents understand more about Parkinson's. We also connected them to specialist care and sought out other resources that could help them live well.
My parents were adamant about living independently with Parkinson's. They lived together at home when my dad was still alive, and mom remained in her home as long as possible. Despite not living with my parents, I was always heavily involved in their PD care.
What was the most challenging part of caring for a parent with PD?
Any caregiving relationship brings its own challenges but adjusting to the changing relationship with my parents was tough. No matter how old you are, your parents always see you as their child; they don't necessarily want to see you as someone who can provide them guidance. It's difficult to alter the parent-child role and help your parents understand that you're trying to help them.
In my experience, there have also been generational and cultural aspects to these challenges. My parent's generation is not used to sharing that they have a disease and, in the East Indian community, people often do not openly discuss neurological conditions. My brother and I tried to help our parents realize that it would make their lives better to open up and to look for support. Frankly, neither my mom or dad ever reached the point of acceptance.
How did your role as a care partner change over the years?
My experience as a care partner evolved to a much more active role in recent years, as I continued to take care of my mom until October of this year. I managed a roster of about eight or nine paid caregivers who came to her house to care for her around the clock. I coordinated her home care and addressed any issues she was experiencing that the caregivers noticed. I worked closely with my brother to manage our mom's medical care and kept in touch with her various doctors. I also checked in with my mom every day to provide emotional support.
Who do you rely on for support?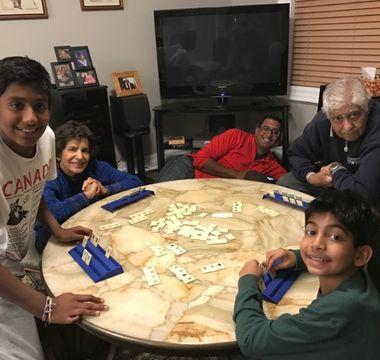 My family and friends in the area provided support for my mom's care. When there was work we physically needed to do in my mom's house, I would take my husband and my sons along to help.
I relied on a network of friends in the town where my mom lived (my hometown) to arrange for support. For example, my mom was not able to cook on her own anymore and she missed eating Indian food. In recent months, I looked for people in her town who could prepare fresh Indian food and deliver it to her house. I was always asking friends who I grew up with for help finding those types of resources.
When it comes to support for myself, I rely on my immediate family and closest friends for emotional support. If I'm ever feeling helpless or guilty, my husband, my kids and my friends reminded me that I was doing everything I can to support my mom.
How do manage stress and practice self-care?
I have a busy job, so I practice self-care by finding moments for myself. Reading a book or listening to an audiobook — something simple that I can fit into my schedule — helps provide a bit of an escape for me.
Daily exercise is also very important for relieving stress. Getting outside as much as possible and taking walks or hikes on the weekend allows me to keep my balance. I also try to make time to connect with friends, even if it's just over the phone.
Which resources from the Parkinson's Foundation have helped you in your caregiving role?
The Foundation's educational books have been useful; they were especially helpful early on when my brother and I were learning more about Parkinson's and trying to educate our parents as well. I remember ordering physical copies of the books to my parent's house and we all went through them together. The books highlight topics such as exercise, medications and swallowing, so as my dad's and my mom's conditions changed, the various resources became relevant at different times.
I find the Foundation's email newsletters helpful, because they keep you informed about upcoming events and resources you can access. I also love reading My PD Stories, because they offer a sense of hope. It's inspiring to read what other people have gone through and know that there are people you can connect with in the PD community.
What was the most difficult part about being a care partner?
The most difficult part about being a care partner was not getting frustrated. You need to accept that this is ultimately the journey of the person with Parkinson's. It's their life, and it's their choice to make decisions about how they want to live.
I spent so much time getting frustrated because my dad or my mom wouldn't listen to my brother and me about what seemed most logical for their care. Why wouldn't you move into a retirement home? Why wouldn't you wear a device that tells us you fell? It took me a long time before I realized that no matter how much I care, it's not my life. The person with PD has to be the one making those decisions, for as long as they're able.
Do you have any advice for someone new to the care partner role?
When you're first stepping into a care partner role, it's important to sit down with your loved one and have a conversation about what matters to them. It's their diagnosis, and it's necessary as a care partner to acknowledge their perspective. You may not always understand where your loved one is coming from, but if you learn to respect what they value most, you will be better able to support them.
To me, being a care partner means loving someone unconditionally. It can be easy to look at caregiving as a burden, but I now realize that it's a chance to give back to that person and be there for them in their hardest times. People with Parkinson's disease can trust care partners and count on them for support, with the knowledge that someone is looking out for their best interests.
You are not alone. #CarePartnersCan share their story and access resources to help improve the caregiving experience at Parkinson.org/CaregiversMonth.