Raise Awareness
How Our Volunteers Are Making an Impact
April 17 to 23 marks National Volunteer Week! All year round, we rely on the passion and energy of volunteers serving as Parkinson's Foundation Ambassadors, to make a difference in the lives of people with Parkinson's disease (PD) every day. Thank you from the bottom of our hearts for everything you do in your community to spread awareness and make life better for people with Parkinson's today.
Meet three amazing volunteers and read their inspiring stories that celebrate their contributions to the PD community.
Mark Kelm
People with Parkinson's Advisory Council Vice Chair
Minnesota and Dakotas Chapter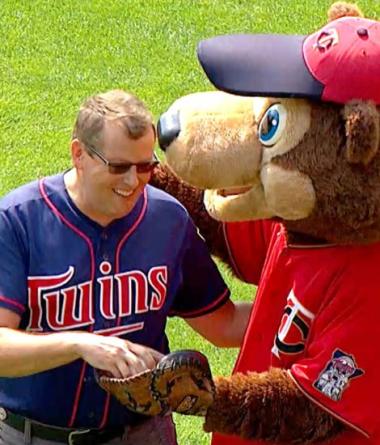 Living with young-onset Parkinson's disease while raising three kids with my wife has offered a few unique challenges and a superabundance of blessings. Like so many others experience, my PD rigidity, tremors, and balance issues make daily life tasks more taxing for me. It can be easy to allow these symptoms to make me sit on the sidelines of life. I'm sure many others have felt the same way.
I have come to understand, however, that we were not made to sit on the bench. We were created to actively engage in this life, making an impact in our own small but significant way.
When my wife and I told our kids of my diagnosis, they were in ninth, seventh and third grade. Our oldest daughter jumped right in, volunteering with the Parkinson's Foundation Minnesota and Dakotas Chapter. She inspired us to participate as a family in Moving Day Twin Cities. That day, we became more aware of other opportunities to connect and volunteer. By getting involved, we have found that volunteering connects us to others, is good for our minds and bodies, and has brought fun and fulfillment to our lives… keep reading.
Elva Brown
Moving Day San Antonio Team Captain 
South Central Chapter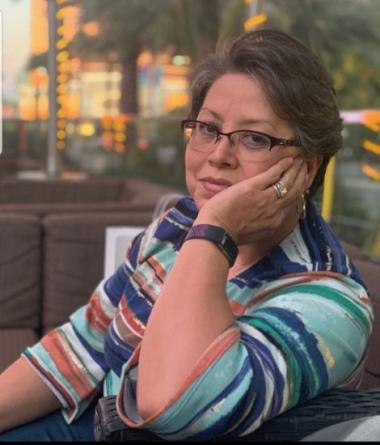 I do not do it alone. Like the saying goes, "There's no I in team." Going into my third year as team captain of "Team Sloth" for Moving Day San Antonio, I am very proud to volunteer with this energetic and passionate group to raise awareness of Parkinson's. I may be the captain, but WE all do it all together. 
Parkinson's disease (PD) is not always an easy conversation, especially for the other party. It was difficult for me as well at the very beginning. It took me four years to tell my family and friends that I, indeed had Parkinson's. I just couldn't say the words.
Eventually, I found and joined a support group. I learned that they were going to participate in a walk to raise funds for Parkinson's. I thought to myself, "this is the time to tell my family and friends" … keep reading.  
Dylan James
Chapter Board President
California Chapter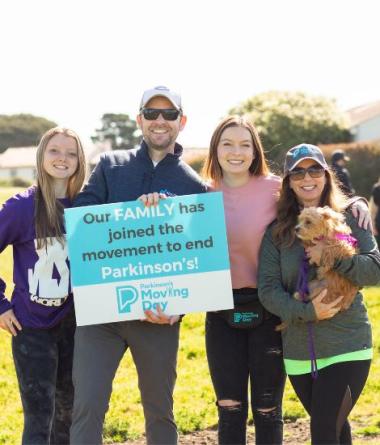 The impact my father's Parkinson's diagnosis had on my family was severe and palpable. I'm an only child, so it's just my mom, dad and me. Shortly after Dad was told he had Parkinson's in 2018, there was an aggressive narrowing of their independence in the span of about 90 days. My mom became the primary caregiver to my dad, and luckily, I only live about an hour away, so since I'm fairly close I can be there at almost a moment's notice to help when needed.
It was hard on all of us — the uncertainty and unknowns related to my dad's diagnosis, but also the change in the family dynamic.
I work in Nasdaq's San Francisco, CA, office. About six months before my dad was diagnosed with PD, my boss at the time, Jeff Thomas, whose father also has PD, organized a company happy hour to support the Parkinson's Foundation Moving Day San Francisco event. In that first year, as we all familiarized ourselves with Parkinson's, Jeff became a great resource and comfort since he had lived through what I was experiencing. He encouraged me to check out the Foundation's resources and helped me get involved in Moving Day. 
Getting involved with the Parkinson's Foundation felt like a way to do something for my mom… keep reading.  
Learn more about how you can become a Parkinson's Foundation Ambassador.