Raise Awareness
National Volunteer Week: Five Volunteers Making a Difference
We rely on the energy, skill and passion of our volunteers to help make life better for people with Parkinson's disease. In honor of National Volunteer Week, we are sharing the stories of five standout volunteers who have made a real impact by lending their time and expertise to the Parkinson's Foundation.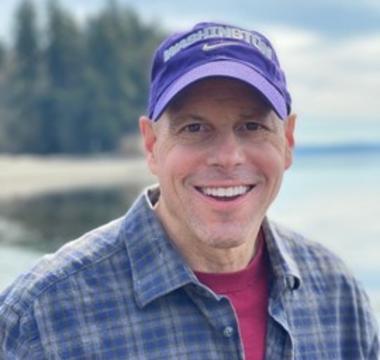 Glenn Kasman, People with Parkinson's Council member
Glenn Kasman is proud to volunteer with the Parkinson's Foundation. He was diagnosed with Parkinson's in 2015 and experiences a variety of motor and non-motor symptoms that affect many aspects of his life. When he was diagnosed, the Parkinson's Foundation provided him with educational resources and tools to live better with PD. Since then, Glenn has participated in community awareness and fundraising events, community grant reviews, the development of best practice care guidelines, research, outreach programs, advocacy and more. Perhaps most notably, Glenn is one of the current members of the Parkinson's Foundation People with Parkinson's Advisory Council. When reflecting on his volunteer impact, Glenn said, "Volunteering is a way for me to give back and help others. I have learned much, made friends and received more back than I could have imagined. I am sure that no matter what type of volunteer activities you might like, the Foundation has a place for you too!"
The People with Parkinson's Council ensures that the perspective of people living with Parkinson's is integrated into our program development and priority setting. To learn more about the Council visit Parkinson.org/Council.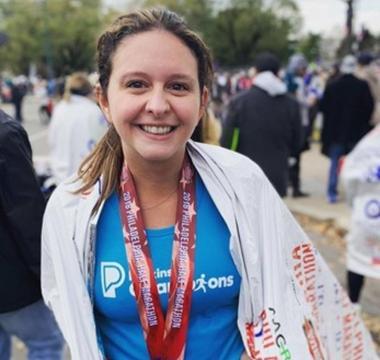 ​​​​​​​Jenna Palek, Parkinson's Champion
Jenna Palek loves running, and she is making a difference while putting in her miles! Jenna registered for Champions @ Home after her father was diagnosed with Parkinson's disease, and she now runs marathons while fundraising for the Parkinson's Foundation. Jenna says, "Fundraising for Parkinson's Champions gave me a way to educate others, raise awareness and make a financial contribution towards fighting the disease. It also connected me with others who are going through the same situation." This past year, several members of Jenna's family joined her team. "It gave us something fun and purposeful to bond over during a time that was otherwise kind of bleak due to COVID."
Join our virtual Champions @ Home team with Jenna! Track your mileage online and compete with runners across the country while raising funds and awareness for people living with Parkinson's. Register here to #Run4PD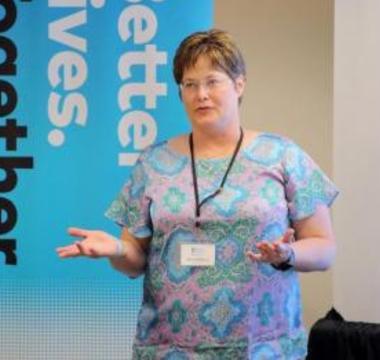 Kathy McMurray, Aware in Care Ambassador
Kathy McMurray became an Aware in Care Ambassador because she wanted to help the three out of four people with Parkinson's who do not receive their medications on time when hospitalized. As an Aware in Care Ambassador, she works directly in her local community in the Evansville, Indiana area to educate the public and share Parkinson's Foundation resources. Kathy is working to create connections at Deaconess Hospital in Evansville and change the culture and policies around Parkinson's care. When asked about her impact, she said "We have made the physicians and staff aware of the critical need for Parkinson's disease medications to be given on the patient's schedule. I am so thankful to advocate for Parkinson's in my city and to volunteer for an organization that honors its volunteers."
To order your own Parkinson's Hospital Kit, visit Parkinson.org/AwareInCare. Learn more about becoming an Ambassador at Aware in Care Ambassadors.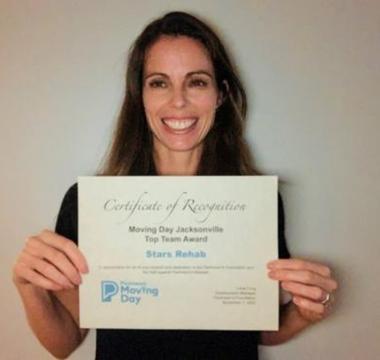 ​​​​​​​Melanie Lomaglio, Moving Day Jacksonville
Melanie Lomaglio recently completed her third Moving Day Jacksonville event. She says, "Despite the pandemic, I was determined to raise more money than ever before! I know how important it is that the Foundation keeps their mission moving forward during this time of isolation." Melanie's business, STARS Rehab, and surrounding St. Augustine community rallied together to sell hundreds of raffle tickets for the Foundation. They celebrated Moving Day Jacksonville with a socially distanced beach walk on event day. Inspired by her participation, Melanie applied for and received a Parkinson's Foundation Community Grant, enabling her to directly impact people living with Parkinson's disease. Since July 2020, Melanie and STARS Rehab have reached over 50 people with Parkinson's and provided over 150 free voice, nutrition, educational and movement classes in a COVID-friendly environment!
Join Melanie and thousands of others this year as we continue to make a difference in the lives of people with Parkinson's. Find a Moving Day near you at MovingDayWalk.org or join Moving Day USA virtually from anywhere in the world.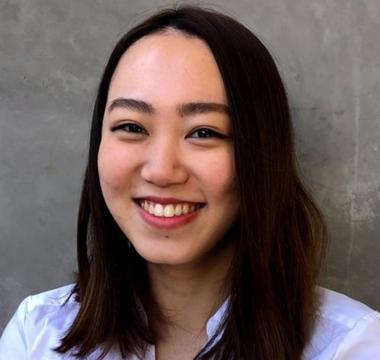 Shirley Chan, Special Events Volunteer Intern
Shirley Chan supports Parkinson's Foundation special events across the country, putting on amazing events and raising critical funds for people with Parkinson's. Shirley says her volunteer work with the Foundation has impacted her in such a positive way. "I have learned more about the mission of the Parkinson's Foundation and seen what really goes into a fundraising event from the backend. Working on different events has allowed me to see what a difference we are making in the community, and I'm glad to be part of that collaborative effort."
Visit Parkinson.org/InYourArea to find your local Parkinson's Foundation chapter and learn more about special events taking place near you, or learn more about Parkinson's Foundation Volunteer Internships by contacting Volunteer@Parkinson.org.
Be sure to check out Parkinson.org/Volunteer to learn how you too can make an impact or contact Volunteer@Parkinson.org.