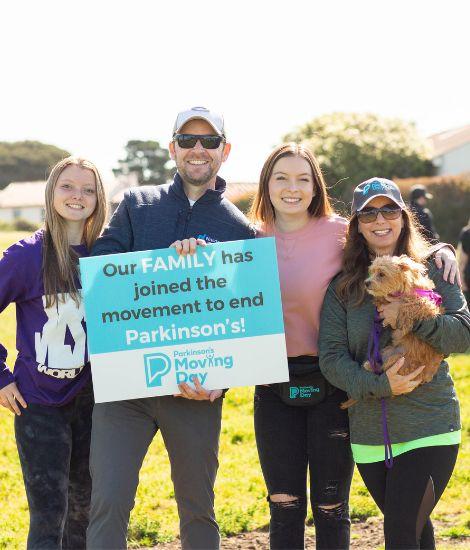 Family Members
Dylan James
The impact my father's Parkinson's disease (PD) diagnosis had on my family was severe and palpable. I'm an only child, so it's just my mom, dad and me. Shortly after Dad was told he had Parkinson's in 2018, there was an aggressive narrowing of their independence in the span of about 90 days. My mom became the primary caregiver to my dad, and luckily, I only live about an hour away, so since I'm fairly close I can be there at almost a moment's notice to help when needed.
It was hard on all of us — the uncertainty and unknowns related to my dad's diagnosis, but also the change in the family dynamic. My mom is a boss, she was a manager for Bank of America and had an interesting and awesome career. At home, though, she relied on my dad to make the house run. They experienced a role reversal, and it took us all some time to find a new path forward.
I work in Nasdaq's San Francisco, CA, office. About six months before my dad was diagnosed with PD, my boss at the time, Jeff Thomas, whose father also has PD, organized a company happy hour to support the Parkinson's Foundation Moving Day San Francisco event. In that first year, as we all familiarized ourselves with Parkinson's, Jeff became a great resource and comfort since he had lived through what I was experiencing. He encouraged me to check out the Foundation's resources and helped me get involved in Moving Day.  
Getting involved with the Parkinson's Foundation felt like a way to do something for my mom. Living an hour away, I couldn't be there every day to help take care of my dad, but raising awareness and money for Moving Day, and learning about resources from the Parkinson's Foundation, gave my mom and I something to connect over outside of worrying for my dad.
Now, I am the California Chapter Advisory Board President and was the 2022 corporate chair for Moving Day San Francisco. I like participating in Moving Day because of the energy it brings to the office and the PD community. We're just asking people to come out for a fun Saturday morning, bring your family and walk for a phenomenal cause. It's an easy entry point to raise awareness and get more people involved.
I really appreciate the Parkinson's Foundation mission and their commitment to helping people live well with PD. Things like the hospital safety kits and other resources provided to people with PD and their care partners and families make a huge difference.
The community I have met through the Parkinson's Foundation and Moving Day San Francisco is made up of really exceptional people who have been so helpful. For anyone who is navigating a new Parkinson's diagnosis or looking for resources and guidance, get involved with the Foundation and in your local community's events. There are other people out there who have walked the same road, and making those connections is incredibly helpful.
Learn more about how you can become a Parkinson's Foundation Ambassador.
More Stories
from the Parkinson's community