Raise Awareness
7 Resources for Veterans and Parkinson's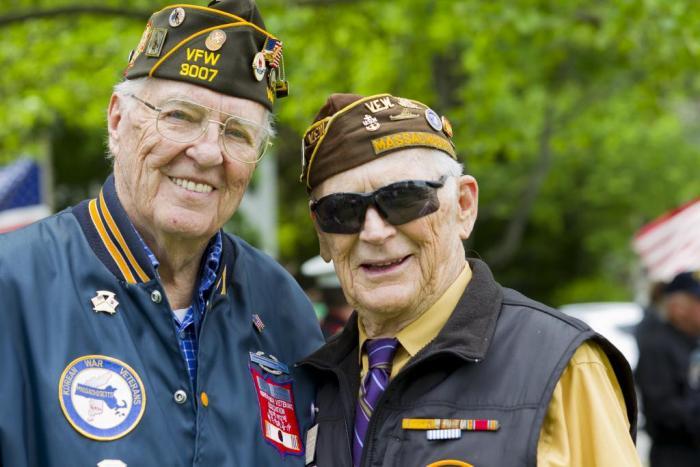 The U.S. Department of Veterans Affairs (VA) estimates that 110,000 veterans have Parkinson's disease (PD).
Most people with Parkinson's develop symptoms at 50 years of age or older. As our population ages, so will the number of Americans living with Parkinson's, along with the number of veterans diagnosed with the disease. While living with Parkinson's can be challenging, an early diagnosis and beginning treatment can help people live well with Parkinson's.
We highlight seven resources below that may be useful for a U.S. veteran living with Parkinson's or loved ones who care for a veteran with Parkinson's:
1. Many U.S. military veterans with Parkinson's have access to specialized medical care and financial assistance through the U.S. Department of Veterans Affairs (VA). The VA treats veterans with Parkinson's through medical centers known as Parkinson's Disease Research, Education & Clinical Centers (PADRECCs). Get connected to a PADRECC and apply for care and benefits from an accredited representative or Veterans Service Officer (VSO) at the VA webpage: Get help filing your claim or appeal. Always work with an accredited representative or agent. Federal law prohibits attorneys and others from charging a fee to assist with the VA application.
2. In some cases, a Parkinson's diagnosis can be linked to Agent Orange or other herbicide exposure from a veteran's military service. The powerful herbicide was used in Vietnam from 1962 to 1975, but was also used and stored in other locations. Veterans may be eligible for a free Agent Orange registry exam, disability compensation and other VA benefits. To learn more visit the VA page on eligibility and hazardous materials or call the Agent Orange Helpline at 1-800-749-8387.
3. Veterans living with Parkinson's may qualify for Financial Aid Programs, such as help with daily activities, inpatient hospital care, outpatient services and more. Service members, veterans and families can apply for various VA benefits by:
a. Applying online using eBenefits
b. Working with an accredited representative or agent
c. Calling the VA's toll-free hotline at 877-222-8387, Monday-Friday 9 a.m. to 7 p.m. ET
4. The Parkinson's Foundation and VA have resources specially designed for those caring for a loved one with Parkinson's who is a veteran. Utilize these care partner resources now.
5. Every person living with Parkinson's should be prepared for a possible hospitalization.  Hospitalization can be especially stressful for a veteran with PD and caregivers. Learn more about the Aware in Care hospital kit and order or download kit components.
6. Know the signs of depression. Depression is a non-movement symptom of Parkinson's, along with anxiety and apathy, and can be a side effect of Parkinson's medication. Know the symptoms of depression for both you and your loved one. Keep these numbers nearby, just in case: Parkinson's Foundation Helpline 1-800-4PD-INFO (473-4636) and Veterans Crisis Line (1-800-273-8255, press 1 or text to 838255). 
7. You are not alone. Find the resources that work best for you, from our Newly Diagnosed resources to our PD Library and our virtual community at PDConversations.org. Remember, you can call our Helpline at 1-800-4PD-INFO (473-4636) for answers to your Parkinson's questions.
For the latest information about Veterans and Parkinson's visit Parkinson.org/Veterans.