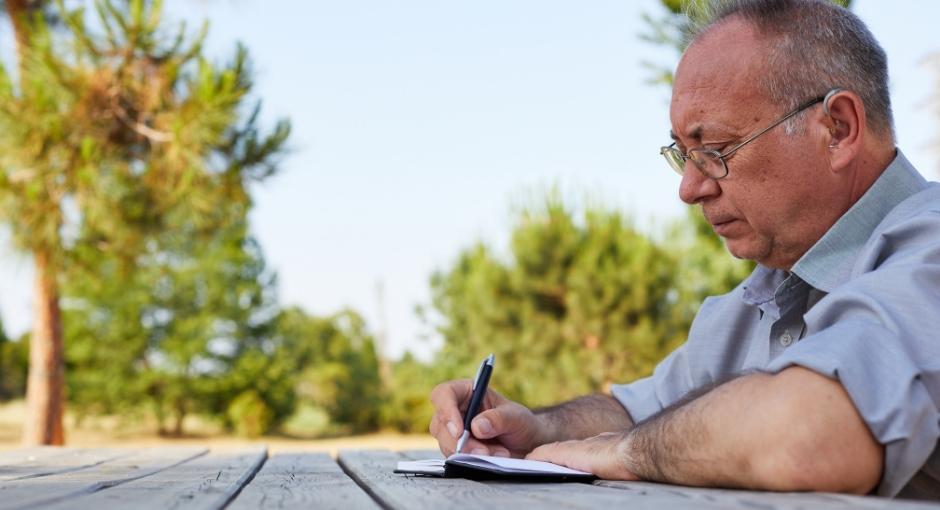 Handwriting can change as you age, especially if you have poor vision or stiff hands or fingers, from arthritis or another condition. However, small, cramped handwriting — called micrographia — is characteristic of Parkinson's and is frequently one of the early symptoms. In addition to words being generally small and crowded together, the size of your handwriting might get progressively smaller as you continue to write.
Micrographia is caused by the same processes in the brain that lead to other movement symptoms of the disease. In addition, those symptoms — slowness of movement, tremor and rigidity — can all make it harder to write.
Managing Micrographia
Medications to control movement symptoms may improve micrographia. There are also some strategies that can make writing more comfortable for you and legible for your readers.
Writing Strategies
Practice! Write one page every day.
Use lined paper.
Sit upright in a comfortable chair and write on a table.
Write during "on" time when medication is working best.
Take breaks as needed.
If writing becomes too difficult for you or too hard to read, try typing. If motor control also makes that too hard, try dictation software. There are programs for your phone and computer that can help.
Updating Your Signature
Over time, as your writing changes, so may your signature. If you or a loved one notices a change in your signature, it is a good idea to document your changes in signature over time.
When it comes to legal documents ― from financial documents to advanced directives and planned giving ― have your lawyer prepare several formal witnessed and notarized affidavits which you sign at different points during the day to document the changes in your signature.
This can be helpful when trying to convince a bank teller, for example, that your signature is real even though it differs from the signature card on file.
Page reviewed by Dr. Addie Patterson, Movement Disorders Neurologist at the Norman Fixel Institute for Neurological Diseases at the University of Florida, a Parkinson's Foundation Center of Excellence.