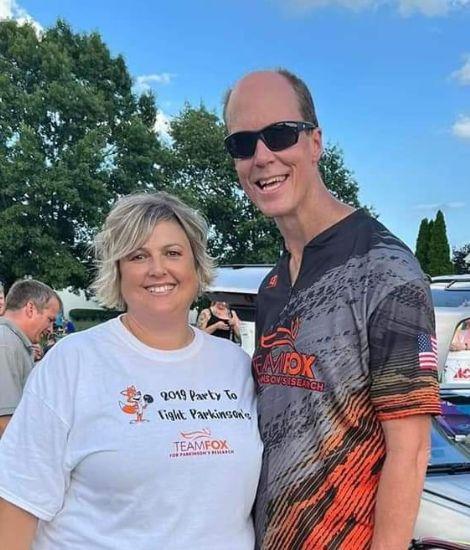 People with PD
Steve Squires
My Parkinson's disease (PD) diagnosis came in 2000, when I was only 25 years old.
I first noticed my symptoms while running an automotive airbag replacement franchise that our family owned. I began dropping tools and losing control of my left hand. At first, we thought it was carpal tunnel, but then my entire left side became affected.
It took experts in Chicago, IL, a few months after my first symptoms to diagnose young-onset Parkinson's. At that time, no local neurologists in our Northern Indiana community had seen anyone in their 20s with PD.
Initially, I was devastated. I only knew the worst parts of the disease and knew nothing about being able to control symptoms with exercise. During the first few years, progression was slow but constant. I wondered how long I would be able to function and be "useful." My future was unclear.
Now, at age 47, I have certainly seen the difficult sides of PD. And I still have days that I am down and have trouble dealing with PD. But I am thankful to still be bicycling, bowling and golfing. I also enjoy cars, computers, classic video games and pinball.
What I have learned about living with Parkinson's
I believe one key to dealing with Parkinson's is to keep doing the things you love. Keep active and keep moving. If you stop moving, you will stop moving. Exercise is extremely important to slowing progression. Bowling helps me practice balance and helps with flexibility. I bowl two nights a week — Thursdays with a group of longtime friends and Saturdays with my wife, Kelli, and another couple.
Through experience, I know that the right Parkinson's study can change lives. In 2015, I attended my first Moving Day Chicago to raise funds for PD research, which introduced me to the Parkinson's Foundation. Coincidentally, that same year I participated in a study through the University of Maryland in which I was the second person to receive an MRI focused ultrasound. That treatment helped me in significant ways, and it gave me additional hope for a cure, and at least relief in my lifetime. And the information about surgical treatments on Parkinson.org was a critical resource I used as I went through the trial and was searching for trials to join.  
When it comes to Parkinson's, don't be afraid to try new things. I recently signed up for an ax throwing league for a few weeks. When my wife and I first went together, I did surprisingly well.
If PD forces you to give something up, take hold of something else that you enjoy.
Also, don't try to hide your symptoms. For me, it was a great relief when I gave up trying to hide PD. I learned to simply embrace it and make people aware of my circumstances.
Stress can be a major influence on symptoms. Avoid it as much as possible.
Stay up to date. I frequent Parkinson.org to keep up with trending news on what is currently going on with new PD treatment and medications. 
There has been a lot of progress in the past few years. I am optimistic that we will see something game-changing soon. My only concern is whether it will be affordable.
Find a knowledgeable neurologist and movement disorders specialist. Getting someone with whom you are comfortable and who listens and understands your needs is very important.
No two people are exactly alike — so don't necessarily compare yourself with someone else with PD. There will be some similarities, but there will be differences as well. Medications and treatments vary for everyone.
Lastly, faith and family are also huge parts of my support system. They are crucial to help combat the effects of anxiety and depression. Both will still creep up — but with faith and family they are easier to handle.
Learn more about currently open research studies on our Join A Study page.
More Stories
from the Parkinson's community