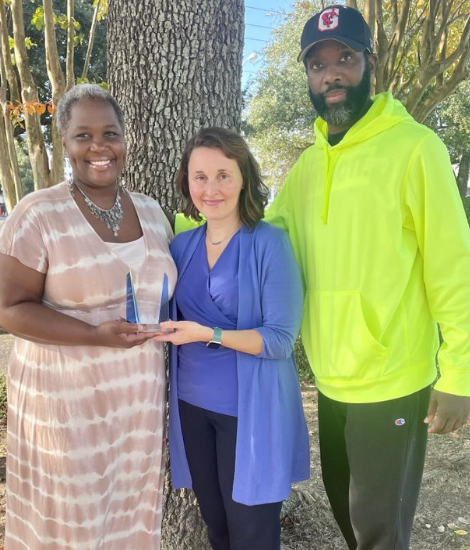 Care Partners
Kelly Spain
Kelly Spain of Augusta, GA, is a care partner to her husband, Cedric, who was diagnosed with young-onset Parkinson's disease in 2015 at age 39. Kelly is a recipient of the 2021-2022 Parkinson's Care Partner Award from the Medical College of Georgia at Augusta University, a Parkinson's Foundation Center of Excellence. These awards support and honor the incredible sacrifices and undying commitment of care partners in the Parkinson's community.
Kelly shares some highlights of her experience as a care partner:
What advice would you give to those beginning their role as a care partner?
Be fluid and flexible. No two days are alike, and each day is unpredictable. Don't be rigid with your plans. There is no handbook for this; you're going by trial and error. Also, know that it's okay to be angry — there's a grieving process, because the life you knew is gone. Take care of yourself. I'm still learning how to do that.
How do you recharge?
I love to sing. I take some time alone, even if that's just sitting in my car, and I sing to most any kind of music, even to instrumental music.
What has been the most challenging part of your role as a care partner?
Watching my husband deteriorate before my eyes has been the hardest thing. He's not the man I married 20 years ago. I look at him and how horrible this disease is, and how it's taking him away, and my eyes fill with water. The other hardest part is my children no longer having the dad they knew.
What has been the most rewarding part of being a care partner?
The most rewarding part is spending every day with my husband. We don't talk a lot, but it's rewarding just being near him and walking through this journey with him. I'm so glad I'm here with him. I hate that I had to leave my job, but I'm thankful to be with him. He still makes me laugh, even on the worst days. We cry a lot, but we laugh a lot, too.
Cedric: why did you nominate your wife for this award?
You get married and then life happens, and your world gets flipped upside down. I've watched this human being completely turn her life around to take care of me. Kelly is the most giving person I've ever met. She is truly my partner.
Kelly: which resource is the most valuable to you?
By far, the most meaningful Parkinson Foundation resource is Julie Kurek, MD, director of the Parkinson's Foundation Center of Excellence at Medical College of Georgia at Augusta University. She is an angel, and I cannot even describe what she means to our family.
Dr. Kurek: why did you nominate Kelly Spain for this award?
What is asked of her is extraordinary, and she is doing an incredible job. From the beginning, she's had many different obstacles to overcome, including raising three kids and employment issues, yet she perseveres. I nominated her for this award to tell her, 'I see what you're doing, and I applaud you, I appreciate you.' She keeps going with such grace and such courage. She inspires me.
More Stories
from the Parkinson's community