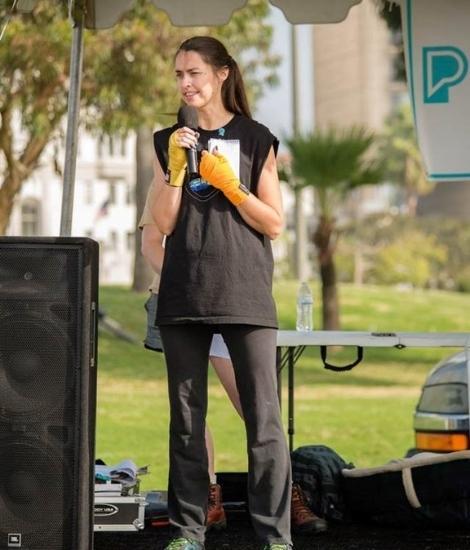 At age 30, my life took a dramatic turn. I noticed a tremor in my right hand when my son was 6 weeks old and my daughter was 3. I remember sitting on my hand at my 6-week postpartum appointment to try to stop it from moving.
I was a registered nurse and the tremor began to interfere with my work. I was asking other nurses to start IV's for me because my hand was too unsteady. My handwriting became illegible. Muscle rigidity made walking more difficult, then I began dragging my right leg.
I was 32, married, with 2- and 5-year-old children when we received the news. The neurologist told me late one day in October that I had young-onset Parkinson's disease (YOPD). While it hit me like a ton of bricks, I was relieved to finally have a name for what was happening. The diagnosis came with a harsh outlook. My neurologist told me that within 10 years I would be in a wheelchair, unable to care for myself or my children.
I attempted to go about life as usual, but my symptoms only worsened. I was unable to continue working due to muscle rigidity, daily freezing episodes and difficulty with multitasking and executive function. Then I became a single mom. I had a choice: I could allow PD to take control of my life or I could fight back.
I heard about Rock Steady Boxing, an organization dedicated to training people with Parkinson's symptoms through noncontact boxing. However, I didn't have access to any classes in my area, so I started training with a local trainer. After about 15 minutes into my workout with my new coach, an eight-time world kickboxing champion, my body began to freeze, and I couldn't move at all. It was that tough. My trainer wholeheartedly believed in me and never allowed me to give up. He'd often stop class to give me a shot of my PD medication to get me moving again. Then I would get back in the ring and finish.
One day he started to get the medicine, and I told him, "No, let's just push through it." So, he made a deal with me, saying, "I won't give you the shot unless you're on the floor and you can't move." He guided me through the hardest workout I ever endured. It was so intense that it forced my body to move past my physical limitations. I made it through without the injection for the first time. I felt better than ever, and that's when everything began to change. My tremor began to disappear. Gradually, the freezing episodes occurred less and less. My mind and body started connecting again. It was life changing.
Although my life had been completely turned upside down, the diagnosis put me on the path to a healthier, more active lifestyle. I received the gift of a better life since my diagnosis, and this became my "why." I wanted to give the incredible boxing program back to our community and help others live a better life with Parkinson's disease, too. 
Four years ago, I met Josh Ripley and we co-founded PD Fighters in Newbury Park, CA. It was an amazing success and we knew we had to do more. People were lining up after every class just to ask questions. Out of a need for not just a class, but something much more, we founded Neuroboxing, a concept incorporating our noncontact boxing fitness with functional training and yoga, Pilates and mindfulness.
In addition to boxing for the last 9 years, I climbed Mt. Etna, an active volcano just under 11,000 feet, in 2014 with a team of 100 people from the U.S., Germany, Spain and Italy to raise awareness for PD/AD. I have been running in the LA Marathon's 5K for Team Parkinson for the last 3 years. I will be participating in Moving Day North LA for my second year and Moving Day Louisville in my home state of Kentucky in June.
My next challenges: training for a return to Sicily for the "10 Mountains 10 Years" ambassador project, and a Golf Tournament in Simi Valley, CA, to benefit the Parkinson's Foundation Moving Day North LA walk and Neuroboxing.
Despite the achievements there will always be adjustments, challenges and bumps in the road. Due to a manufacture change, I've been battling unpredictability of new medications. There will always be more mountains to climb, complete with distractions and detours. But when you live with a passionate heart and serious motivation, you just keep fighting, and when you find your passion, you never ever want to do anything else. It's truly a beautiful gift I have been given, and one I'm grateful to share with our Parkinson's community.
More Stories
from the Parkinson's community