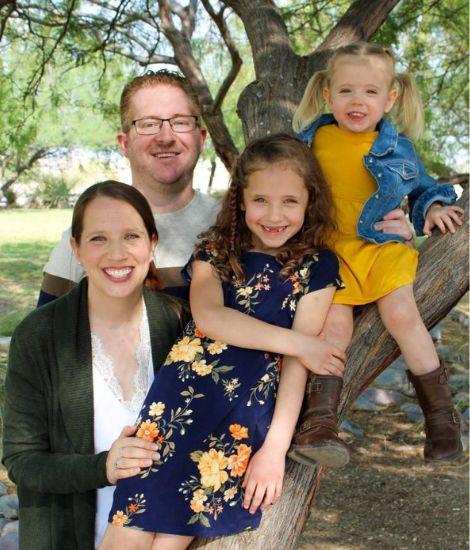 People with PD
Brian Aronson
In 2018, Brian Aronson was only 34 when he and his wife, Dana, got the diagnosis: Parkinson's disease (PD). Their first daughter, Leah, was four, and their second daughter, Alana, was on the way.
A year prior, Brian's right shoulder started to hurt. He thought it was a softball injury until he started noticing a twitch in his right hand. He saw a chiropractor, but the twitch lingered. His chiropractor recommended seeing a neurologist.
Brian's first visits to a prompted a brain scan, which suggested possible diagnoses of multiple sclerosis or essential tremor. "You're too young for Parkinson's," the neurologist said, and recommended Brian see the Cleveland Clinic in Las Vegas for more in-depth evaluation.
At the Cleveland Clinic Lou Ruvo Center for Brain Health in Las Vegas, a Parkinson's Foundation Center of Excellence, Brian underwent more specialized tests including a DAT scan. The result of the test showed a "dark blob" on the left side of Brian's brain, which seemed to be a clear sign of PD.
Brian and Dana weren't surprised when the diagnosis was confirmed. Brian's first thought was "I felt like a freshman in a field of seniors." The neurologist told him that while 34 was young to have PD, he was not the youngest by far — the neurologist has treated an 11-year-old with the disease.
"It put a whole new perspective on Parkinson's for me," said Brian.
Adapting to Parkinson's
At first, talking about his diagnosis was the biggest challenge for the family. Dana wanted to immediately tell others, while Brian needed time. "I didn't know how I felt about it. I had to process it internally until I figured it out," he said.
Over time, the couple began letting others know. Today, Brian welcomes talking about Parkinson's with anyone who's interested. "I make jokes with my coworkers all the time," he said. "It breaks the ice and makes people feel comfortable around me — it lets them know it's OK to talk about it. But I also let people know if they've gone too far. It's all about being respectful."
The impact PD has had on their lives "is pervasive," Brian said. "It's affected everything — hobbies, work at the office, around the house, daily activities. But in some ways, PD has brought me and Dana closer together. Now we do things together that we used to do separately. At the moment we're replacing flooring in the house. It's a good project that we're sharing together. I do the parts I can do, Dana does the parts I can't."
Brian is also adapting to learning how to use his non-dominant left hand, because PD affects the right side of his body. "I've gotten pretty good at doing things left-handed with the help of an app for my iPad," he says. "On the computer I'm very keyboard dependent and have always used a lot of short-cut codes which are still easy for me to do. I've also learned how to use a mouse with my left hand."
He is also learning how to adapt to working with Parkinson's. "At work I also look for ways I can use my mental capacity more, rather than physical capacity. I've got a good team at work, and a great team at home."
Talking to the Girls
The Aronson's waited a long time before telling their daughters, Leah and Alana, about their father's diagnosis. Leah, now eight is perceptive. "She asked, 'Are you going to die?' and 'How old are you going to be when you die?' We soften the answers, but we don't sugar-coat the message," Dana said.
Alana is four. "When we did finally talk with Alana about it, we said the most basic things and waited for her to ask questions. Alana's too young to know what I used to do with her sister — she only knows what I'm able to do with her now."
"The 'What's it like?' questions are easy," Dana said. "The 'Why?' questions are the toughest to answer."
When asked how her father's Parkinson's affects her. Leah said, "Sometimes he needs help because his hand is shaking. And sometimes I help him do things. I sometimes wish he didn't have it, but I don't think it's bad. There are some things I like better than before — now I can help Daddy more and that's fun."
Leah recently helped her dad build a table in his workshop by holding things steady for him while he was working, an assignment she enjoyed. "He liked having me help him," she said.
The Aronson's speak openly about Parkinson's. "I tell Mom or Daddy, and then we get together, and I ask Daddy my question. I like the answers that my dad tells me. He gives me answers that make sense and seem really cool to learn about. Especially science stuff. One time he told me that Parkinson's affects one side of his brain, so that's why one hand shakes."
"She's a smart kiddo!" said Dana.
Moving Day Las Vegas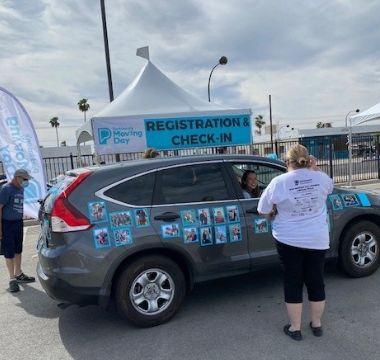 On May 7, the Aronsons will be walking for Parkinson's at Moving Day Las Vegas with their team, "The A Team" to support the Parkinson's Foundation. In 2021, their team was named the top fundraiser for Moving Day Las Vegas and received the award for "Best Decorated Car," festooned with pictures of everyone who donated to their team.
This year the team's goal is to raise $1,000 in support of the Parkinson's Foundation's mission to make lives better for those living with Parkinson's.
Move to beat Parkinson's alongside your community at a Moving Day event near you
More Stories
from the Parkinson's community