Caregiver Corner
We Asked Caregivers to Define Care. Their Answers Will Inspire You.
Care can mean many things to many people.
In the same way no two people living with Parkinson's disease (PD) experience the same symptoms, reactions to treatment or progression, the caregiver journey is equally as unique. This November, as part of National Caregivers Month, we asked caregivers and people in the PD community to tell us what "care is" to them. Your responses inspired and motivated us to continue making lives better for people with Parkinson's.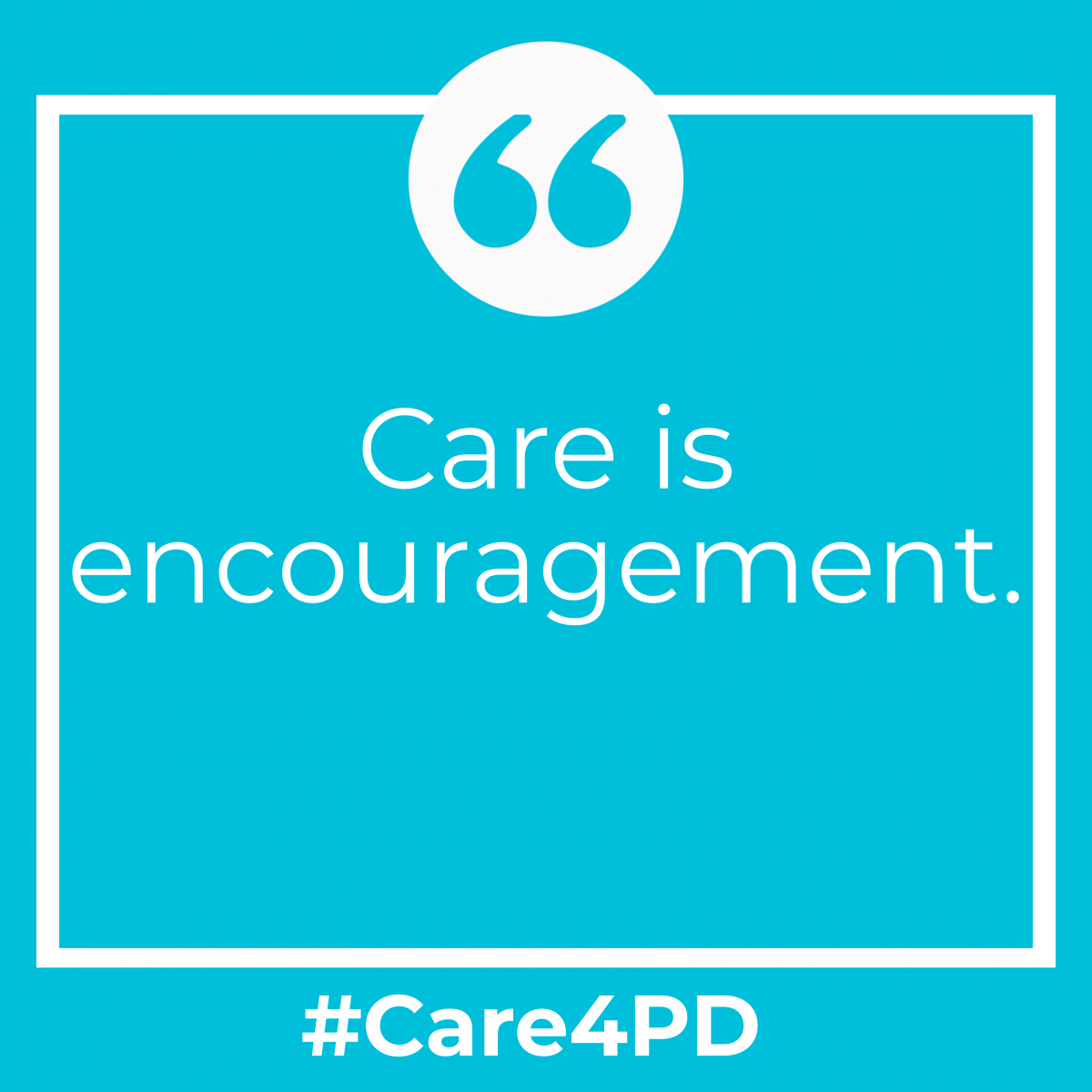 For stories of encouragement, read our library of My PD Stories, written by and for people affected by Parkinson's. Feeling inspired? Submit your PD Story today. It may just help someone keep going!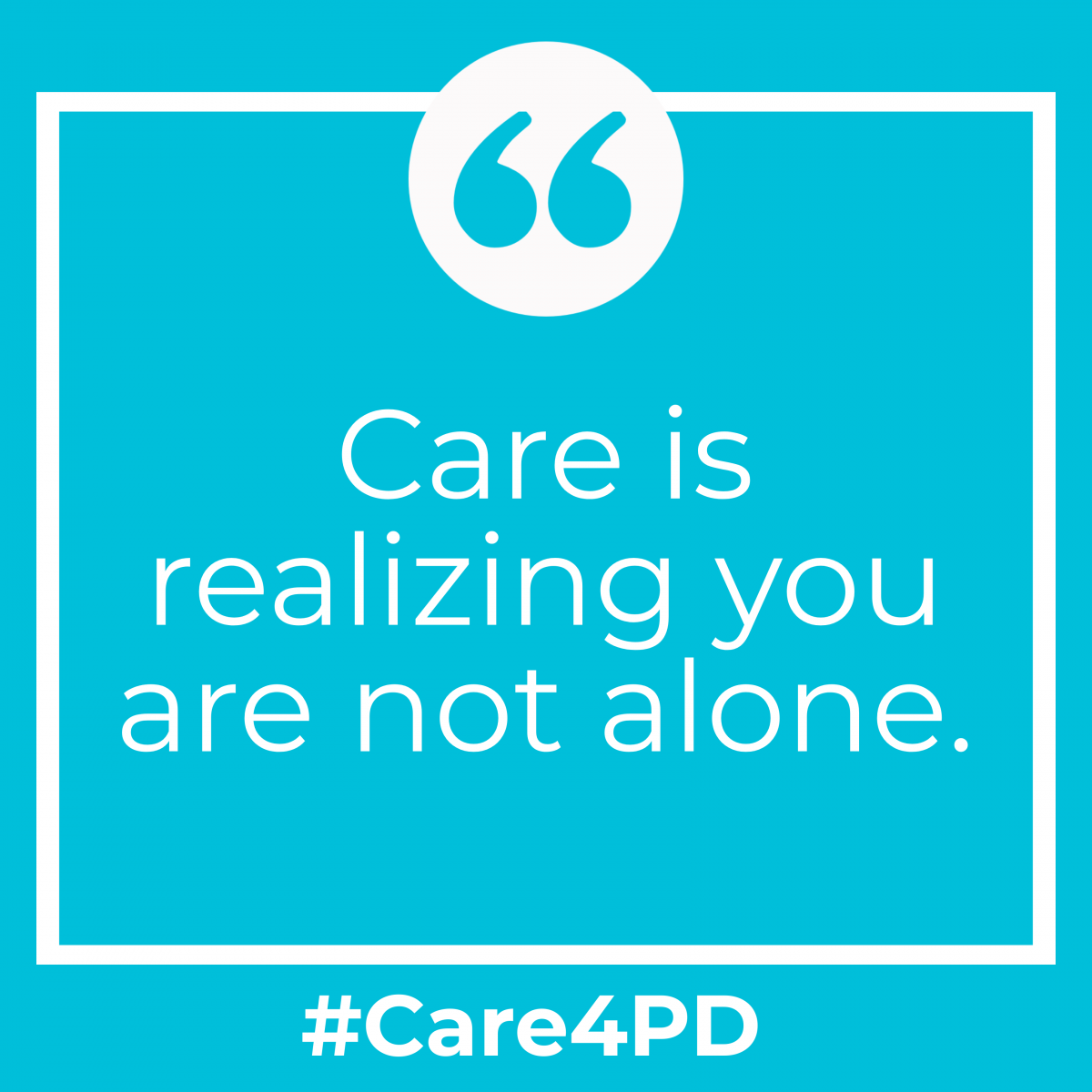 Many caregivers have told us that finding the right support group has changed their life. Find a support group that fits your needs and personality by calling our toll-free Helpline at 1-800-4PD-INFO (473-4636). Support groups are a welcoming space to vent, exchange coping methods and tips among others who understand. Haven't found the right one? Consider starting your own!
Whether you find restoration in exercise, meditation, spirituality or professional help it is important that caregivers address their own emotional well-being. Caregiver stress and burn-out are a reality for many caregivers. It's important to find ways to balance life and caregiving.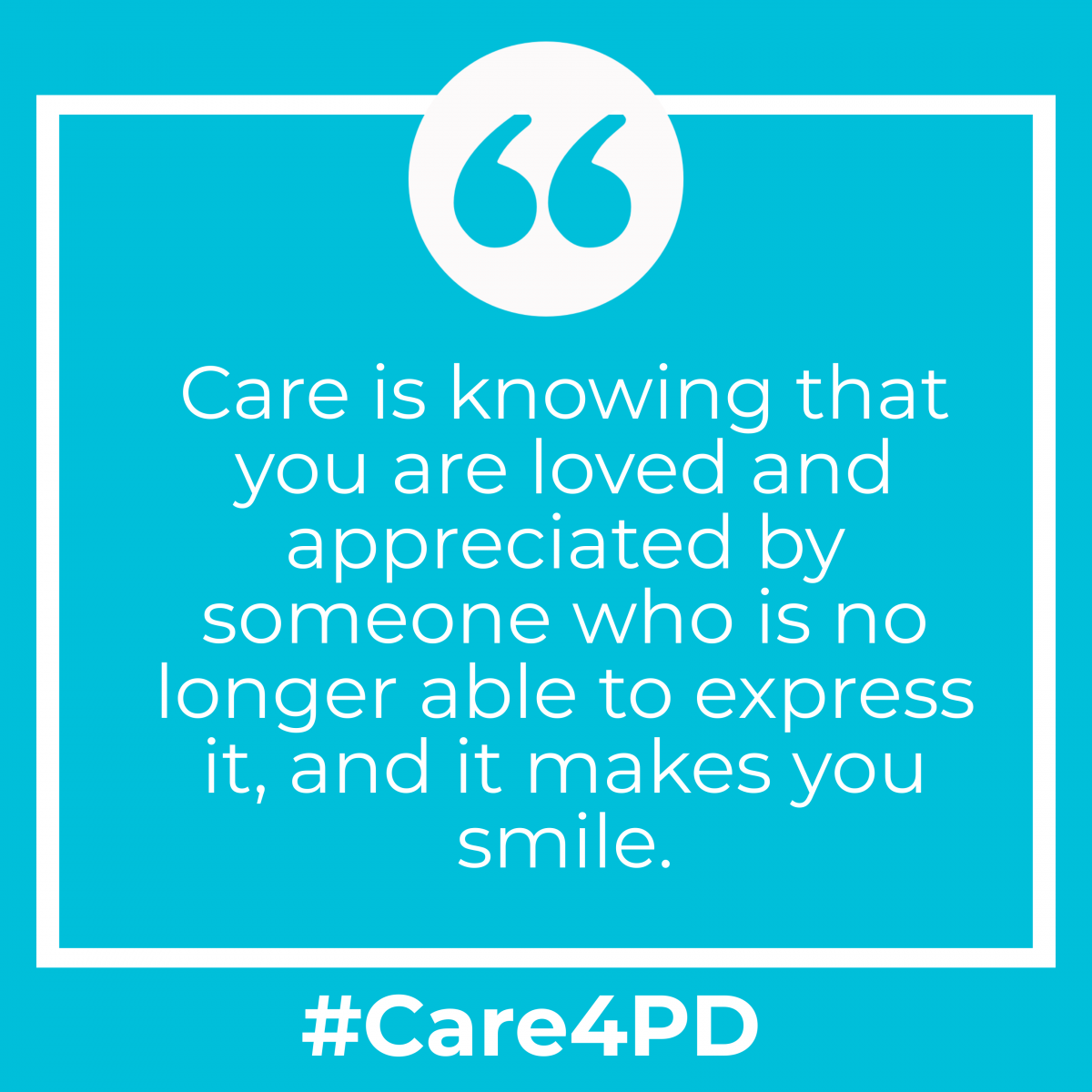 People with Parkinson's may experience changes in mood or act on impulsive thoughts, but it's important to remember that PD can cause movement and non-movement symptoms. Consider trying our Caring and Coping workbook to help you navigate all the stages of Parkinson's as a caregiver.
Through your answers, we learned that providing care can be: emotional, physical, all-consuming and rewarding. You don't just know what Care is, but many of you live it every day. No matter how you define care, we are inspired by the answers you posted on Facebook, Instagram and Twitter:  
 Care is when you give unconditionally to someone who needs it.
- Nina K.
Care is giving whatever you can to care for the needs of whoever needs you physically, emotionally and spiritually.
- Fred & Joyce D.
Care is participating, communicating and supporting, in any and every way possible, so that those you care about never doubt it or feel like they are too much or too difficult.
- Molly S.
Care is having family and friends there when you need them.
- Jannie M.
Care is a finger print you leave on someone's heart.
- Miriam P.
Care is having concern for others, helping others and making their lives easier.
-Judie C.
Care is soul love and spirit.
-Stephanie M.
Care is awareness.
-Valerie S.
Care is taking over the responsibilities that others can no longer fulfill.
-April B.
Care is truly feeling for the condition of an individual.
-Florence S.
Care is letting go of the past so that you can be present and seeing the person behind the illness.
-Anne E.
Care is not sweating the small stuff so that you can tackle the big stuff.
- Chaitanya P.
Care is compassion.
-Elizabeth E.
Care is having mutual respect, and compassion for your caregiver as well as expecting that from your caregiver as well.
- Debbi W.
Care is having compassion, being attentive, respectful and reassuring and emotionally on your game.
-Diane C.
Care is to walk side by side, celebrating the small achievements and holding them on the challenges that come their way.
- Mia S.
Care is synonymous with patience.
- John A.
Care is being there, through the good and the bad. Care is listening without judgment.
- David P.
Care is sacrifice.
- James S.
Care is doing the small things for someone in need; realizing baby steps with someone to help them get to an independent situation; always being there; patience, resolve, rising up, conquering!
-Maxine N.
Thank you for caring and remember that we are here to care for you.
Caregivers and people with Parkinson's are always invited to call our Helpline 4PD-INFO (1-800-473-4636) for the latest PD information, emotional support, referrals to health professionals, local resources and more.