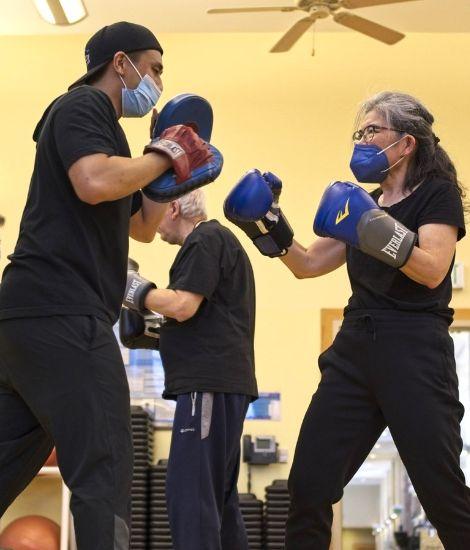 General PD Community
Robert Magbanua Jr.
In late 2014, a gym member comes up to me after one of my exercise classes and told me that I would be the perfect person to teach exercise classes for the Parkinson's community. Not knowing much about Parkinson's disease (PD) at the time, I thanked her for the suggestion, and told her that I'd give it some thought.
I was so busy finishing up my graduate course work at the time that the idea quickly escaped my mind. However, over the course of the next year, this gym member was quite persistent in reminding me of the good I could do for the PD community with my Kinesiology and Personal Training background.
One particular day, she came up to me and told me about this great opportunity to apply for a Parkinson's Foundation community grant, and that is where my journey with PD really began. That gym members name is Ann Boylan, and she was the inspiration for the Parkinson's Exercise Program in Union City California.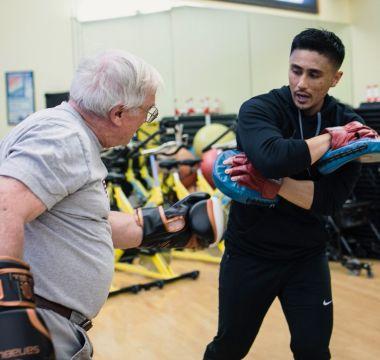 My director (Corina Hahn), Ann, and I worked on the community grant application together. In our discussions, we planned to offer three premier PD exercise classes at the Mark Green Sports Center: Rock Steady Boxing, PWR! Moves, and Dance for Parkinson's.
When we learned of the acceptance of our application, we were elated! Along with a few hand-picked instructors, I spent the year learning about PD and getting certified to teach PD exercise classes. My passion and previous experience with boxing and personal training helped me grasp the concepts quickly.
Since 2016, I have been involved with teaching and coordinating PD-specific exercise classes, support groups and special events that benefit the PD community. Throughout the years, we've been awarded additional community grants to help expand our reach, both in-person and virtually.
The Parkinson's Foundation has made this incredible journey I've been on possible. I pay it forward by participating in the Parkinson's Foundation Moving Day event each year through fundraising, leading exercise demonstrations and lending my voice on stage, when needed.
Keeping this program going was not without its hardships. In getting to know our students, we also began to know their struggles, pain and darkest thoughts. In these moments, the one approach and mindset I've had was to focus on what was within my own control: my attitude, my exercise prescription, and my energy in and out of class.
I've seen first-hand just how effective exercise can be in improving movement quality and mental health. This benefit only increases when we put exercise into a group setting with others who are walking the same path and experiencing the same struggle. It has been a pleasure to lend my hand and expertise to the fight against PD. I want to thank my fellow instructors: Carmen Davis, Michael Quebec, Nancy Flores, Jessica Vazquez, and all the staff who have ever assisted in our exercise classes.
Find the Parkinson's exercise class that works for you! For virtual options, try our on-demand Fitness Friday videos through our PD Health @ Home program. For an in-person class near you, visit your local chapter's webpage or call our Helpline at 1-800-4PD-INFO (1-800-473-4636).
More Stories
from the Parkinson's community