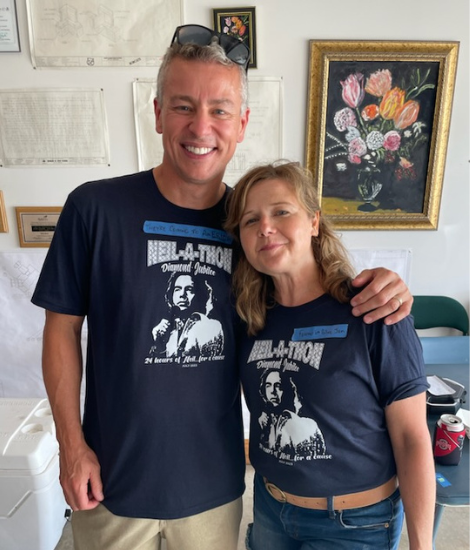 General PD Community
Eric Stasser
I have been a huge Neil Diamond fan all my life, and I was upset when I heard the news that Neil would no longer be touring due to his fight against Parkinson's disease (PD). Parkinson's has affected many people in my personal life; my late grandfather and my wife's late grandfather both lived with PD, and several others close to us are battling the disease today.
One day, my brother-in-law asked me how much Neil Diamond music I had in my collection. I dragged all my tunes onto a playlist, and it came out to over 400 different songs and 24 hours of his work! "I am", I said, "a believer that 24 hours of Neil would be a perfect day." After thinking about this idea for a few years, we made the decision to hold a "Neil-a-thon" to raise money for the Parkinson's Foundation.
With a bunch of help from my family members, we held the first Neil-a-thon on July 29, 2023. The event started at 3 a.m. and we continuously played Mr. Diamond's songs until 3 a.m. the following day. To pass the time, we developed a menu that included a different little drink and snack for each of the 24 hours. The menu included items like "Song Sung Blueberry Muffins," "Holly Holy Guacamole," "Cherry, Cherry Cheesecake" and "Sweet (and Sour) Caroline Chicken."
Throughout the course of the day, friends and family dropped in, had fun, sang along and donated funds to the cause. Overall, we raised over $2,800 for the Parkinson's Foundation. We had so much fun that we aim to make this an annual event.
We hope that the funds can be used to support the fight against PD and help people with Parkinson's live better lives. If our efforts could be used to support someone in need, we would all be able to say that we feel..."so good, so good, so good!"
Have a creative idea for a fundraiser? Become a Parkinson's Champion today.
More Stories
from the Parkinson's community