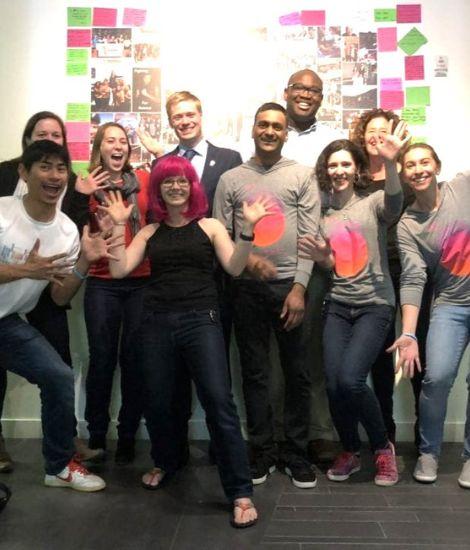 General PD Community
Karl Heilbron
In 2016, Karl Heilbron, PhD, joined 23andMe as a postdoctoral researcher studying Parkinson's disease (PD). He knew his work with genetic data could be important to improving the lives of people with PD in the future but wanted to do something to support them now.
"I'm a geneticist by training and basically my job was to try and make some new research discoveries regarding Parkinson's disease using a large amount of genetic data that 23andMe had collected," Karl said. "My boss at that time also happened to be living with Parkinson's. I was inspired by seeing his daily struggles with the disease to do something more to help. I knew that working with these data could hopefully lead to discoveries that could improve the lives of people with Parkinson's, or even lead to a cure, but that could take time because research is a long road. I wanted to get more involved and actually meet other people with Parkinson's and find a way to help them today."
Karl learned about the Parkinson's Foundation from his boss and decided to start a company team for Moving Day. Now, years later, employees at 23andMe look forward to Moving Day San Francisco every year. However, it's not just the walk they are excited about — it's the company-wide talent show they put on to raise money that keeps people talking.
From musical acts and art displays to "synchronized scientists" portraying genetic code in an elaborate on-land synchronized swimming spectacle, the 23andMe talent show allows employees to share their skills and get to know their coworkers in a new way.
"People tell us every year that this is the company event they look forward to most," said Karl. "For one day, you get to see all of the talents your coworkers have, have a ton of fun and feel great about raising money for an excellent cause."
The 23andMe team has grown each year. In addition to the talent show, they hold a bake sale and silent auction. In 2022, the 23andMe team raised $25,831 and the company's Co-founder and CEO, Anne Wojcicki matched that amount for a total of $51,644.
"It's a real day of unity and a whirlwind of excitement for the whole company," Karl said. "Everyone loves the entertainment and sharing their talents, and they also leave the day feeling very good about what they raised money for."
Karl feels his involvement with the Parkinson's Foundation, and in getting his coworkers involved, has allowed him to fulfill his desire to help people living with Parkinson's today. He is excited about the research the Foundation funds but appreciates all of the resources it has developed to assist people living with Parkinson's, especially community programs.
"I served as a community grant reviewer last year and I got to take a peek behind the scenes of the kinds of programs that receive funding from the Parkinson's Foundation," he said. "I could really see the attention the Foundation gives to trying to ensure everyone with Parkinson's has access to resources, regardless of where they live."
Karl is proud of all of the funds his Moving Day team has raised for the Foundation and hopes other companies will get creative to raise money and awareness like 23andMe has. He has even developed a "playbook" to help other companies/individuals start their own fundraising team. If you are interested in learning more, feel free to reach out to him.
"Our team has been the number two team in the country for the past few years," Karl said. "That's something we are really proud of, and we're proud to support everything the Foundation is doing to help people with Parkinson's."
To find a Moving Day walk near you, visit Parkinson.org/MovingDay.
More Stories
from the Parkinson's community