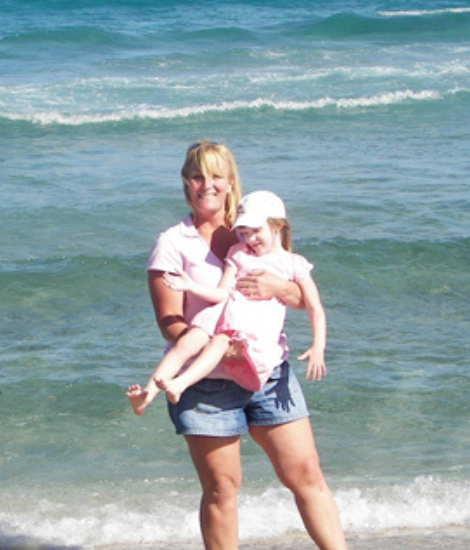 People with PD
Kelly Maurer
Who would have ever believed the words "you have Parkinson Disease" at the age of 33? I sure didn't want to. I had a brand new baby at home, a good job, my independence. I am here to tell you, it's ok, you don't need to surrender to this sly disease that sneaks up on you ever so subtly.
It took me some time to come to the realization that, yes, I have a disease that will change some aspects of my life. The key to that was learning that I had other talents, new paths to walk down, and a choice to surrender or stand up.
It was obvious to me at that moment that I had an opportunity to make a difference and make people stop and look, and really listen. My job now is creating awareness. My advantage is my age and the fact that I am a young mom fighting this battle. Having PD has brought the creative side out of me, writing poems is something new to me that I really enjoy. Photography is also a fun hobby that I have more time for now.
My true passion, though, is my five year old daughter, and being her mom. She keeps me on my toes at all times, helps me stay active and gives me a desire to keep pushing forward. She puts a fire in my heart to kick PD as hard as I can and to challenge myself. At nights end, tired and worn, I tuck her into bed and thank God for sharing her with me.
The unconditional love given and the innocence of a child is truly priceless. My victory each day is being able to wrap my arms around her and kiss her goodnight. As her tiny little fingers grasp mine, I can ease all her fears, give her comfort that I am here for her, and at the same time she is completing me also.
I do not question why I have PD, I accept it, move forward, and gain strength from it. How can I feel sad when I look around and have so much to live for and love? Find that inner place that brings you peace and puts a smile in your heart and on your face, then embrace it and enjoy it.
You deserve to be happy, nothing or no one can stand in your way and keep you down except you.
More Stories
from the Parkinson's community